by Blogbot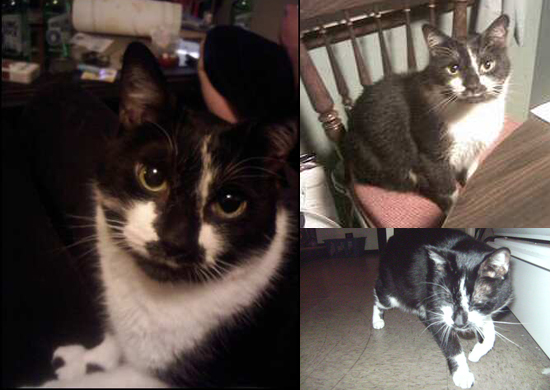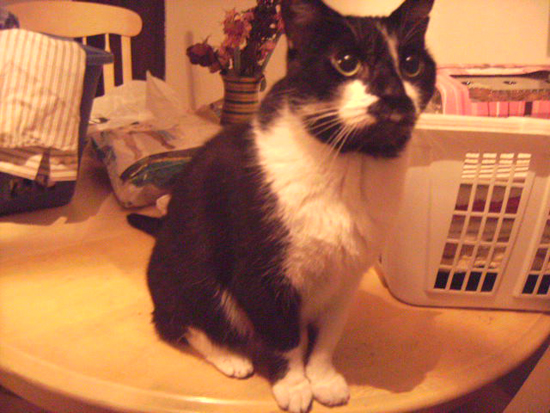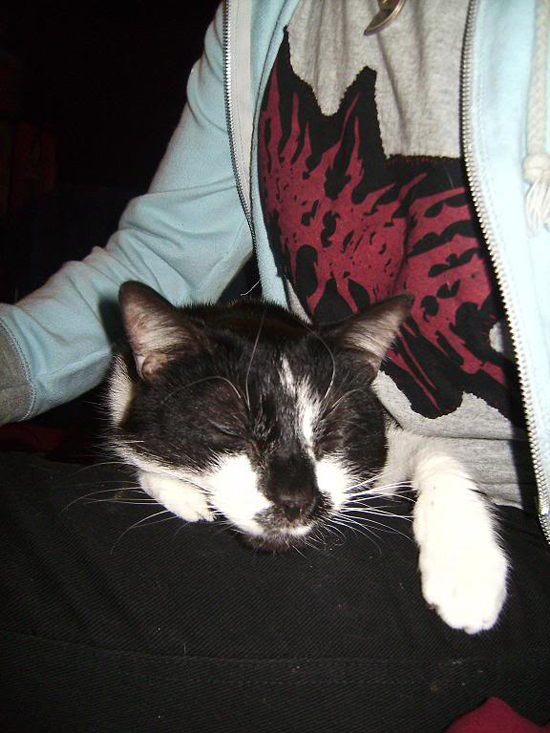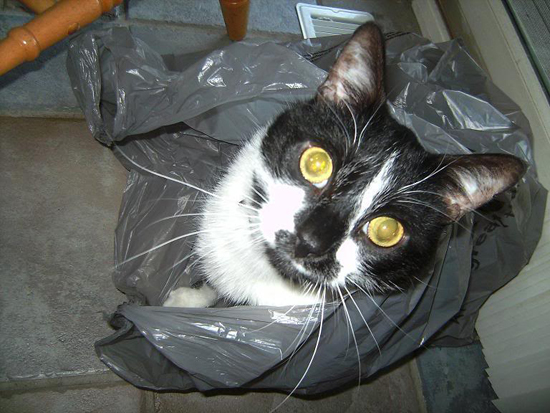 Peables (pronounced Pee-bles) a.k.a. Peebs and Mr. Peables (pictured with his mistress Oogie Suicide)
INTO: Starring at mom, cuddling with mom, starring, drooling on mom, continuously trying to sneak onto mom's lap without being detected, not meowing but screaming at the top of my lungs when mom's not in my sight and I need to find her so I can yell at her for food, eating chicken, starring, starring at mom, waiting for mom to look at me so I can meow at her for attention, waiting, starring, loving mom to death.

NOT INTO: Baths, not being fed when I want to be, having to fight with dad for attention, being disturbed while sleeping, dad, loosing a starring contest with mom.
MAKES ME HAPPY: When mom let's me sleep on her lap –– and doesn't notice all the drool. And when mom gets home, because that's feeding time. Sleeping with mom.
MAKES ME SAD: When mom moves and makes me get off her lap. When mom leaves for long periods of time. Moving.
HOBBIES: I'm good at getting mom to pet me, she can never resist. I also like to play with and lick my cat-nip stuffed rainbow. Playing in bags, or small boxes that are hard to get into. Laying in the sun.
5 THINGS I CAN'T LIVE WITHOUT: Mom, food, mom, chicken, mom.
VICES: I'm really, really annoying when it comes to food. I beg like a dog. I am a dog, but in a cats body. I'll stand behind you breathing in your ear, watching you eat whatever deliciousness is going into your mouth, then I'll try to snatch it away. Oh, I'm also missing my top left fang and my bottom left fang, so my tongue sticks out of my mouth and it's like a river of drool when mommy let's me on her lap to cuddle.
I SPEND MOST OF MY FREE TIME: Sleeping, starring at mom.
Get to know Peables's mistress, Oogie Suicide, over at SuicideGirls.com!