by Blogbot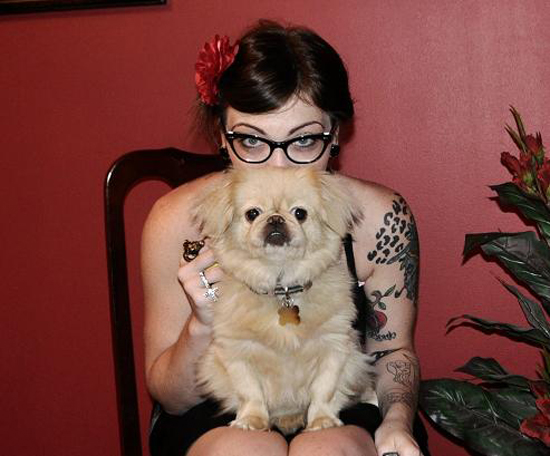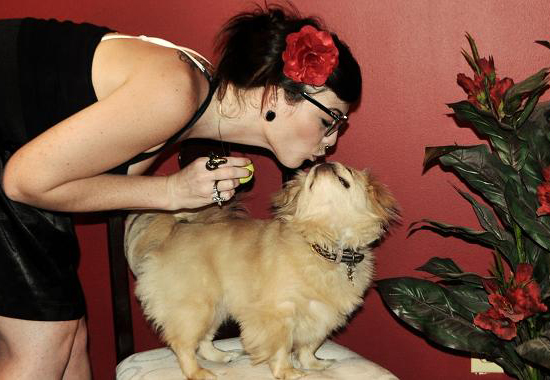 Delilah
 the Pekingese


 (pictured with her mistress Creepy Suicide)
INTO: Mini tennis balls, squeakers from inside my toys, food of any kind, chasing squirrels and birds on walks, chasing the cat, singing for mommy, and sleeping all day

.
NOT INTO: Children, being woken up, going to the vet, baths or getting my hair and nails cut, having to wait for mommy to wake up to go outside, rain, and when it snows because the salt gets stuck in between my toes =(

.
MAKES ME HAPPY: Mini balls, squeakers, my crochet corn and eggplant toys, bacon, long walks at night, sleeping behind mommys knees, and going to grandma's

.
MAKES ME SAD: The rain and snow, the kennel (purgatory), losing my mini balls under the furniture, leaving grandma's, getting shots, and people I dont know trying to pick me up.
HOBBIES: Sleeping and more sleeping, barking at any noise I hear, playing fetch, chasing animals big and small, and doing tricks for my treats

.
5 THINGS I CAN'T LIVE WITHOUT: My squeakers and balls, ice cubes in my water bowl, bacon, mommy, and my Juicy Couture collar.
VICES: Barking at everything while mommy is trying to sleep, growling when I'm woken up, biting mommy when I get scared or mad, rolling in dirty things outside (like poop), not letting mommy come near me when we're at grandma's, tearing every toy I get apart for the squeaker inside, and trying to attack people I dont know outside on my walks

.
I SPEND MOST OF MY FREE TIME: Chewing on tennis balls, chewing on my toys, chewing in general, eating everything I can find, and driving mommy crazy cuz I love her!
Get to know Delilah
's mistress, Creepy Suicide, over at SuicideGirls.com!