by Nahp Suicide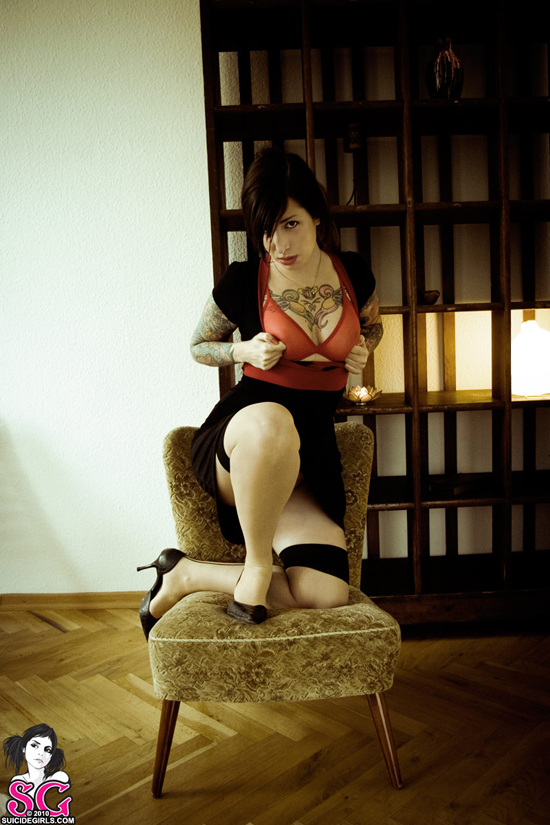 Lavezzarro comes from South America, but now splits her time between London, Berlin and wherever the wind takes her.
How did you first get involved with SuicideGirls?
Monik's set was my first time shooting a naked girl. I'm glad it got accepted. That was in 2005 and how it began.
What's your background photography-wise?
I dropped out of Fashion Design University in the 4th semester as I noticed it wasn't my thing, and I decided to learn photography without a school. I worked for different studios as assistant where I could learn something, and the main thing I learnt was that I dislike studios. So I kept on doing my thing – I still am learning actually.
What was the first photo you had published?
It probably was a band shot I did for an ex-boyfriend's band back in 2004 when they were releasing a CD and got featured on a major newspaper.
How would you describe your style?
I am very honest. I like to photograph the girls how they are. I don't tell them how to dress or to pretend to be something, and I think that can be seen in the images. I'm a bit of dark person, so you won't be seeing rainbow cupcake pictures coming from me. I am also not a technical person, so I won't be freaking out looking for the perfect images. I like to capture what happens and I like spontaneity. I think it's raw.
What gear do you use?
All Canon lenses and body and few analogs, which are my favorites.
How important is Photoshop in your final images?
Not very. I do it very little to none, as I have no talent editing. Now I have amazing Photoshoppers working with me. They can retouch much better than I, but I ask them to keep it really natural. I can't stand airbrushed images.
What gives you ideas and inspires you to create such amazing sets?
I listen music 24/7 and I am addicted to information. I have to be watching, reading, listening, consuming new stuff all the time – everything can inspire me because I am open to it.
What is your favorite image?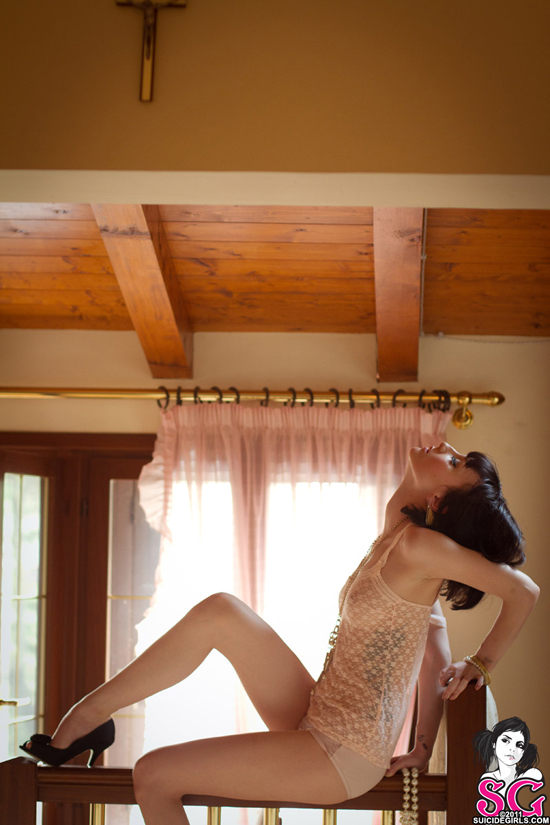 Tell us why it's your fave and how you achieved it?
It is one of my favorites because it is simple, sexy, natural. Sums up what I like to show; the girls how they really are. The lady was kind of shy and we couldn't communicate very well because of a language barrier, but I could see in her eyes she had the flame and I think it was properly captured in her whole set.
Is there anybody or anything you would love to photograph that you haven't? (And tell us why)
I really want to photograph as many people as possible, travel more, discover more, so everyone that I haven't photographed yet I want to photograph one day. And everyone I already have done, I want to do again.
For more on Lavezzarro visit her SG and Facebook profiles, and see her portfolio at www.lavezzaro.com.