By Blogbot
This Wednesday, October 26 on SuicideGirls Radio, hosts Nicole Powers and Bradley Suicide will be joined by our fave honky tonk metal band, Scattered Hamlet. Also thrilled that Moxi Suicide, who's on a sabbatical from the show, will be joining us — catch her cameo appearance in the band's "White Trash" video (see above).
You can listen – and watch – SuicideGirls Radio live on Wednesday nights from 8 til 9 PM at our state-of-the-art, all digital home: zinna.tv
If you have questions for the SG Radio crew or our guests, you can call in during the live broadcast at: 1-855-TRV-inLA (1-855-878-4652)
For updates on all things SG Radio-related, like us on Facebook and follow us on Twitter and Instagram.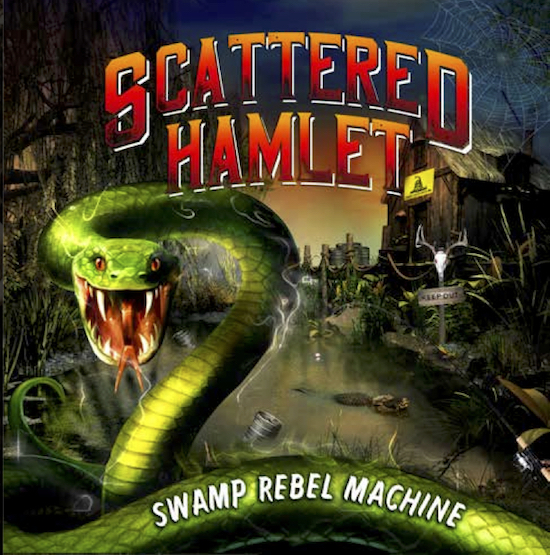 About Scattered Hamlet
Scattered Hamlet is honky tonk metal mixed with a handful of cheap trucker speed with enough octane to survive a nuclear war. Created to capture the essence of growing up in the country while giving nods to the original classic rock and outlaw country pioneers, Scattered Hamlet is one part Lynyrd Skynyrd and Molly Hatchet and one part Motorhead and Down, featuring a sleazy southern influence laced with heavy rock elements.
Scattered Hamlet's influences range from Southern rock to groove metal to doom metal with the attitude of punk rock. With humble origins all across the US and a relentless touring schedule of 100+ shows, the band makes no apologies for the equal love of Harley Davidsons, honky tonks, Les Pauls, Marshalls, shotguns and classic American symbolism.
Their debut full length album, Skeleton Dixie, was
produced by two time Grammy nominated producer Jason Donaghy (Rob Zombie, John 5, The Murder Dolls) and mastered by legend Howie Weinberg (Pantera, Slayer, White Zombie, Danzig). The band has amassed a strong underground following called "Hell Riders" who maintain their own "chapters" (fan clubs) independent of the band.
The band's new album, Swamp Rebel Machine, is out November 4th via Black Moon Productions. It was produced and mixed by Jason Donaghy and Jake Rodenhouse and contains 11 supercharged anthems.
For more on Scattered Hamlet:
scatteredhamlet.com
facebook.com/ScatteredHamlet
instagram.com/ScatteredHamlet
twitter.com/ScatteredHamlet
youtube.com/user/ScatteredHamlet

The World's Leading BYOB Radio Show Is Sponsored By Mangria
"As a nightly consumer of red wine, I was shocked one evening to find I had just half a glass left in the bottle. So I did what any decent alcoholic, ex-con, American would do… I went to the fridge and the liquor cabinet, then poured, mixed and measured. Thus Mangria was born." — Adam Carolla
For more info visit Carolla Drink's website, Facebook, Twitter, and Instagram.