By Blogbot
This Wednesday, June 8th on SuicideGirls Radio, hosts Nicole Powers and Moxi and Bradley Suicide will be joined by Jade Howard and Dennis Hamlin of the LA dance/rock/pop/punk fusion band 222, who be debuting the video for their new single "Pick Up Line." (UPDATE: It's now posted below! — Ed.)
You can listen – and watch – SuicideGirls Radio live on Wednesday nights from 8 til 9 PM at our state-of-the-art, all digital, 100% Hollywood home: ZHollywood.tv
If you have questions for the SG Radio crew or our guests, you can call in during the live broadcast at: 1-855-TRV-inLA (1-855-878-4652)
**UPDATE**
ICYMI: This week's show feat. 222 and Bradley Suicide's manscaping tips!
For updates on all things SG Radio-related, like us on Facebook and follow us on Twitter and Instagram.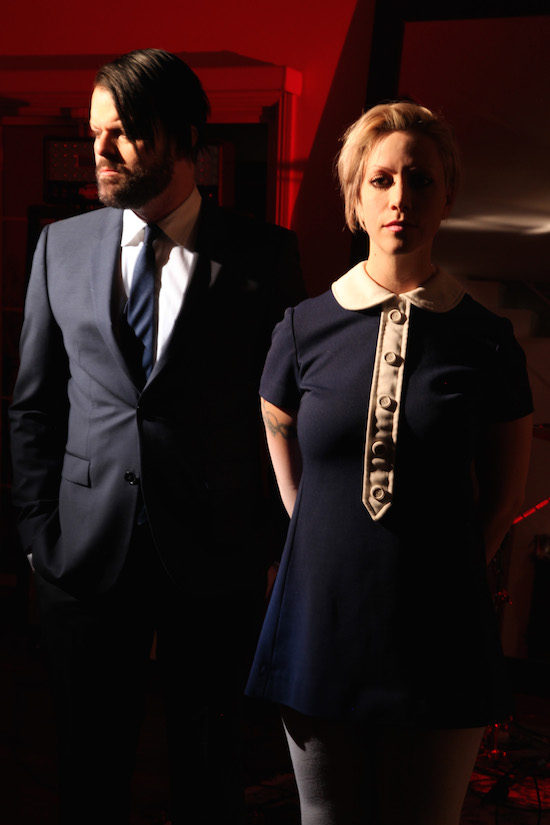 About 222
222 is Jade Howard and Dennis Hamlin. The duo wrote and recorded the songs on their debut CD, Libretto, in their home studio, with the only other credit on the album going to Frank Rosato who mixed the record.
Howard and Hamlin are both prolific songwriters drawing musical influences from books, movies, and life experiences. Their first, "One Night Stand." is loosely based on the Edgar Allen Poe story the Tell Tale Heart. The collection of songs on Libretto play much like an opera in that every song is a story. But don't let the opera reference fool you, the album is a collection songs that will move and groove you from start to finish.
222's creativity pours into all aspects of their artistic expression. The provocative self- produced videos made in support of Libretto are truly mini movies and the perfect visual companions to the songs featured on the album. Videos for "One Night Stand," "Headcake," and the lyric video for "Fair Weather Send Off" can be seen on the band's YouTube Channel.
Respected music blogs DeliMagazine.com and LABuzzBands.com have both highlighted 222's unique sound and songwriting talent. Their high energy live shows have built a strong following across the U.S. via a string of well attended club dates including a successful gig at the Red Gorilla Fest in Austin, TX. The band's growing popularity is also due to airplay of the single "One Night Stand" on influencer radio stations such as KROQ in Los Angeles.
Catch 222 live in Los Angeles on June 15th at Boardner's Club Moscow and in Houston on June 23, 24 and 25 at Warehouse Live. For more info visit 222's website, Facebook, Twitter, Instagram, and YouTube channel.


The World's Leading BYOB Radio Show Is Sponsored By Mangria
"As a nightly consumer of red wine, I was shocked one evening to find I had just half a glass left in the bottle. So I did what any decent alcoholic, ex-con, American would do… I went to the fridge and the liquor cabinet, then poured, mixed and measured. Thus Mangria was born." — Adam Carolla
For more info visit Carolla Drink's website, Facebook, Twitter, and Instagram.