by Blogbot
This Thursday, Aug 14th on SuicideGirls Radio, hosts Moxi and Chloe Suicide will be joined by the legendary princess of punk Linda Ramone.
You can listen – and watch – the world's leading BYOB radio show live on Thursday nights from 6 til 8 PM at our new state-of-the-art all digital home: TradioV.com.
If you have questions for the SG Radio crew or our guests, you can call in during the live broadcast at: 1-855-TRV-inLA (1-855-878-4652)
For updates on all things SG Radio-related, like us on Facebook and follow us on Twitter.
About Linda Ramone
As the muse, girlfriend, and wife of Ramones guitarist and songwriter Johnny Ramone, Linda Ramone was the inspiration behind such songs as "She's A Sensation," "Danny Says" and "Merry Christmas (I Don't Want To Fight Tonight)". Her mission now is keeping the Ramones' and her husband Johnny Ramone's legacy alive. She is a President of Ramones Productions and President of the Johnny Ramone Army. She is also a punk rock icon in her own right, a philanthropist, and a fashion muse – inspiring designers, stylists, and photographers.


Since Johnny passed away from prostate cancer in 2004, Linda has been diligently working to maintain the legacy and music of the man cited by both Time and Rolling Stone as one of the greatest guitarists of all time. She curates an annual tribute event at the Hollywood Forever Cemetery which raises money for prostate cancer research led by Dr. David Agus of USC Westside that has hosted friends including Rob Zombie, Lisa Marie Presley, Johnny Depp, Eddie Vedder, Kirk Hammett, Henry Rollins, Steve Jones, John Waters and Chris Cornell among many others. 
The 10th annual event is scheduled for August 24th, 2014 with proceeds benefitting the Johnny Ramone Foundation For Dr. David Agus at USC. Tickets are available here.
Lindaa continues to live her life in the Los Angeles house she and Johnny shared since 1996.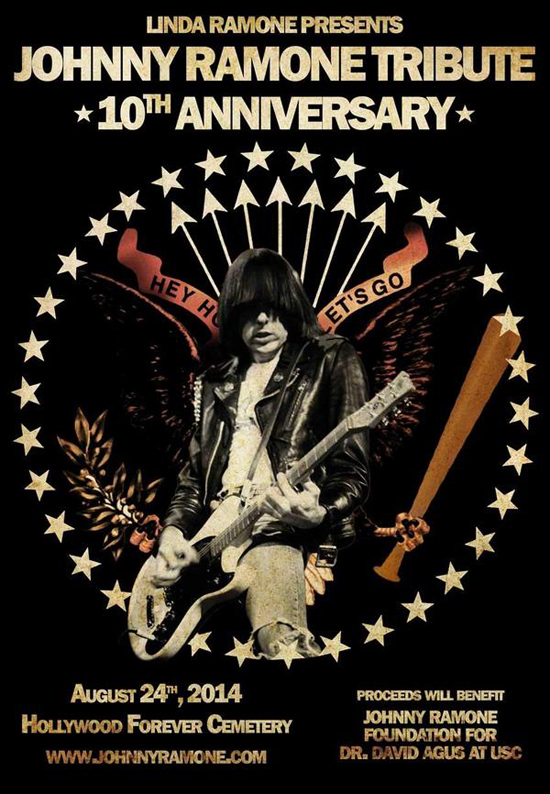 For more on the Ramones, visit the official website, Facebook, Twitter, and Instagram.