by Steven-Elliot Altman (SG Member: Steven_Altman)
Our Fiction Friday serialized novel, The Killswitch Review, is a futuristic murder mystery with killer sociopolitical commentary (and some of the best sex scenes we've ever read!). Written by bestselling sci-fi author Steven-Elliot Altman (with Diane DeKelb-Rittenhouse), it offers a terrifying postmodern vision in the tradition of Blade Runner and Brave New World…
By the year 2156, stem cell therapy has triumphed over aging and disease, extending the human lifespan indefinitely. But only for those who have achieved Conscientious Citizen Status. To combat overpopulation, the U.S. has sealed its borders, instituted compulsory contraception and a strict one child per couple policy for those who are permitted to breed, and made technology-assisted suicide readily available. But in a world where the old can remain vital forever, America's youth have little hope of prosperity.
Jason Haggerty is an investigator for Black Buttons Inc, the government agency responsible for dispensing personal handheld Kevorkian devices, which afford the only legal form of suicide. An armed "Killswitch" monitors and records a citizen's final moments — up to the point where they press a button and peacefully die. Post-press review agents — "button collectors" — are dispatched to review and judge these final recordings to rule out foul play.
When three teens stage an illegal public suicide, Haggerty suspects their deaths may have been murders. Now his race is on to uncover proof and prevent a nationwide epidemic of copycat suicides. Trouble is, for the first time in history, an entire generation might just decide they're better off dead.
(Catch up with the previous installments of Killswitch – see links below – then continue reading after the jump…)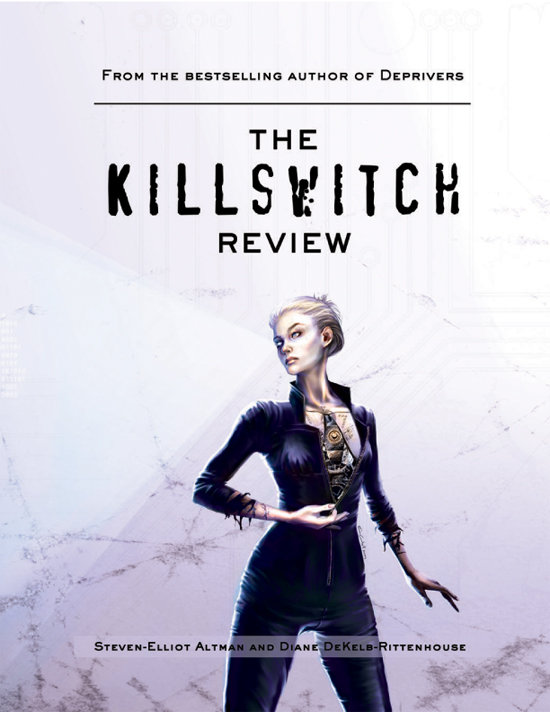 [THE KILLSWITCH REVIEW – CHAPTER ELEVEN, PART FIVE]
[SUPERBOWL CXC]
[Previous Chapter / Next Chapter]
Haggerty, Regina and agent Keenan raced onto the green as the crowd swayed together in time to the music. It was a soft, simple ballad Haggerty could almost appreciate. The viewscreen switched back and forth between Zephyr on guitar and Cherub on bass.
"Are you going to tell us what that little act was about?" Haggerty asked.
"I got an executive order to prevent you from stopping the halftime show," Keenan told him. "My superiors paid close attention to what you said, weighed the losses against some fucking theoretical benefit, and decided that a few hundred thousand dead teenagers wasn't too high a price to pay for what they see as social stability. Took them all of twenty seconds. I think they were hoping for it."
"From how high up does this order come?" Haggerty asked.
"At least as high as the Surgeon General," Keenan replied.
"This is the United States of America we're talking about, right?" Regina said acidly.
"So they tell me." Keenan's response was just as bitter.
"And you're disobeying that order for altruistic reasons?"
"Two of them," Keenan said. "My son and my stepson, twelve and fourteen."
"Your career may be as dead as mine," Haggerty said.
"Never mind that now. We've got to stop the singer. How's he going to do it?" Keenan reset his earpiece as they jogged.
"Black button," Haggerty said.
"We can't just walk onstage and arrest him because you say he's going to press."
"Trust me," Haggerty said. "I'll bet my life he's got his KV unit on him now."
Keenan halted, grabbing Haggerty by the arm. "He has a registered unit?"
"I got confirmation from BBI just before we spoke earlier," Haggerty said.
"That's grounds for suspicion, but pressing a registered unit isn't a crime, Federal or otherwise."
"It is if it's premeditation to incite minors to suicide, and a NewVada ordinance makes it illegal to conduct a suicide for entertainment purposes."
"You'd better not be making that up," Keenan said. "And he'd better be in possession."
The giant monitor showed Zephyr at the microphone gyrating in time to the syncdrums. The blisterbrandings that covered most of his bare upper body made him look like a Rorschach. He closed his eyes, tilted his buzzed head backward, and began to sing in a soulful tenor.
"I don't believe we'll Clone Jesus,
I don't believe in my band,
I don't believe big brother,
All I trust is the voice in my head,
And the choice, and this Killswitch here in my hand. . . ."
"Sound like grounds for suspicion?" Haggerty asked Keenan.
A row of bull-faced security guards stood shoulder to shoulder across the perimeter of the stage. Keenan flashed his plate to the person in charge. "Federal business; let us through," he said.
The guard apologized to Keenan: he did not have the authority to give them access.
Keenan pulled his autostun. "Are you sure of that?" he asked mildly.
"Right this way, sir."
Lake stood near the steps at the side of the stage in black leather, his hair pulled taut off his ancient, ageless face. "I'm so glad you could make it, Mister Haggerty," he said smugly.
Haggerty resisted the urge to punch him. "This is Federal agent Keenan. We have reason to suspect that Zephyr is planning to press onstage."
"Even coming from you that's preposterous," Lake sneered.
"We're stopping the performance to search him nonetheless," Haggerty said. "And everyone else onstage as well."
"You'll need a warrant for that," attorney Ryerson said from behind his boss.
"I can have one in five minutes," Keenan snarled, clipping his earpiece.
"Don't bother," Haggerty said. "I've already taken care of it."
Lake eyed him curiously as Haggerty reached into his pants pocket. He leaned forward to look. Haggerty kneed him in the groin, then pushed the doubled-over Lake into Ryerson's startled arms.
"I'll make sure you receive the maximum penalty for assault, Mr. Haggerty!" he shouted.
Haggerty and Keenan were already ascending the crude insta-stairs with Regina close behind. At stage level Haggerty surveyed the enthralled million-plus audience. The screen cut from musician to musician, simultaneously broadcasting to billions of home viewers. He caught a flash of sunlight on metal: dozens of security guards converging from all sides at the foot of the stage, talking over earsets, autostuns at the ready. Who was really running the show?
Keenan looked at him grimly.
"Regina," Haggerty said, "I need you to stay back in case Zephyr tries to get offstage."
"Okay," she said.
Haggerty and Keenan proceeded onto the stage. Seeing Haggerty, Cherub tipped his chin at Zephyr's guitar. A KV unit was attached to the back, the red light encircling the button lit. The drummer built up to a crescendo; suddenly the shrill notes segued back to the soft ballad.
"I don't believe we'll Clone Jesus,
I don't believe in my band,
I don't believe big brother,
All I trust is the voice in my head,
And the choice, and this Killswitch here in my hand. . . ."
As Zephyr sang he reached for his unit.
"Stun him!" Haggerty yelled.
Keenan raised the stunner halfway, paralyzed between morality and duty. Haggerty realized the agent would not fire. He threw himself against Keenan, smashing him to the stage and wresting the stunner from him. Half a dozen agents trained their weapons on Haggerty, believing their prisoner had just overpowered a Federal agent.
Zephyr pulled the black box off his guitar and held it aloft. Haggerty raised the stunner, sensing the agents' tracer points all over him. If he didn't act now, Zephyr would finish what Max had started.
Haggerty fired.
Pandemonium engulfed the stadium.
* * *
Excerpt from The Killswitch Review, published by Yard Dog Press. Copyright 2011 Steven-Elliot Altman.
Steven-Elliot Altman is a bestselling author, screenwriter, and videogame developer. He won multiple awards for his online role playing game, 9Dragons. His novels include Captain America is Dead, Zen in the Art of Slaying Vampires, Batman: Fear Itself, Batman: Infinite Mirror, The Killswitch Review, The Irregulars, and Deprivers. His writing has been compared to that of Stephen King, Dean Koontz, Michael Crichton and Philip K. Dick, and he has collaborated with world class writers such as Neil Gaiman, Michael Reaves, Harry Turtledove and Dr. Janet Asimov. He's also the editor of the critically acclaimed anthology The Touch, and a contributor to Shadows Over Baker Street, a Hugo Award winning anthology of Sherlock Holmes meets H.P. Lovecraft stories.
Steven also bares ink on his body, and is bi, as in bi-coastal, between NYC and LA. He's currently hard at work writing and directing his latest videogame Cursed Love, an online free to play gothic horror RPG from Dark Hermit Studios, set in Victorian London. Think Sherlock Holmes, Jack The Ripper and Dorian Gray mercilessly exploit the cast of Twilight. Friend Cursed Love (Official Closed Beta) on facebook and you can have fun playing out this tawdry, tragic romance with Steven while the game is being beta tested!
Diane DeKelb-Rittehouse spent several years in Manhattan as an actress before marrying her college sweetheart and returning to the Philadelphia area where she had been born. Diane first worked with Steven-Elliot Altman when they created the acclaimed, Publisher's Weekly Starred-Review anthology The Touch: Epidemic of the Millennium, in which her story "Gifted" appeared. Diane has published a number of critically acclaimed short stories, most notably in the science fiction, murder, and horror genres. Her young adult fantasy novel, Fareie Rings: The Book of Forests, is now available in stores or online.
Interested in buying a printed copy of The Killswitch Review? Well, Steve's publisher Yard Dog Press was kind enough to put up a special page where SuicideGirls can get a special discount and watch a sexy trailer. Just follow this link to KillswitchReview.com and click on the SG logo.
* * *
Related Posts:
Fiction Friday: The Killswitch Review – Chapter One
Fiction Friday: The Killswitch Review – Chapter One, Part Two
Fiction Friday: The Killswitch Review – Chapter One, Part Three
Fiction Friday: The Killswitch Review – Chapter One, Part Four
Fiction Friday: The Killswitch Review – Chapter Two, Part One
Fiction Friday: The Killswitch Review – Chapter Two, Part Two
Fiction Friday: The Killswitch Review – Chapter Two, Part Three
Fiction Friday: The Killswitch Review – Chapter Three, Part One
Fiction Friday: The Killswitch Review – Chapter Three, Part Two
Fiction Friday: The Killswitch Review – Chapter Three, Part Three
Fiction Friday: The Killswitch Review – Chapter Four, Part One
Fiction Friday: The Killswitch Review – Chapter Four, Part Two
Fiction Friday: The Killswitch Review – Chapter Four, Part Three
Fiction Friday: The Killswitch Review – Chapter Five, Part One
Fiction Friday: The Killswitch Review – Chapter Five, Part Two
Fiction Friday: The Killswitch Review – Chapter Five, Part Three
Fiction Friday: The Killswitch Review – Chapter Six, Part One
Fiction Friday: The Killswitch Review – Chapter Six, Part Two
Fiction Friday: The Killswitch Review – Chapter Six, Part Three
Fiction Friday: The Killswitch Review – Chapter Seven, Part One
Fiction Friday: The Killswitch Review – Chapter Seven, Part Two
Fiction Friday: The Killswitch Review – Chapter Seven, Part Three
Fiction Friday: The Killswitch Review – Chapter Seven, Part Four
Fiction Friday: The Killswitch Review – Chapter Seven, Part Five
Fiction Friday: The Killswitch Review – Chapter Eight, Part One
Fiction Friday: The Killswitch Review – Chapter Eight, Part Two
Fiction Friday: The Killswitch Review – Chapter Eight, Part Three
Fiction Friday: The Killswitch Review – Chapter Nine, Part One
Fiction Friday: The Killswitch Review – Chapter Nine, Part Two
Fiction Friday: The Killswitch Review – Chapter Nine, Part Three
Fiction Friday: The Killswitch Review – Chapter Nine, Part Four
Fiction Friday: The Killswitch Review – Chapter Nine, Part Five
Fiction Friday: The Killswitch Review – Chapter Ten, Part One
Fiction Friday: The Killswitch Review – Chapter Ten, Part Two
Fiction Friday: The Killswitch Review – Chapter Ten, Part Three
Fiction Friday: The Killswitch Review – Chapter Eleven, Part One
Fiction Friday: The Killswitch Review – Chapter Eleven, Part Two
Fiction Friday: The Killswitch Review – Chapter Eleven, Part Three
Fiction Friday: The Killswitch Review – Chapter Eleven, Part Four