by Steven-Elliot Altman (SG Member: Steven_Altman)
Our Fiction Friday serialized novel, The Killswitch Review, is a futuristic murder mystery with killer sociopolitical commentary (and some of the best sex scenes we've ever read!). Written by bestselling sci-fi author Steven-Elliot Altman (with Diane DeKelb-Rittenhouse), it offers a terrifying postmodern vision in the tradition of Blade Runner and Brave New World…
By the year 2156, stem cell therapy has triumphed over aging and disease, extending the human lifespan indefinitely. But only for those who have achieved Conscientious Citizen Status. To combat overpopulation, the U.S. has sealed its borders, instituted compulsory contraception and a strict one child per couple policy for those who are permitted to breed, and made technology-assisted suicide readily available. But in a world where the old can remain vital forever, America's youth have little hope of prosperity.
Jason Haggerty is an investigator for Black Buttons Inc, the government agency responsible for dispensing personal handheld Kevorkian devices, which afford the only legal form of suicide. An armed "Killswitch" monitors and records a citizen's final moments — up to the point where they press a button and peacefully die. Post-press review agents — "button collectors" — are dispatched to review and judge these final recordings to rule out foul play.
When three teens stage an illegal public suicide, Haggerty suspects their deaths may have been murders. Now his race is on to uncover proof and prevent a nationwide epidemic of copycat suicides. Trouble is, for the first time in history, an entire generation might just decide they're better off dead.
(Catch up with the previous installments of Killswitch – see links below – then continue reading after the jump…)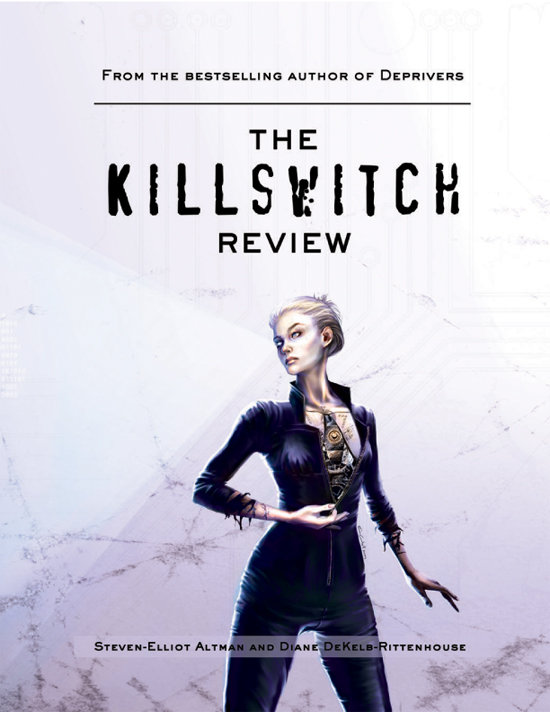 [THE KILLSWITCH REVIEW – CHAPTER NINE, PART FIVE]
[GHOSTS IN THE MACHINE]
[Previous Chapter / Next Chapter]
Haggerty grimaced. He had no desire to interface with the Indranet, but understanding the Indran "prophecy" was his best hope for finding something that would persuade Svoboda to help him stop the looming disaster.
"Is it like Regina's rig? The one we used —"
"That was nerve impulse transfer. This is EEG."
"Will it impair my thinking?"
"No," Svoboda said. "It's like linking, with the addition of visual." He adhered the cold metal disks to Haggerty's temples. "Close your eyes. It will be too confusing if they're open."
* * *
A jolt of connectivity, an explosion of cognition. Haggerty entered a realm of light. He was sitting on the jutting lip of a stone fountain in a crowded plaza amid thousands of dark-skinned Indrans, their tektronic implants flashing as they scuttled past him. Haggerty assumed it was a simulation of somewhere in India. He ran his finger against the crude stone; the rough surface abraded his skin. He examined his thumb, pleased that the ants had abated. This was beyond virtual reality, unlike any Net interface he'd ever experienced. This was total immersion.
A young boy scampered barefoot across the dusty ground to him, his dark eyes fixing Haggerty with a haunted stare. Haggerty took in the ragged shorts held up by a belt of frayed rope and the boy's thin frame and scabbed knees, the cyberoptic pulsations in his transparent skullcap.
"Parsing," the boy said. "New User detected. Do you grant and accept full reciprocal access?"
"Yes," Haggerty said.
"Authenticating . . . initiating feed."
The world shimmered. Haggerty was sitting on a rock in the desert, the sky a predawn array of vibrant color. The boy was gone, though Haggerty sensed his presence. A group of extraordinary beings materialized in a semicircle before him.
"Choose your avatar," the boy's voice said.
Avatars — guides and searchers manifesting as religious icons. Haggerty considered them one by one. He recognized Jesus, Buddha, and Mohammed. Some seemed familiar but he couldn't quite name them. A matronly woman in voluminous robes smiled gently and revealed wordlessly, I am the Great Mother. Ganesh, roared a giant with an elephant's head. A green-skinned woman with a half-dozen arms whispered Tara.
"Please choose your avatar," the boy's voice repeated.
Haggerty extended a hand to Jesus.
"Scanning . . . ," the boy's voice came again. "You are not authorized to interface with Christ consciousness."
Haggerty was surprised. One of his great-grandfathers had been an Episcopalian minister. What would he have made of Christ's rejection of his great-grandson?
The boy intuited Haggerty's thoughts. "Not rejection. This is a matter of linguistic symbolism, not theology. May we determine a compatible avatar?"
"Anything to move things along," Haggerty said.
"Scanning . . . initiating interface . . ."
All but one of the figures dissolved, an emaciated, sienna-skinned man in a loincloth and toga-like sash and sandals, who walked with the aid of a staff. Haggerty recognized his wide toothless smile, steel-rimmed spectacles, mustache, and bald forehead from numerous holoreps.
"Greetings, Mr. Haggerty," he said jovially. "My name is Mohandas Gandhi. I'll be your guide."
"A pleasure," Haggerty said.
Gandhi sat down on a nearby rock and regarded him. "You appear to be suffering grave chemical addiction," he said.
"How can you tell?" Haggerty asked.
"You granted full access," Gandhi said. "I see not only your current physical feedback but your entire data history as well. Every log-on, keystroke, purchase, or report you have ever made. Any entry made regarding you, on any database, throughout your life."
Gandhi blinked rapidly; Haggerty's eyes allowed in a slit of light from the real world and for a moment the desert sky became translucent. He thought he saw his data-life flashing by in coded bytes. He tightened his eyelids and the illusion regained solidity.
"I see you have had many traumas," Gandhi continued, "witnessed many disturbing things but have carried on well. You are wondering why I was chosen to guide you."
Haggerty nodded.
"In grade school, you did a research report on passive resistance. Even as a young man you understood that the nonviolent activist, while willing to die for his cause, is never willing to kill. That is why you have chosen the path you now follow."
"But I'm an investigator, not an activist," Haggerty said.
"Are you? From my vantage it appears that although in your career you pose as an advocate for self-destruction, your innermost voice cries out against it. That is the crux of your dilemma."
Haggerty's stomach twisted. "You disapprove of me, of my work."
Gandhi spread his arms lovingly. "I disapprove of violence, whether committed upon oneself or against others. About what do you seek knowledge?"
"I wish to find out if the claim made by Joseph Svoboda that thousands of Generation Zero children are predetermined fatalities is true. Do they indeed want to die?"
"Scanning . . . ," Gandhi said. "There are 274,403,856 young people between the ages of ten and twenty-five currently accessible online who fit the median definition of Generation Zero. I shall initiate a poll through available media, translate, sort, and buffer the results for you. This may take several moments."
The idea that it might be possible to extrapolate the course of action of an entire generation dizzied Haggerty. At last, Gandhi spoke.
"They are despondent, there is much despair, they are indeed collectively suicidal, but they are awaiting instructions," he said sadly.
"Instructions from whom? The lead singer of Clone Jesus?"
Gandhi blinked twice. "There is a divergence. Two possible outcomes. One comes from him. The other comes from you."
"That's impossible," Haggerty said.
"Nonetheless it is true."
Haggerty stared intently at the wrinkled old prophet and saw bytes of data stream across his spectacles.
"Warning," Gandhi said. "Your chemical addiction is about to sever this connection."
"Wait!" Haggerty pleaded. "Tell me what happens, about Max—"
"There is a stage like a traffic intersection," Gandhi said. His body shimmered. "Max is like an enraged driver speeding toward that intersection, intent on causing an accident. You will discover yourself as a source of that rage."
"Can I stop him?" Haggerty asked. Silverfish leaped from the sand.
"At great personal cost," Gandhi answered. "And even as you do, you find the speeding car is now driven by another, with even darker designs. You find yourself detained but not restrained by a man on a leash, a man you trust but cannot trust."
"But I can stop this . . . this accident Max wants to cause?" Haggerty cried.
"Perhaps . . ." Gandhi's image flickered in and out. His final words were digital wind: "The Indranet honors the part you shall play. . . ."
Haggerty opened his eyes and vomited his stomach contents onto the sand floor of Svoboda's quarters. Elsa was immediately beside him, peeling the disks from his temples.
"Jason, what's wrong?"
Svoboda stood above him. "Do you believe me now, Mr. Haggerty?"
"It doesn't have to happen as you say it will," Haggerty spat.
"History and the future disagree with you," Svoboda said. "A phoenix cannot rise except from its own ashes."
Get me out of here, Elsa, Haggerty linked. Now!
* * *
Excerpt from The Killswitch Review, published by Yard Dog Press. Copyright 2011 Steven-Elliot Altman.
Steven-Elliot Altman is a bestselling author, screenwriter, and videogame developer. He won multiple awards for his online role playing game, 9Dragons. His novels include Captain America is Dead, Zen in the Art of Slaying Vampires, Batman: Fear Itself, Batman: Infinite Mirror, The Killswitch Review, The Irregulars, and Deprivers. His writing has been compared to that of Stephen King, Dean Koontz, Michael Crichton and Philip K. Dick, and he has collaborated with world class writers such as Neil Gaiman, Michael Reaves, Harry Turtledove and Dr. Janet Asimov. He's also the editor of the critically acclaimed anthology The Touch, and a contributor to Shadows Over Baker Street, a Hugo Award winning anthology of Sherlock Holmes meets H.P. Lovecraft stories.
Steven also bares ink on his body, and is bi, as in bi-coastal, between NYC and LA. He's currently hard at work writing and directing his latest videogame Cursed Love, an online free to play gothic horror RPG from Dark Hermit Studios, set in Victorian London. Think Sherlock Holmes, Jack The Ripper and Dorian Gray mercilessly exploit the cast of Twilight. Friend Cursed Love (Official Closed Beta) on facebook and you can have fun playing out this tawdry, tragic romance with Steven while the game is being beta tested!
Diane DeKelb-Rittehouse spent several years in Manhattan as an actress before marrying her college sweetheart and returning to the Philadelphia area where she had been born. Diane first worked with Steven-Elliot Altman when they created the acclaimed, Publisher's Weekly Starred-Review anthology The Touch: Epidemic of the Millennium, in which her story "Gifted" appeared. Diane has published a number of critically acclaimed short stories, most notably in the science fiction, murder, and horror genres. Her young adult fantasy novel, Fareie Rings: The Book of Forests, is now available in stores or online.
Interested in buying a printed copy of The Killswitch Review? Well, Steve's publisher Yard Dog Press was kind enough to put up a special page where SuicideGirls can get a special discount and watch a sexy trailer. Just follow this link to KillswitchReview.com and click on the SG logo.
* * *
Related Posts:
Fiction Friday: The Killswitch Review – Chapter One
Fiction Friday: The Killswitch Review – Chapter One, Part Two
Fiction Friday: The Killswitch Review – Chapter One, Part Three
Fiction Friday: The Killswitch Review – Chapter One, Part Four
Fiction Friday: The Killswitch Review – Chapter Two, Part One
Fiction Friday: The Killswitch Review – Chapter Two, Part Two
Fiction Friday: The Killswitch Review – Chapter Two, Part Three
Fiction Friday: The Killswitch Review – Chapter Three, Part One
Fiction Friday: The Killswitch Review – Chapter Three, Part Two
Fiction Friday: The Killswitch Review – Chapter Three, Part Three
Fiction Friday: The Killswitch Review – Chapter Four, Part One
Fiction Friday: The Killswitch Review – Chapter Four, Part Two
Fiction Friday: The Killswitch Review – Chapter Four, Part Three
Fiction Friday: The Killswitch Review – Chapter Five, Part One
Fiction Friday: The Killswitch Review – Chapter Five, Part Two
Fiction Friday: The Killswitch Review – Chapter Five, Part Three
Fiction Friday: The Killswitch Review – Chapter Six, Part One
Fiction Friday: The Killswitch Review – Chapter Six, Part Two
Fiction Friday: The Killswitch Review – Chapter Six, Part Three
Fiction Friday: The Killswitch Review – Chapter Seven, Part One
Fiction Friday: The Killswitch Review – Chapter Seven, Part Two
Fiction Friday: The Killswitch Review – Chapter Seven, Part Three
Fiction Friday: The Killswitch Review – Chapter Seven, Part Four
Fiction Friday: The Killswitch Review – Chapter Seven, Part Five
Fiction Friday: The Killswitch Review – Chapter Eight, Part One
Fiction Friday: The Killswitch Review – Chapter Eight, Part Two
Fiction Friday: The Killswitch Review – Chapter Eight, Part Three
Fiction Friday: The Killswitch Review – Chapter Nine, Part One
Fiction Friday: The Killswitch Review – Chapter Nine, Part Two
Fiction Friday: The Killswitch Review – Chapter Nine, Part Three
Fiction Friday: The Killswitch Review – Chapter Nine, Part Four