A new column which features recommendations from App addict Maple Suicide.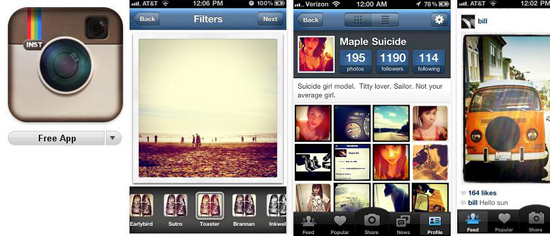 >Instagram – iOS 4.0 devices FREE
This App has been released only through Apple so far, but it has become my "go-to" when it comes to editing and sharing photos throughout different social networking sites. One of the unique things about this application is that it has created its own social networking site, only accessible through Apple product iOS devices. The interface to the social aspect of this application is pretty similar to Twitter. You can follow other people's Instagram photo feeds (including a bunch of us Suicide Girls!). Instagram is equipped with 16 custom designed filters as well as the option to keep the photo as is. You can also send the photo to your Twitter, Facebook, Tumblr, and others. Instagram is unique, fun, and addicting!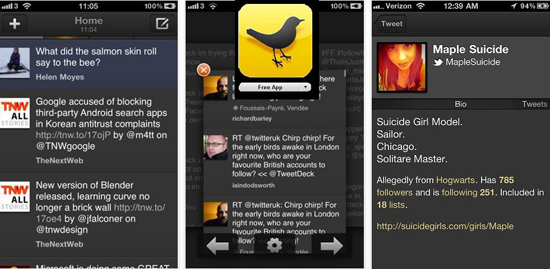 >TweetDeck – iOS & Android devices FREE
TweetDeck is an application that allows you to link and manage multiple Twitter and Facebook accounts simultaneously. Most members and fellow SG's tend to have personal/private profiles, as well as a profile for their alias/screen name, so this application is very handy. You can link up multiple Twitter and Facebook accounts, update them all at once, or make updates on them individually. TweetDeck streamlines photo updates too, allowing you to avoid the hassle of logging in and out, and going back and fourth between apps. TweetDeck also has features within its settings that give you options for image upload hosts, font size, as well as having Deck.ly built into the app (used for tweets that are more than 140 characters). TweetDeck definitely has made social networking easier and more convenient for me.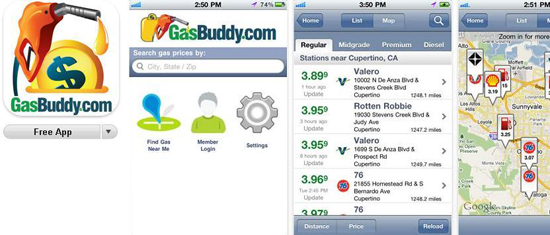 >GasBuddy – iOS, Android, Windows Phone & Blackberry FREE
I just moved to Chicago and try my best not to do any driving for two reasons: people here can't drive properly and the city is too beautiful to not walk everywhere. However, sometimes I'm forced to get behind the wheel, and I unfortunately still end up doing a lot of driving to and from places. As you can imagine, when I need to fill up my tank, I try to spend as little as possible on gas. GasBuddy helps me find the cheapest fuel no matter where I am. I reckon I save about 50 cents a gallon, and the app offers directions to each station it suggests. GasBuddy is useful for anyone who's on a road trip or just drives a lot and wants to find a good deal.