by Damon Martin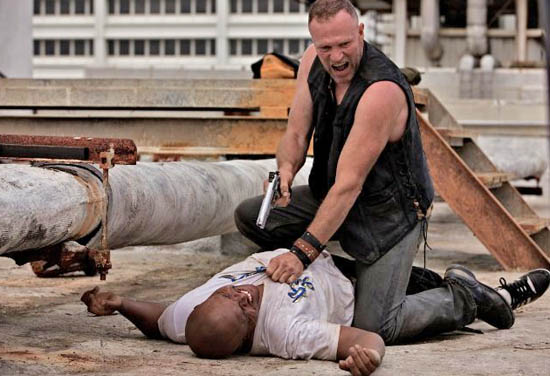 "We humans can get eaten, we're not the head of the food chain anymore."
– Michael Rooker
Veteran actor Michael Rooker has starred in dozens of films including Tombstone and the cult hit Mallrats, as well as making several guest appearances on TV in shows like Chuck and Criminal Minds. What Rooker has been best known as lately is the redneck knife wielding and now armless badass Merle Dixon on The Walking Dead.
Rooker was a regular on Season 1 of the popular AMC series, and made a brief appearance in a dream sequence during Season 2, but with his character's current whereabouts unknown, is there a Merle Dixon sighting coming in Season 3?
Check out our interview with Michael Rooker in wich he reveals if Merle Dixon will be back when The Walking Dead returns in October.
Damon Martin: First before we get to anything else, it's the question that's on everybody's mind. Are we going to see Merle in season 3?
Michael Rooker: You going to see more Merle than maybe you ever wanted to see.
DM: During Season 2 you had a fantastic appearance alongside Norman Reedus (Daryl Dixon). What was it like being back on the show and did you have fun going back for that dream sequence?
MR: I was totally stoked. As soon as I walked on set, everyone was like 'Merle is back'. They're big fans of Merle as well, so when we got a chance to do the scene – Norman and I are good friends – and really when you think about it out of the first season and the second season, that's the only time we ever interacted on camera before, so it was awesome. I had a great time. It was tough love. It's big brother motivating little brother, motivating him to save his own life and sometimes you've got to be tough with people like that.
DM: We're all excited you're coming back for Season 3, but one of the interactions I always wanted to see was between Shane and Merle, but now Shane's gone.
MR: Isn't that a bitch? I was hoping they'd save Shane for me, but it didn't happen and that's just the way it is. I'm letting people know I'm coming back, Robert Kirkman (executive producer/creator) says I'm coming back, as a matter of fact Norman Reedus has stated in several interviews that his big brother is coming back.
DM: I think everybody knew when The Walking Dead came out that it had a chance to be a huge show, but it really has become a cultural phenomenon.
MR: Dude, it's killer and it's so amazing and I'm pretty damn honored to be involved with a group of actors, directors and producers and all these guys. I'm having a great time. Even playing the cat-and-mouse thing over this past season in my interviews, I can't really say anything, so I've gotten really good at talking for an hour without saying a damn word and giving anything away.
DM: I know you weren't directly involved in all of Season 2, but I know you watch the show. What did you think of the movement of the storyline this year?
MR: I enjoyed it because I like the fact that we get to know these people, almost too well. We know them so well that it's going to really hurt when even the ones that we don't like that much get eaten, whatever. It happens, it's a post apocalyptic zombie world, we humans can get eaten, we're not the head of the food chain anymore.
DM: So this is kind of a two-part question. Online everyone was asking when is Merle going to come back? Is Merle the Governor, the character coming up in Season 3? And now we know that you are coming back, the speculation continues to run. What does that mean to you as an actor to see the fan outpouring for your return, and can you give us any spoilers about what Merle will be doing in Season 3?
MR: No spoilers coming from this mouth, but I've got to tell you, the fan base is phenomenal. Even from Season 1 when I first appeared, there were fans that jumped on the bandwagon for Michael Rooker and Merle Dixon, and the Dixon brothers overall. We have several online groups, the Dixon's Vixens, the Rooker-holics, Rooker Nation, I mean you can get Rooker'd online now. It's very cool and I really, truly appreciate it.
DM: Season 3 starts filming in May and I've got to ask how excited are you to be back as a regular cast member? I know that so many people that have left have said how hard it was because The Walking Dead cast and crew is like a family, but that's a huge dynamic of this show – no one's safe.
MR: It's good that no one's safe. I don't want to be safe. I think not being safe makes you hungry and makes you fight more. I love everybody there. This is the first real show that I've been involved with. I did another one called Thief, we did six episodes, but I hardly ever worked with all the other actors. This time round we hang out, we live in a similar area so we go have coffee, and chill out and talk, so it is a good family atmosphere.
DM: Now that Season 2 is over we can all just get that much more excited for Season 3 of The Walking Dead when Merle walks back onto the canvas. I think everybody is super excited for what's coming next.
MR: It's gonna be awesome. Right on brother, we're going to have a damn good time.
Related Posts:
The Walking Dead Season 2 Finale Recap: And Hell Followed Them