by Blogbot
A column which highlights Suicide Girls and their fave groups.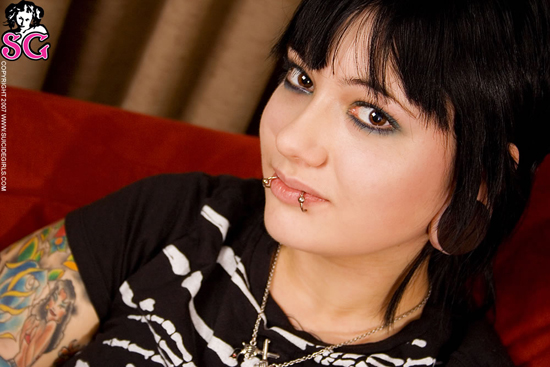 [Exning in The Red Couch]
This week, Exning Suicide talks about why she loves Body Mods.
Members: 438 / Comments: 1,744


WHY DO YOU LOVE IT?: It's really the only place where I can talk about slicing and stretching without having to sound strange
.


DISCUSSION TIP: If you don't like it, you don't have to say it

.




BEST RANDOM QUOTE: "Anytime someone asks me if my tattoos are fake I say, 'Yes, I draw them on every morning.'"






MOST HEATED DISCUSSION THREAD: We're all sort of laid back.


WHO'S WELCOME TO JOIN?: People who are interested in scarification, stretching, heavily tattooed naked chicks and everything in between.


***
Related Posts:
SuicideGirls' Group Therapy – Ceres on Girls Only
SuicideGirls' Group Therapy – Frolic on Celeb Worship
SuicideGirls' Group Therapy – Cheri on Skateboarders
SuicideGirls' Group Therapy – Noir on SG Military
SuicideGirls' Group Therapy – Exning on Weight Loss
SuicideGirls' Group Therapy – Aadie on Cute Overload
SuicideGirls' Group Therapy – Eevie, Luffy, and Praesepe on SG420
SuicideGirls' Group Therapy – All on Urban Art
SuicideGirls' Group Therapy – Clio on Hardcore Music
SuicideGirls' Group Therapy – Epiic on Hirsute
SuicideGirls' Group Therapy – Tarion on Atheists
SuicideGirls' Group Therapy – Rambo on Photography
SuicideGirls' Group Therapy – Thistle on Vamos Gigantes