by Nahp
A column which highlights Suicide Girls and their fave groups.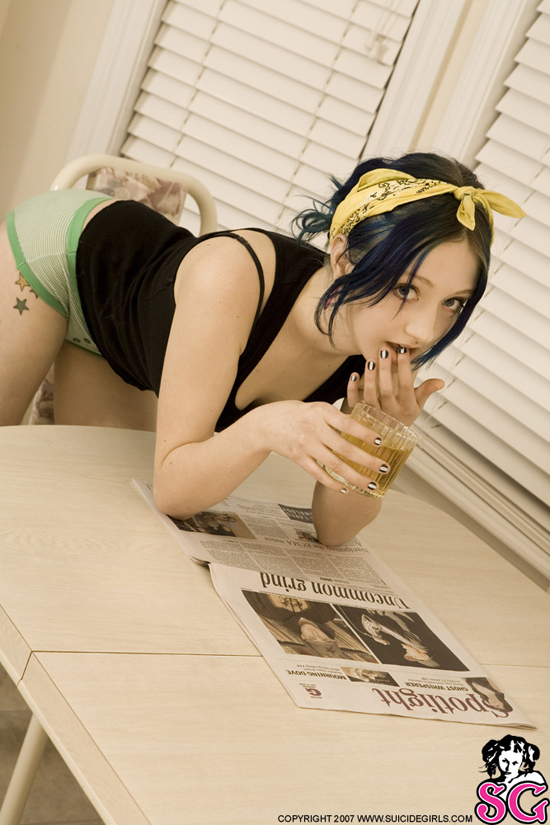 [Noel Suicide in Sunday Paper]
This week Noel gives us the skinny on SG's Strip Club group, a venue to rate, review, discuss and inquire about strip clubs around the world, and discuss matters of etiquette for those who frequent them.

Members: 2,067 / Comments: 11,088
WHY DO YOU LOVE IT?: Because when I first started dancing I did have my doubts, and fears. Once I joined the Strip Clubs group I found so much support and comfort in the other SGs and members. I am now very happy working as an exotic dancer/model. I have met some incredible people, and life long friends by conquering my insecurities which I strongly believe I would not have done without SG.com, and the Strip Clubs group.
DISCUSSION TIP: I'm not sure if I have any discussion tips. This group is very liberal, and accepting. If you feel the need to start a thread, or add on to a pre-existing one, my advice would be to jump right on in!
MOST HEATED DISCUSSION THREAD:
Lap Dances DOs and DON'Ts.
BEST RANDOM QUOTE: "Apparently doing the running-man on stage also works." – Vivid Suicide
WHO'S WELCOME TO JOIN?: Everyone.
***
Related Posts:
SuicideGirls' Group Therapy – Lacey On People with Disabilities
SuicideGirls' Group Therapy: Caia On The SuicideGirls Lounge
SuicideGirls' Group Therapy – Pia On Ass Appreciation
SuicideGirls' Group Therapy – Bitten On Geezers
SuicideGirls' Group Therapy – Autrum On Retail
SuicideGirls Group Therapy – Kurosune On Hentai
SuicideGirls' Group Therapy – Tore On Hair Stuff
SuicideGirls' Group Therapy – Aisline on Photography
SuicideGirls' Group Therapy – Payton on Kitties
SuicideGirls' Group Therapy – Leandra on Horror
SuicideGirls' Group Therapy – Kewpie on Gay Girls Only
SuicideGirls' Group Therapy – Lumo On Martial Arts
SuicideGirls' Group Therapy – Vesta On Health And Fitness
SuicideGirls' Group Therapy – Bob On Space And Time
SuicideGirls' Group Therapy – Lunar On Kitties
SuicideGirls' Group Therapy – Lee On Metal Heads United
SuicideGirls' Group Therapy – Rourke on Girl Gamers
SuicideGirls' Group Therapy – Ackley on Some Like It Raw
SuicideGirls' Group Therapy – Spliff_ on SG420
SuicideGirls' Group Therapy – Jeckyl on SG Lounge
SuicideGirls' Group Therapy – Glitch on Robot Love
SuicideGirls' Group Therapy – Katherine on Aerial Dance
SuicideGirls' Group Therapy – Tarion on Zombie Hunters
SuicideGirls' Group Therapy – Rachelle on All Boobs Great And Small
SuicideGirls' Group Therapy – Oogie on Fan Art
SuicideGirls' Group Therapy – Jensen on Online Dating
SuicideGirls' Group Therapy – Gallows on Pen Pals
SuicideGirls' Group Therapy – Satya on Hip-Hop
SuicideGirls' Group Therapy – Tovi on Veggie
SuicideGirls' Group Therapy – Aadie on Suicide Boys
SuicideGirls' Group Therapy – Haydin on Ballet
SuicideGirls' Group Therapy – Psyche on Slut Pride
SuicideGirls' Group Therapy – Thistle on Yuppie Scum
SuicideGirls' Group Therapy – Eden on Tattoo
SuicideGirls' Group Therapy – Damsel on Dreadlocks
SuicideGirls' Group Therapy – Chrysis on Itty Bitty Titty Committee
SuicideGirls' Group Therapy – Otoki on Feminists
SuicideGirls' Group Therapy – Zephyr on Doctor Who
SuicideGirls' Group Therapy – Ryker on Harry Potter
SuicideGirls' Group Therapy – Bradley on The Kitchen
SuicideGirls' Group Therapy – Apple on All Your Base Are Belong To Us
SuicideGirls' Group Therapy – Setsuka on Ass Appreciation
SuicideGirls' Group Therapy – Noir on The Kitchen
SuicideGirls' Group Therapy – Exning on Body Mods
SuicideGirls' Group Therapy – Ceres on Girls Only
SuicideGirls' Group Therapy – Frolic on Celeb Worship
SuicideGirls' Group Therapy – Cheri on Skateboarders
SuicideGirls' Group Therapy – Noir on SG Military
SuicideGirls' Group Therapy – Exning on Weight Loss
SuicideGirls' Group Therapy – Aadie on Cute Overload
SuicideGirls' Group Therapy – Eevie, Luffy, and Praesepe on SG420
SuicideGirls' Group Therapy – All on Urban Art
SuicideGirls' Group Therapy – Clio on Hardcore Music
SuicideGirls' Group Therapy – Epiic on Hirsute
SuicideGirls' Group Therapy – Tarion on Atheists
SuicideGirls' Group Therapy – Rambo on Photography
SuicideGirls' Group Therapy – Thistle on Vamos Gigantes