Waste Land is a film that finds beauty in a place most would choose to not see. The documentary follows Brazilian born and Brooklyn based artist Vik Muniz as he takes on his most ambitious project to date.
Having achieved success in the galleries of Manhattan, the acclaimed sculptor and photographer returns to his homeland to create a transformative series of images. Fascinated with the concept of turning trash into treasure, Muniz travels to the world's fastest growing landfill to find inspiration and raw materials.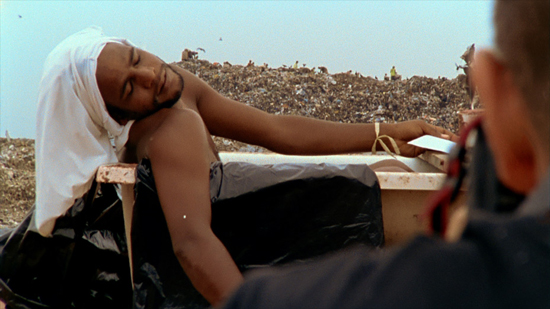 "I never imagined I'd become a work of art" – Tiaõ
Jardim Gramacho, on outskirts of Rio de Janeiro, is the final resting place for 70% of the city's garbage. It's also home to a group of several thousand trash pickers (known as catadores) who eek out a living sifting through the 7,000 tons of refuse that arrives each day to scavenge for resalable recyclable materials.
Muniz begins by photographing his subjects, which include Zumbi, an instinctively intellectual soul who feeds his mind by reading the books he picks up at the dump, Isis, a vulnerable and attractive fashion-loving young woman who finds herself living amongst the trash following a harrowing personal tragedy, and Tiaõ, a natural leader who began garbage picking as an 11-year old and has established a workers' cooperative to improve the lot of his fellow catadores.
Incorporating Jardim Gramacho's heartwarming community spirit into his art, Muniz recruits a group of catadores to work at his warehouse and help with the next stage of his process. Together they build oversize recreations of Muniz' original photographs using material found at the landfill. The result is a stunning series of "community art" pieces, in the truest sense of the phrase.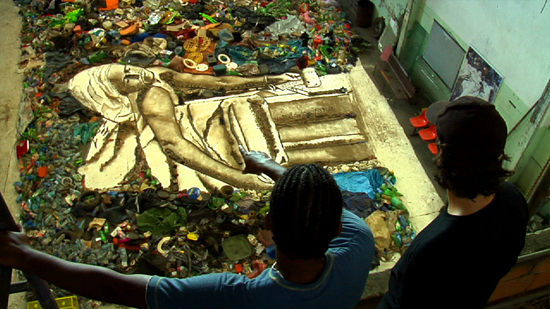 It was always Muniz' intention to donate the proceeds from the sale of the Waste Land work back to the Jardim Gramacho community. However, as the catadores get a taste of life outside of the dump, they begin to envision a possible future beyond its borders, and are faced with a question neither they nor Muniz anticipated: Can they return to the living hell that necessity dictated they grew to love?
Skillfully directed by Lucy Walker (Countdown To Zero, Blindsight and Devil's Playground), Waste Land is incredibly moving, giving a voice and validation to a group of beautiful, erudite people that many might consider as dispensable as the waste they send to landfills like Jardim Gramacho without a second thought.
"For me this film, as with all my work, is about getting to know people you do not normally meet in your life," says Walker. "I aim to create an opportunity for the audience to feel they are getting under the skin, to emotionally connect with the people on the screen."
Waste Land opens at the Landmark Nuart in West LA on Friday November 5. The 7.30 PM shows on Friday and Saturday (Nov 6/7) night will feature a Q&A with Walker after the film. Visit WastelandMovie.com/ for more info.
If you do get a chance to see it, the filmmakers ask that you leave a comment on Waste Land's Facebook page, since we're told several of the catadores featured regularly check it, and are thrilled by every comment they see.
SuicideGirls attended a special screening earlier this week at the Hammer Museum in Westwood. The event featured a Q&A with Walker and her friend Moby, who donated music for the score. Visit SG Radio's Facebook photo gallery for images from the event.