by Blogbot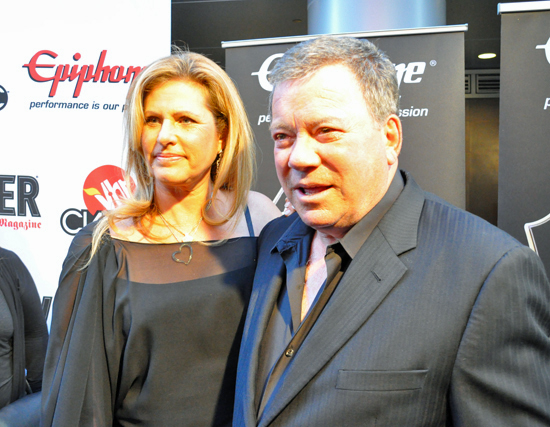 [William Shatner, pictured with his wife Elizabeth Martin, whom he claims is "the real headbanger" in his household]
SuicideGirls caught up with William Shatner when he materialized on the black carpet at Revolver Magazine's Golden Gods Awards last week. The OG Star Trekker's far out level of badass quotient was being acknowledged with an Honorary Headbanger Award, which was presented to him by SG's own Food Coma columnist Scott Ian (who was there with his band Anthrax ahead of the monster Big 4 Fest).
Shatner is planning to follow up his critically acclaimed albums* The Transformed Man (1968) and Has Been (2004), with a third full length entitled Searching For Major Tom, which is scheduled to be unleashed on the world later this year.
Given that we were at the Golden Gods, which is a celebration of all things hard 'n' heavy, we had to ask Mr. Shatner if his release would include any metal tracks. He responded in the affirmative, and revealed that the collection of out-of-this-world covers will include Black Sabbath's "Iron Man," Pink Floyd's "Learning To Fly," and Deep Purple's "Space Trucking."
"There are some great musicians are on there," Shatner enthused. Among the many guests confirmed are ex-Deep Purple guitarist and Rainbow frontman Ritchie Blackmore (who makes "Space Oddity" even more of an oddity), Peter Frampton (the not-dead-yet legend plays guitar on "Spirit In The Sky"), Edgar Froese of Tangerine Dream (who brings the weirdness on "Learning To Fly" to new heights), Kinks' guitarist and frontman Dave Davies (who takes quirky to Mach 10 on "Mr. Spaceman") and Stokes' guitarist Nick Valensi (who is a grounding influence on "Major Tom").
"It's fabulous," said Shatner. "I mean, it's a happening. I can't wait to see what the reaction will be."
In related news, we can exclusively reveal that Priceline is planning to offer "Name Your Own Price®" trips to the Twilight Zone**.
[Below: William Shatner sings "F**k You" ***]

* Disclaimer: Shatner's "critically acclaimed" musical works are subject to the laws of the cool-crap continuum.
**OK, we made that bit up, though the theme does feature on the album 😉
***This song does not appear on the record – "F**k you, and F**k her too!"