by Sex Toy Expert Moxi Suicide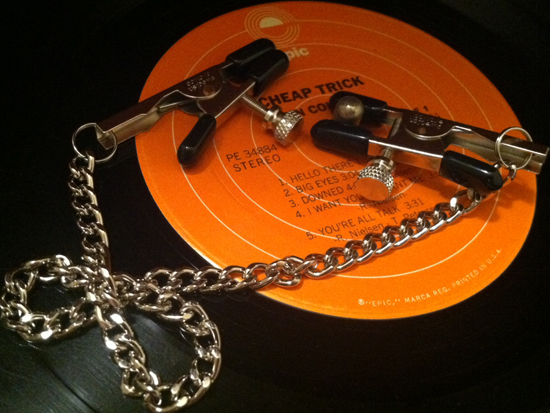 If you don't know who Phil Varone is, you're probably not as into hair metal as I am. Phil was/is the drummer for all kinds of bands like Saigon Kick, Skid Row and Vince Neil's solo act – and he also happens to make sex toys.
Let me just say that I run in the same social circle as his girlfriend and before I even started my Powers Tools blog I heard about Phil coming out with his own line of erotic playthings and my curiosity was piqued, so I begged Phil's girl to send me one of his toys.
Time passed, my Power Tools column got into gear, and I was becoming impatient to test out Phil's wares. Eventually he put me in touch with manufacturer Cal Exotics, who were kind enough to ship almost the complete line of Phil Varone toys to me.
Opening a box of sex toys is like peeking in my stocking at Christmas; it's so exciting that I often have no idea where to begin. I rummaged around and saw the "Rock Hard Nipple Clamps." I have always wanted to try nipple clamps, but must admit that I never have. I like a lot of pressure on my nipples and figured that now was as good of a time as any to try them out.
I put Cheap Trick's album In Color on and gingerly applied the clamps to my nipples. Woah, ow! I took them off and examined them. I noticed that they were adjustable and that I could set the pressure at different levels. I re-adjusted and applied them to my nipples once again. Ah, I had found the perfect "someone is biting on your nipples" pressure.
At this point, I was getting a little turned on and realized that the clamps should be used in conjunction with another toy, like one of my favorites, the Nubby Bullet. I reached for my bullet and admired the silvery chain of the clamps against my chest as I leaned over. The clamps have a continuous sexy sting and unlike your partner's mouth, these nipple clamps don't get tired. It was really nice to have a bit of extra naughty sensation during my regular playtime. And I have to say, as a first time nipple clamp user, I'm thoroughly impressed.
xx
Moxi
You can get a backstage pass to Phil Varone's Sex, Toys, and Rock & Roll collection here.
Related Posts:
Power Tools: Doc Johnson's Mood Fantastic Rechargeable Body Wand
Power Tools: Doc Johnson's Harmony Slim G Yang
Power Tools: The Nubby Bullet