Join us this coming Monday, October 15, for the Los Angeles premiere of For Your Consideration Movie, a short film documentary which tells the story behind Plastic Jesus and Ginger's "Casting Couch" installation.
"For Your Consideration" Trailer from Patrick Green on Vimeo.
The life-sized statue, which appeared on Hollywood's Walk of Fame in time for the 90th Academy Awards earlier this year, took aim at Harvey Weinstein and the culture of cover up that allowed sexually predatory and abusive behavior — as brought to task by the #MeToo movement — to permeate Tinsel Town on a massive scale.
The event, which runs from 7.30 til 9.30 PM at LA's Downtown Independent, and will include a panel discussion after the screening with artists Plastic Jesus and Ginger, #MeToo activist Dawn Dunning, and filmmaker Patrick Green. The panel will be moderated by journalist, activist, and SGR host Nicole Powers. The event is FREE. Reserve your tickets HERE.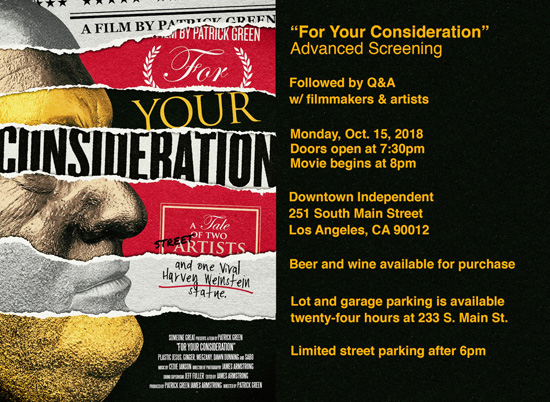 About For Your Consideration
Harvey Weinstein unexpectedly crept back into Hollywood just in time for the 90th Academy Awards. Los Angeles-based street artist Plastic Jesus teamed up with sculptor Ginger to create "Casting Couch", a golden statue of the disgraced movie producer, clad in matching bathrobe and slippers, sitting on a chaise lounge, while provocatively holding an Academy Award trophy.
Directed by filmmaker Patrick Green, For Your Consideration follows the making of the "Casting Couch" with exclusive footage that details the blood, sweat, and duct tape it takes to make a built-to-scale street art installation which conveys a bigger than life-sized message:
"For many years the exploitation of many hopefuls and established names in the industry was brushed under the carpet with their complaints of harassment and sexual abuse being ignored or worse," says Plastic Jesus. "Hopefully, now in the light of recent allegations against many leading figures in Hollywood the industry will clean up its act."
The 20 minute documentary explores the reaction to the satirical, thought-provoking art piece, which went viral and was covered by Time, Vice, Vogue, The Hollywood Reporter, Variety, and all the major domestic broadcast networks and many worldwide. The installation also featured on countless social media timelines just as the Las Vegas-based Ginger had hoped:
"The whole concept was for it to be an interactive art piece. Everyone wants a selfie, everyone wants to be part of the experience, but this isn't about grabbing headlines, we wanted to have a message behind it."
For Your Consideration also tracks how activist art like the "Casting Couch" can affect culture through interviews with Dawn Dunning (one of the original women to speak out about her encounter with Weinstein), feminist street artist MegZany, and right-wing guerrilla artist Sabo.
The Harvey Weinstein "Casting Couch" is the second collaboration between Ginger (best known for his naked Donald Trump sculptures) and Plastic Jesus, a former photojournalist turned pop culture provocateur, whose annual Oscar's art pieces (coke snorting Oscar, False Idol Kanye West) have become as much a part of Academy Awards season as Hollywood's elite pandering for golden trophies.
twitter.com/fycdoc | instagram.com/fycdoc/ | facebook.com/ForYourConsiderationDoc/