By Blogbot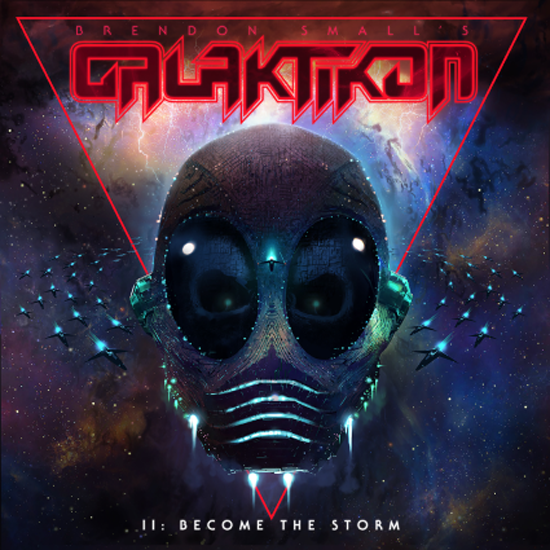 This Wednesday, October 11 on SuicideGirls Radio, host Bradley Suicide will be joined by the mastermind behind the massive metal band Dethklok, Brendon Small, who'll be talking about his new album, Galaktikon II: Become The Storm.
You can listen – and watch – SuicideGirls Radio live on Wednesday nights from 8 til 9 PM at our state-of-the-art, all digital home on zinna.tv.
For updates on all things SG Radio-related, like us on Facebook and follow us on Twitter and Instagram.
About Brendon Small / Dethklok

Brendon Small – the mastermind behind massive metal band Dethklok and albums The Dethalbum (the highest-charting death metal album ever on the Billboard Top 200 chart), Dethalbum II, Dethalbum III and Metalocalypse: The Doomstar Requiem — has been teasing a new chapter of his popular Galaktikon saga for months. After spending the past two years writing and recording new material and dropping random hints throughout the media and at appearances, the wait is over.
This year, marking the 10 year anniversary of his breakout Dethklok release, The Dethalbum, Brendon Small will reveal his upcoming high-stakes intergalactic extreme rock/metal album, Galaktikon II: Become The Storm, to the masses. The album will be released via physical and digital retailers on August 25, 2017 (Megaforce Records/MRI), with digital pre-orders set to become available Friday, June 2.
Galaktikon II: Become The Storm follows the space-age theme of 2012's original Galaktikon album, with a conceptual storyline and a heavier, darker, more brutal sound. In addition to Brendon Small on vocals and guitar, the new album will feature acclaimed musicians and Dethklok alum Bryan Beller (bass/The Aristocrats, Dweezil Zappa, Steve Vai) and Gene Hoglan (drums/Testament, Death, Dark Angel). Galaktikon II: Become The Storm was co-produced by Small and Grammy-nominated producer/engineer Ulrich Wild, who also worked behind the board on the Dethklok albums.
With these names behind the project, it should come as no surprise that Galaktikon II: Become The Storm is a welcomed transformation and expansion of the sound that put Brendon Small on the musical map. With uncapped time and creativity on their side, Small & Co. were able to reach above and beyond what fans have come to expect as of now. Galaktikon II: Become The Storm proves to be Small's most commanding release yet.
"This record is a combination of all the sounds I've been making throughout my creative life," says Brendon Small. "It's as heavy as I want it to be and melodic as I want it to be — it's the bigger, darker record I wanted to hear. And what a way to celebrate my 10 year anniversary of making metal with Gene, Bryan and Ulrich, some of the best in the industry. I'm excited to have it live inside listeners' heads and let their imaginations take over!"
Fans should anticipate plenty of early tidbits, such as track leaks and videos, leading up to the release of Galaktikon II: Become The Storm, so stay tuned!
Elsewhere in the universe of Brendon Small, Albatross Funnybooks recently announced GALAKTIKON!, a six-issue series of comic books launching this August based on the original Galaktikon album. The series will be written by Brendon Small and five-time Eisner Award winner and Albatross founder Eric Powell. Powell will also be contributing cover art with interior art by Steve Mannion of Fearless Dawn and Spook House. More details coming soon!
For more on Brendon Small and Dethklok
 visit:
galaktikon.com/site/
facebook.com/OfficialGalaktikon/
twitter.com/bsGalaktikon
instagram.com/galaktikon/

The World's Leading BYOB Radio Show Is Sponsored By Mangria
"As a nightly consumer of red wine, I was shocked one evening to find I had just half a glass left in the bottle. So I did what any decent alcoholic, ex-con, American would do… I went to the fridge and the liquor cabinet, then poured, mixed and measured. Thus Mangria was born." — Adam Carolla
SuicideGirls Radio / Carolla Drinks Offer
You can purchase all three delicious flavors of SGR's fave luscious libation, Mangria — and the most excellent Endless Rant IPA — via CarollaDrinks.com. Fans of SG Radio can get $5 off any bottle of Mangria using this special discount coupon code: SG (unlimited use, code is good until December 31, 2017).
For more info visit Carolla Drink's website, Facebook, Twitter, and Instagram.