By Blogbot
This Wednesday, September 21 on SuicideGirls Radio, hosts Nicole Powers and Bradley Suicide will be joined by the boys from Carolla Drinks, who'll be bringing us a case or three of their brand spanking new IPA!
Head brewer Phil McDaniel of King Harbor Brewing (@KingHarborbrew ) will be on hand to guide our palettes as we experience Adam Carolla's latest creation, Endless Rant. Plus we'll have more of the Carolla crew on hand — Ray Oldhafer (@RayOldhafer), Chris Laxamana (@ChrisLaxamana), Patrick and Caelan – just to ensure everything goes down smoothly!
**UPDATE**
ICYMI: Watch last night's show feat. the craft beermakers behind Endless Rant and the boys from the Carolla Drinks crew here or via the player below.
"I like to make a statement… and then another, and another, and another… And I don't settle when it comes to cars, politics, music… Or BEER. So I set out to create a great brew to fuel barstool arguments and tailgate pontification. While still embracing the classic citrus notes of a West Coast IPA. A beer that makes a statement. Thus, Endless Rant IPA was born." – Adam Carolla.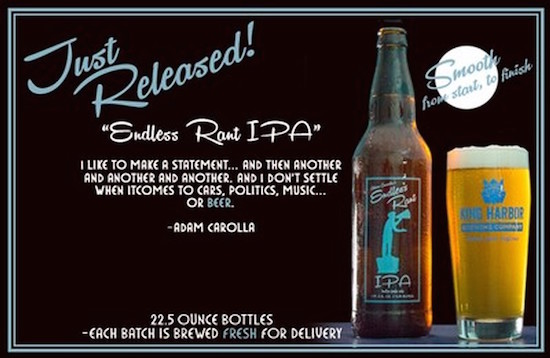 You can listen – and watch – SuicideGirls Radio live on Wednesday nights from 8 til 9 PM at our state-of-the-art, all digital home: zinna.tv
If you have questions for the SG Radio crew or our guests, you can call in during the live broadcast at: 1-855-TRV-inLA (1-855-878-4652)
For updates on all things SG Radio-related, like us on Facebook and follow us on Twitter and Instagram.

The World's Leading BYOB Radio Show Is Sponsored By Mangria
"As a nightly consumer of red wine, I was shocked one evening to find I had just half a glass left in the bottle. So I did what any decent alcoholic, ex-con, American would do… I went to the fridge and the liquor cabinet, then poured, mixed and measured. Thus Mangria was born." — Adam Carolla
For more info visit Carolla Drink's website, Facebook, Twitter, and Instagram.