by Steven-Elliot Altman (SG Member: Steven_Altman)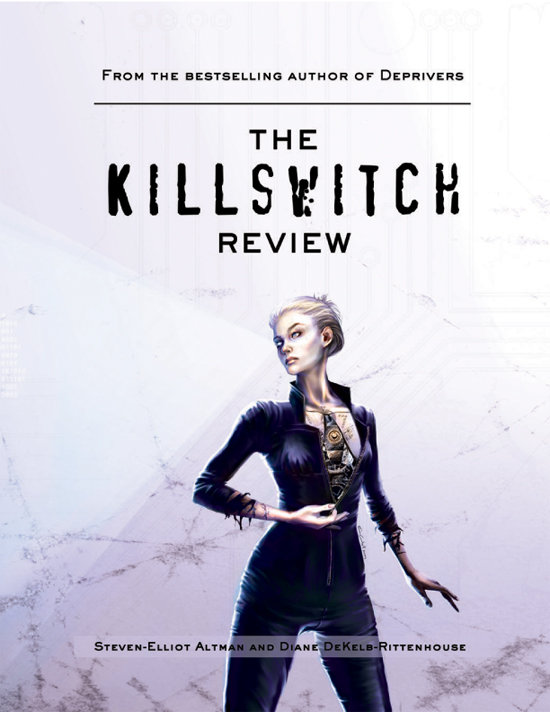 Our Fiction Friday serialized novel, The Killswitch Review, finished last Friday. You can therefore read the complete Killswitch Review online.
The Killswitch Review is a futuristic murder mystery with killer sociopolitical commentary (and some of the best sex scenes we've ever read!). Written by bestselling sci-fi author Steven-Elliot Altman (with Diane DeKelb-Rittenhouse), it offers a terrifying postmodern vision in the tradition of Blade Runner and Brave New World.
The Complete Killswitch Review


Fiction Friday: The Killswitch Review – Chapter One
Fiction Friday: The Killswitch Review – Chapter One, Part Two
Fiction Friday: The Killswitch Review – Chapter One, Part Three
Fiction Friday: The Killswitch Review – Chapter One, Part Four
Fiction Friday: The Killswitch Review – Chapter Two, Part One
Fiction Friday: The Killswitch Review – Chapter Two, Part Two
Fiction Friday: The Killswitch Review – Chapter Two, Part Three
Fiction Friday: The Killswitch Review – Chapter Three, Part One
Fiction Friday: The Killswitch Review – Chapter Three, Part Two
Fiction Friday: The Killswitch Review – Chapter Three, Part Three
Fiction Friday: The Killswitch Review – Chapter Four, Part One
Fiction Friday: The Killswitch Review – Chapter Four, Part Two
Fiction Friday: The Killswitch Review – Chapter Four, Part Three
Fiction Friday: The Killswitch Review – Chapter Five, Part One
Fiction Friday: The Killswitch Review – Chapter Five, Part Two
Fiction Friday: The Killswitch Review – Chapter Five, Part Three
Fiction Friday: The Killswitch Review – Chapter Six, Part One
Fiction Friday: The Killswitch Review – Chapter Six, Part Two
Fiction Friday: The Killswitch Review – Chapter Six, Part Three
Fiction Friday: The Killswitch Review – Chapter Seven, Part One
Fiction Friday: The Killswitch Review – Chapter Seven, Part Two
Fiction Friday: The Killswitch Review – Chapter Seven, Part Three
Fiction Friday: The Killswitch Review – Chapter Seven, Part Four
Fiction Friday: The Killswitch Review – Chapter Seven, Part Five
Fiction Friday: The Killswitch Review – Chapter Eight, Part One
Fiction Friday: The Killswitch Review – Chapter Eight, Part Two
Fiction Friday: The Killswitch Review – Chapter Eight, Part Three
Fiction Friday: The Killswitch Review – Chapter Nine, Part One
Fiction Friday: The Killswitch Review – Chapter Nine, Part Two
Fiction Friday: The Killswitch Review – Chapter Nine, Part Three
Fiction Friday: The Killswitch Review – Chapter Nine, Part Four
Fiction Friday: The Killswitch Review – Chapter Nine, Part Five
Fiction Friday: The Killswitch Review – Chapter Ten, Part One
Fiction Friday: The Killswitch Review – Chapter Ten, Part Two
Fiction Friday: The Killswitch Review – Chapter Ten, Part Three
Fiction Friday: The Killswitch Review – Chapter Eleven, Part One
Fiction Friday: The Killswitch Review – Chapter Eleven, Part Two
Fiction Friday: The Killswitch Review – Chapter Eleven, Part Three
Fiction Friday: The Killswitch Review – Chapter Eleven, Part Four
Fiction Friday: The Killswitch Review – Chapter Eleven, Part Five
Fiction Friday: The Killswitch Review – The Final Installment