by SG's Team Agony feat. Clio
Let us answer life's questions – because great advice is even better when it comes from SuicideGirls.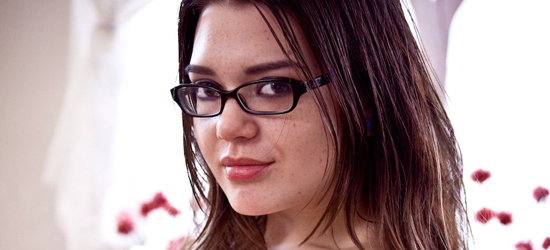 [Clio in Born Into A Light]
Q: My name is Giusuno Cornetto [real name redacted – continue on to understand why!] and if the name doesn't say it then I'll tell you; I'm a 100% bona-fide Italian from a large Italian family. I'm a 100% bona-fide Italian from a large Italian family. I don't discriminate and I love all women, but if I could marry an Italian and have little Italian babies it would be awesome.
Recently I began dating an au pair from Tuscany. She couldn't be more perfect. She has beautiful tan skin, great looks from her face to her toes, and, most of all, she adores me. She is different from my usual type, which is someone like myself, tattoos, piercings, and dreadlocks, but it's great that she is not like that because most of the girls I've dated are either too immature, too wild, or are not on the same page. However, there is one problem in the bedroom and it's a big one. Her vagina is rank.
I'm sorry there's no other way to say it, but it's out of control even for a free spirit like myself. I loved my hippies, as in just a natural scent – sweaty, salty, with no desire to shave the kitty ¬ it turns me on. I don't know what to do or how to break the news to her. I love putting my mouth on everything especially her pussy, and without being able to lick her off the relationship has little hope. When she gets wet I can smell her even more and the worse part about it is she doesn't notice anything wrong which can only mean that she is used to it. What do I do?
A: Thanks for sharing this delicate dilemma. I hope your girlfriend/potential bambini-maker isn't a member of SuicideGirls and doesn't decide to Google your name because she's not going to be a happy signorina when she reads this about her farfallina. But anyway, from what you wrote it sounds like either she just has a very strong natural scent, or she could have a vaginal infection that's causing a funky odor.
If she has a vaginal infection she should see a medical specialist pronto! If that's not the case I suggest trying to get her fragrant figa under control by adopting a more serious approach to feminine hygiene. There's a lot of info about that online so I'm not going to bore you with details about how to keep your patatina clean.
However, you probably could use some advice on how to break the news to her that you'd rather eat a moldy cannoli than munch on her box. I would tell her delicately (do not use the word 'rank' unless you wanna get slapped) that her natural scent is a bit strong and that maybe she could wash before you engage in sexual activity. If you think that's too direct, you can suggest taking a shower together before having sex and see if that makes going down on her more palatable.
In bocca al lupo!
Clio
xoxo
***
Got Problems? Let SuicideGirls' team of Agony Aunts provide solutions. Email questions to: gotproblems@suicidegirls.com