Superhero films, books, and games will exist until the end of time. With that thought you should settle down, and watch the 2007 documentary called "Confessions of a Superhero". This film chronicles the lives of three mortal men and one mortal woman who make their living working as superhero characters on Hollywood Boulevard.
Superman (Chris Dennis) is a Los Angeles orphan, but claims to be the son of Oscar/Tony-winning actress Sandy Dennis, though the family denies that she had any children. Wonder Woman (Jennifer Wenger) was a Midwestern homecoming queen, who actually is the most successful of the actors. The Hulk (Joe McQueen) sold his Super Nintendo for a bus ticket to Los Angeles during the Rodney King riots and was homeless for four years before becoming the Hulk, and achieves some success, winning a small role in Justin Lin's "Finishing the Game." Batman (Maxwell Allen) claims to be a former mobster with a murderous past, though his wife casts doubts on his stories in the film. This deeply personal view into their daily routines reveals their hardships and triumphs as they pursue and achieve their own kind of fame.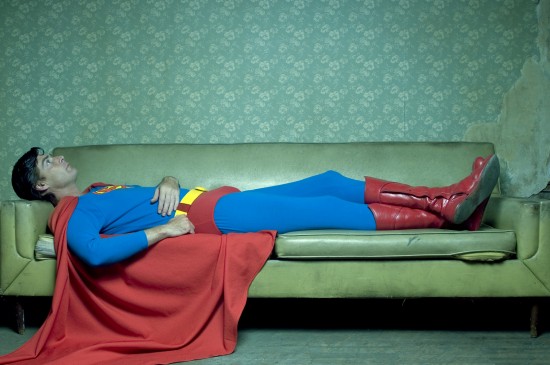 One thing learned in this film is don't judge a book by its cover. They are out there working and they're taking pictures with tourists and making them happy. They're sort of ambassadors to Hollywood. Although many critics say that they are pathetic people who would rather waste time begging for tips than actually work toward their dreams of acting. Most are missing the point of this film. The odd weariness of their strange lives is overlooked by the critics complaining about the way they are seeking fame and fortune. It really does hold a mirror up to American's obsession with being famous.
The film even had some fallout from the way a certain actor was shown. Apparently, Batman (Allen) really didn't like the film and had a falling out with the director, and he stated the film was edited to portray him in an unflattering way. You may initially be interested in this film if you are a fan of documentaries or comic books, but you will come out of the film with a better understanding and appreciation of your fellow human. For one human being to love another; that is perhaps the most difficult of all our challenges and makes for the best heroes.