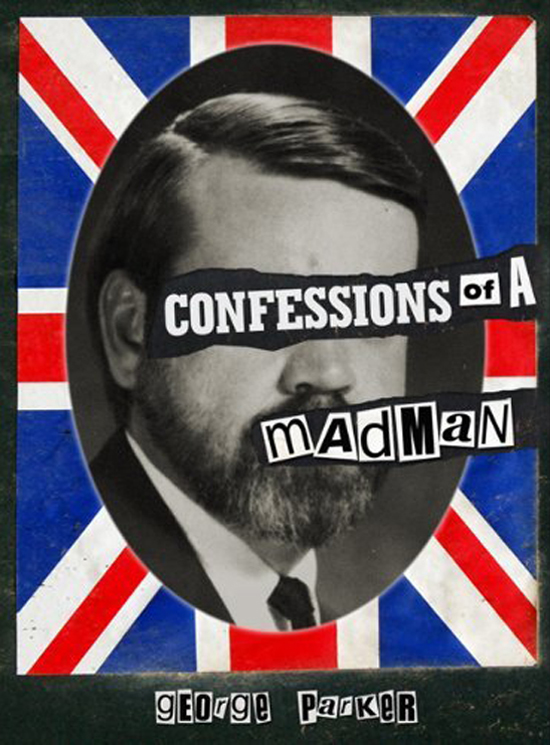 "The problem is, from what I understand of Occupy, that because it's so democratic, so many people have a say in what should go, that your messaging is just getting too beat to shit. The messaging has to be produced basically by one person or a very small group of people, no more than three or four, otherwise it just gets watered down."
– George Parker on Occupy and marketing by committee
George Parker is a man who loves profanity almost as much as he hates the corporate fucktards and douchenozzles that stifle creativity in the advertising industry (Parker's preferred pronominal profanities, not my own). In his popular "piss and vinegar" blog AdScam and his three books –Madscam, The Ubiquitous Persuaders, and his latest, Confessions of a Mad Man – the renowned British-born adman rails against the Big Dumb Agencies (BDAs) and the shareholder-serving corporations that consolidated, own, and suck the life out of them.
Self-described as "the last surviving Mad Man," Parker landed at Cunard's Pier 96 in New York to pursue his Madison Avenue dreams in an era when the cheapest way to cross the Atlantic was still by steamship. Having spent five debaucherous days of "non-stop drinking and shagging" aboard the Queen Mary, he arrived armed with a degree from the Manchester School of Art, a postgraduate scholarship from London's Royal College of Art, a masters in bullshit from the University of Life, and a few hundred bucks. In the ensuing five decades, he rose through the ranks and has worked on countless major accounts both as a freelancer and in-house for some of the most prestigious agencies in the world including Ogilvy & Mather, Young & Rubicam, Chiat Day, and J. Walter Thompson.
As the recipient of Lions, CLIOs, EFFIES, and the David Ogilvy Award, and with a career that spans five decades and multiple continents, Parker has more perspective than most when it comes to what's wrong in today's ad world. He's repelled by the kind of suits that use jargon like "resonate" instead of "appeal" and who "interface" instead of "meet." But, according to Parker, their crimes against humanity only begin with their choice of vocabulary. He hates the way they treat the American public like it has a collective IQ somewhere south of Jessica Simpson's and their clients with the kind of contempt that should be reserved for the likes of Dick Cheney and Karl Rove.
Talking of which, Parker also takes issue with the kind of one percenters who think it's OK to treat themselves to Russian MiG 15 fighters (Larry Ellison of Oracle) and Boeing 767s (Google co-founders Larry Page and Sergey Brin) at their shareholders' expense. To say Parker is moderately left wing is an understatement, since he never does anything – including Boddingtons – by halves. As such, he's a rare beast in the advertising world, one that has lived life to the full yet has sense of decency, and a conscience.
Having been kind enough to call SuicideGirls "one of the best examples of a community based social networking site" in his excellent 2006 state-of-the-industry bible The Ubiquitous Persuaders (a book that serves as an update to Vance Packard's 1957 classic The Hidden Persuaders), we were long overdue for a quality conversation with Parker. With the freshly minted Confessions of a Mad Man – a literary (and often times literal) romp through the industry as experienced by Parker – serving as an excuse, we called him up for a chat over drinks. In the interests of verisimilitude, ours was a glass of Sauvignon Blanc (cause we're lightweights) and Parker's was "a case of Pinot Noir" (because he's not). During the course of our lengthy chinwag we discussed the decay of the American Dream, the not uncoincidental rise of political advertising, and how Occupy might best market itself and its efforts to stop the rot.
Read our exclusive interview with George Parker on SuicideGirls.com.