by Steven-Elliot Altman (SG Member: Steven_Altman)
Our Fiction Friday serialized novel, The Killswitch Review, is a futuristic murder mystery with killer sociopolitical commentary (and some of the best sex scenes we've ever read!). Written by bestselling sci-fi author Steven-Elliot Altman (with Diane DeKelb-Rittenhouse), it offers a terrifying postmodern vision in the tradition of Blade Runner and Brave New World…
By the year 2156, stem cell therapy has triumphed over aging and disease, extending the human lifespan indefinitely. But only for those who have achieved Conscientious Citizen Status. To combat overpopulation, the U.S. has sealed its borders, instituted compulsory contraception and a strict one child per couple policy for those who are permitted to breed, and made technology-assisted suicide readily available. But in a world where the old can remain vital forever, America's youth have little hope of prosperity.
Jason Haggerty is an investigator for Black Buttons Inc, the government agency responsible for dispensing personal handheld Kevorkian devices, which afford the only legal form of suicide. An armed "Killswitch" monitors and records a citizen's final moments — up to the point where they press a button and peacefully die. Post-press review agents — "button collectors" — are dispatched to review and judge these final recordings to rule out foul play.
When three teens stage an illegal public suicide, Haggerty suspects their deaths may have been murders. Now his race is on to uncover proof and prevent a nationwide epidemic of copycat suicides. Trouble is, for the first time in history, an entire generation might just decide they're better off dead.
(Catch up with the previous installments of Killswitch – see links below – then read the finale after the jump…)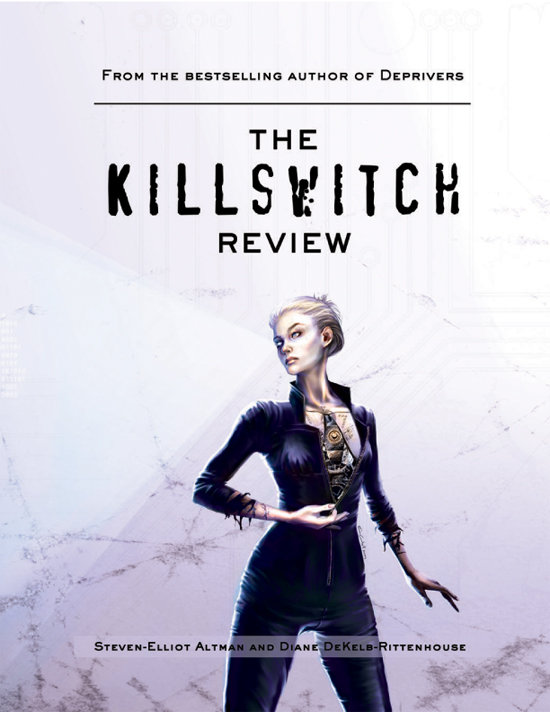 [THE KILLSWITCH REVIEW – CHAPTER ELEVEN, PART SIX]
[SUPERBOWL CXC]
[Previous Chapter]
Haggerty lay crumpled on the stage, slowly returning to consciousness; no sound, no pain, merely the sensation of floating. He opened his eyes.
Regina knelt over him, crying. He could faintly feel her hands in his hair as she looked down into his face.
"What—?" he choked out.
"Just keep breathing for me and keep your eyes open, all right?" she said, her voice trembling. "They've called an ambulance." She smiled broadly. "You stunned him. I got his box."
With an effort, Haggerty turned his head and saw several agents milling chaotically nearby. He dimly heard the clamor of the crowd. Zephyr struggled toward them, hand outstretched.
"Hey man, you've got no fucking business stopping my press!"
"Fuck you, you grokless idiot," Regina said. "This isn't even your idea!"
"You won't be pressing anything until this mess is sorted out," Keenan added, wristbonding Zephyr. "Or didn't you know your little stunt is illegal?"
Detective Woyzeck came into view, his eye black and blue where Haggerty had hit him with the chair. "Nice halftime show you put on, Haggerty," he said, grinning. One of his front teeth was missing. "Don't try to speak," he said. "I figured it out. You thought I was involved, I thought you were. I'll find a way to clear you on this, I promise. Just hang on."
Haggerty doubted Woyzeck would be able to fulfill that promise. All the evidence was lost. His act would be seen as that of a fugitive attempting homicide, a tragic end to a series of meaningless acts of violence. Even Keenan, who'd risked his career to stop the slaughter, wouldn't risk it further to clear a dead man. But it was all right. He'd foiled Max's plan. He was content.
"Please Jason, I need you to hang on," Regina said tearfully.
He smiled up at her. "You'll find someone younger and less scarred," he whispered. "I'm old enough to be your great-grandfather."
"Tell that to our great-grandchildren," she said, wiping her eyes.
He felt himself fading. The central nervous system could only take so much disruption before it was unrecoverable and he doubted medical assistance would arrive in time. He regretted that the kids they'd saved would never know the truth, never question the dreadful machine complicit in plans for their destruction and take the system to task. Gandhi was wrong. He had no further instructions to give them.
With a loud burst the viewscreen above Haggerty went black and immediately cut back with the image of himself in his family's tomb, wearing Sasha DeAngelo's face.
The stadium went silent.
"Now let's review those recordings and find out what everyone's so eager to erase," his voice boomed. "Play Teardrop's first. . . ."
Haggerty looked up in disbelief at the unwinding footage from Elsa. Could she truly have uploaded herself? Or had Joe Svoboda decided to help after all by broadcasting her transmissions of the last day? He doubted he'd live to find out.
A Federal agent headed toward him. Keenan held him back.
"Leave them be," Keenan told him.
"What about that?" The agent indicated the viewscreen.
"Let it play," Keenan said.
Images from the reviewed presses flashed past, then Elsa's voice, "You believe the boxes used in the triple press were loaded with Happy Styx?"
"Yes, but I need to prove it. Review again," Haggerty said onscreen. "Magnify and let's see if we can tell if he presses."
"I'll tell them, Jason," Regina whispered. "I promise I'll tell them everything."
And they were seeing it all for themselves now, Haggerty thought. The world would learn the truth. Zephyr would be revealed as the puppet in someone else's schemes, an object of pity rather than an idol to be adored and emulated. Even if he restaged his suicide and succeeded, it wouldn't have the impact his actions could have had today. Surely questions would follow, and maybe a demand for accountability. Haggerty prayed it would be enough, that the danger was truly past.
He felt so proud of Regina, so thankful that she'd helped him remember how to feel. Ready to die since yesterday morning, maybe for the past two years, he wanted very much to live now.
"Make sure you stick around long enough to watch me," she chided him.
Sounds of sirens approached from the distance. Haggerty dimly felt Regina take his hand. He smiled again, but made no promises he doubted he could keep.
THE END.
* * *
Excerpt from The Killswitch Review, published by Yard Dog Press. Copyright 2011 Steven-Elliot Altman.
Steven-Elliot Altman is a bestselling author, screenwriter, and videogame developer. He won multiple awards for his online role playing game, 9Dragons. His novels include Captain America is Dead, Zen in the Art of Slaying Vampires, Batman: Fear Itself, Batman: Infinite Mirror, The Killswitch Review, The Irregulars, and Deprivers. His writing has been compared to that of Stephen King, Dean Koontz, Michael Crichton and Philip K. Dick, and he has collaborated with world class writers such as Neil Gaiman, Michael Reaves, Harry Turtledove and Dr. Janet Asimov. He's also the editor of the critically acclaimed anthology The Touch, and a contributor to Shadows Over Baker Street, a Hugo Award winning anthology of Sherlock Holmes meets H.P. Lovecraft stories.
Steven also bares ink on his body, and is bi, as in bi-coastal, between NYC and LA. He's currently hard at work writing and directing his latest videogame Cursed Love, an online free to play gothic horror RPG from Dark Hermit Studios, set in Victorian London. Think Sherlock Holmes, Jack The Ripper and Dorian Gray mercilessly exploit the cast of Twilight. Friend Cursed Love (Official Closed Beta) on facebook and you can have fun playing out this tawdry, tragic romance with Steven while the game is being beta tested!
Diane DeKelb-Rittehouse spent several years in Manhattan as an actress before marrying her college sweetheart and returning to the Philadelphia area where she had been born. Diane first worked with Steven-Elliot Altman when they created the acclaimed, Publisher's Weekly Starred-Review anthology The Touch: Epidemic of the Millennium, in which her story "Gifted" appeared. Diane has published a number of critically acclaimed short stories, most notably in the science fiction, murder, and horror genres. Her young adult fantasy novel, Fareie Rings: The Book of Forests, is now available in stores or online.
Interested in buying a printed copy of The Killswitch Review? Well, Steve's publisher Yard Dog Press was kind enough to put up a special page where SuicideGirls can get a special discount and watch a sexy trailer. Just follow this link to KillswitchReview.com and click on the SG logo.
* * *
Related Posts:
Fiction Friday: The Killswitch Review – Chapter One
Fiction Friday: The Killswitch Review – Chapter One, Part Two
Fiction Friday: The Killswitch Review – Chapter One, Part Three
Fiction Friday: The Killswitch Review – Chapter One, Part Four
Fiction Friday: The Killswitch Review – Chapter Two, Part One
Fiction Friday: The Killswitch Review – Chapter Two, Part Two
Fiction Friday: The Killswitch Review – Chapter Two, Part Three
Fiction Friday: The Killswitch Review – Chapter Three, Part One
Fiction Friday: The Killswitch Review – Chapter Three, Part Two
Fiction Friday: The Killswitch Review – Chapter Three, Part Three
Fiction Friday: The Killswitch Review – Chapter Four, Part One
Fiction Friday: The Killswitch Review – Chapter Four, Part Two
Fiction Friday: The Killswitch Review – Chapter Four, Part Three
Fiction Friday: The Killswitch Review – Chapter Five, Part One
Fiction Friday: The Killswitch Review – Chapter Five, Part Two
Fiction Friday: The Killswitch Review – Chapter Five, Part Three
Fiction Friday: The Killswitch Review – Chapter Six, Part One
Fiction Friday: The Killswitch Review – Chapter Six, Part Two
Fiction Friday: The Killswitch Review – Chapter Six, Part Three
Fiction Friday: The Killswitch Review – Chapter Seven, Part One
Fiction Friday: The Killswitch Review – Chapter Seven, Part Two
Fiction Friday: The Killswitch Review – Chapter Seven, Part Three
Fiction Friday: The Killswitch Review – Chapter Seven, Part Four
Fiction Friday: The Killswitch Review – Chapter Seven, Part Five
Fiction Friday: The Killswitch Review – Chapter Eight, Part One
Fiction Friday: The Killswitch Review – Chapter Eight, Part Two
Fiction Friday: The Killswitch Review – Chapter Eight, Part Three
Fiction Friday: The Killswitch Review – Chapter Nine, Part One
Fiction Friday: The Killswitch Review – Chapter Nine, Part Two
Fiction Friday: The Killswitch Review – Chapter Nine, Part Three
Fiction Friday: The Killswitch Review – Chapter Nine, Part Four
Fiction Friday: The Killswitch Review – Chapter Nine, Part Five
Fiction Friday: The Killswitch Review – Chapter Ten, Part One
Fiction Friday: The Killswitch Review – Chapter Ten, Part Two
Fiction Friday: The Killswitch Review – Chapter Ten, Part Three
Fiction Friday: The Killswitch Review – Chapter Eleven, Part One
Fiction Friday: The Killswitch Review – Chapter Eleven, Part Two
Fiction Friday: The Killswitch Review – Chapter Eleven, Part Three
Fiction Friday: The Killswitch Review – Chapter Eleven, Part Four
Fiction Friday: The Killswitch Review – Chapter Eleven, Part Five