by Blogbot
As the LA Weekly's Nightranger nightlife columnist, Lina Lecaro has clocked up more hours than most in the metropolis' liquor-soaked lounges. Having an affinity for spots that keep it dingy and real, Lina has condensed the knowledge she's amassed as a by product of her "day job" into a handy little guide to getting sauced in the city entitled Los Angeles's Best Dive Bars – Drinking & Diving In the City Angels. In the excerpt below, Lina selects six of her favorite drinking spots that combine well-worn comfort with a rockin' attitude, and just the right amount sleaze.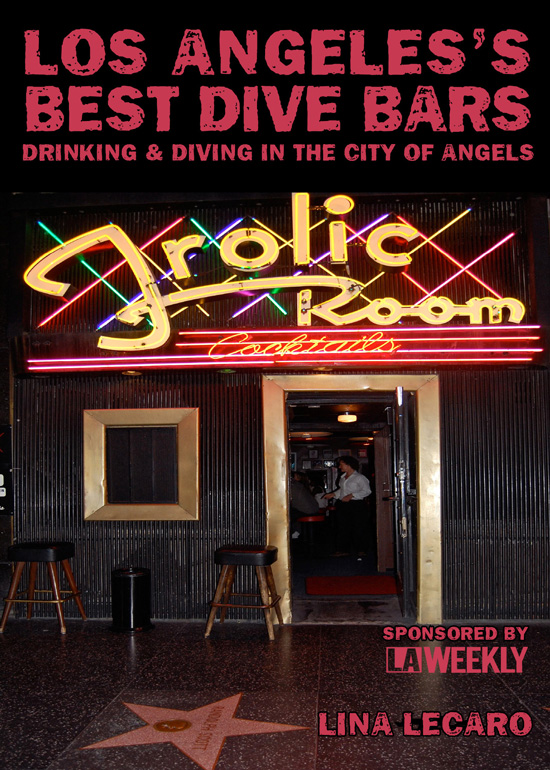 6 LA Dive Bars for Sauce Lovin' Suicide Girls
1. Jumbo's Clown Room
5153 Hollywood Blvd., Hollywood / 323-666-1187
This legendary (semi) strip club turned bikini bar is a saucy circus of dance; loud, lively music, decent-priced drink, and an exuberance unmatched by other nudie spots and traditional dives alike. Despite the occasional perv in the corner, Jumbo's always has a festive, family-feel, which makes sense since it's a family-owned business and has been since first opening in its mini-mall location back in 1970. Owner Karen Taylor took the reigns from her dad Jack – aka Jumbo – in 1990, and she's worked hard to change the place's image and rep over the years. To this day, Courtney Love's time at Jumbos during her drugged out pre-Kurt Cobain phase gets sighted as an example of the girls here, but it's absolutely inaccurate. Gone are the trashy, less than fit types, and in are lovely, equally rock & roll-ish lasses (grinding to everything from the Stones to Black Sabbath to David Bowie, all blasting from an old jukebox) who take their job darn seriously, showing off true athletic prowess on the pole. Many also have a flair for the dramatic, with foxy costumes, burlesque finery and theatrics spicing up their moves. Still, Jumbo's magic has always been as much about memories, as it about mammaries.
2. Burgundy Room
1621 1/2 N. Cahuenga Blvd., Hollywood / 323-465-7530.
When it comes to the new Hollywood hop, no street rivals the congested chaos of Cahuenga Blvd. It was officially dubbed a "corridor" a few years ago, but seasoned clubbers and anyone who's ever tried to get from Hollywood Blvd to Sunset Blvd. via the two-block stretch on weekends have another name for it: clusterfuck. The street is packed with glossy new establishments that attract a mix of tourists and weekend warriors. But there are two exceptions on this brisk little blvd: The Spotlight and a rock & roll hole every Suicide Girl in Hollywood should visit: The Burgundy Room. It's still so dark your pupils shrink upon entering, and the black-garbed crowd sort of melds into the scenery like creatures in a spooky cave. Ear-busting music and bawdy behavior are the name of the game when DJs spin the likes of The Stones, Bowie, KISS on most nights. A few of my pals spin here, and I have to confess to some screeching/devil horn hand-signing of my own when a particularly big anthem blasts out of the sound system – and the thing is, I haven't even been that toasted at the time. The raw punky feel of this place heightens even a subtle buzz, and the music often takes it to a keg party level. The fact that the space is super-narrow makes things, especially, uh, cozy too.
3. The Embers
11332 Washington Blvd., Whittier / 562-699-4138
About 12 miles southeast of Los Angeles, the area known as Whittier might not be where most might choose to go for a wild night on the town, at least not these days. In the '70s and '80s, Whittier Blvd. was a big cruising spot, a veritable parade of hot rods and lowriders that attracted customized auto-lovers from all over the city. Today it's worth a drive for dive heads thanks to The Embers. Warm, lumpy leatherette booths, pool tables with balls so old the paint is chipping off (they're made to be hit, so that's saying something), one of those old sexy souvenir dispensers in the bathroom (four quarters yields a sticker with a blush-worthy limerick and a tiny, 1″x 2″ pamphlet with pictures of "Sexual Positions From Around The World") and bartenders with voices like sandpaper and personalities that are shockingly silky sweet. The staff and patrons are really, really nice here, even to obvious outsiders/gawkers. So what's to gawk, you ask? The art! Yes, I said art, and I'm not talking about the Simpsons tattoo on the trucker to your left's bicep. California artist Frank Bowers was obviously inspired by the bar's scorching moniker. His mystically moody oil works of topless Hollywood starlets as devils in Hades-like settings fill the place (there's two big pieces behind the bar and individual pieces above each booth) visually fanning the flames of depravity inside.
4. Tonga Hut
12808 Victory Blvd., North Hollywood / 818-769-0708
Since 1958, this kitschy North Hollywood dive has been providing a liquored-up luau vibe for both cocktail culture enthusiasts and valley alkies who don't know a tiki from a totem. Indeed for many, Tonga's tropics odes were incidental to its location, cheap drinks and amusingly retro regulars (and I'm talking real retro – as in walkers and hearing aids). In 2005 new fire was breathed inside. The changes were subtle but significant: they repaired the broken fountain (aka "the drooling bastard"), scoured the formerly crusty kidney-shaped drop ceiling, brought back the Polynesian masks and velvet paintings of the era and the room's mascot of sorts, a 7-foot-tall moai (Easter Island statue), and programmed the jukebox with the kind of soundtrack younger crowds would appreciate (exotica, rockabilly, and lounge sounds plus a sprinkling of '80s rock, classic rock, R&B and hip-hop). Five years later, the hut is a hoppin' hula-hub attracting casual cocktailers from all over town looking for a lay, uh, lei. The Tonga Lei to be exact, made with crème de banana, coconut nectar, rum and clove liqueur. That one will have you drooling like a bastard, all right. Other colorfully-named, pack-a-punch concoctions worth their price tags ($5-$10) include the Ginger Flame, Tonga Punch, Rhumboogie, Cum in a Hot tub (shot) and mandatory Zombies and Blue Hawaiians. For the tolerance-challenged, we suggest sticking to the PBR on tap (only a buck on certain nights). If you do partake in the fresh-fruit embellished bitches brews here, prepare to call a taxi – most of 'em are stronger than a Samoan on steroids.
5. Akbar
4356 Sunset Blvd., Silver Lake / 323-665-6810
From its low-budge Moroccan hideaway look to its jammin' jukebox and DJs, to the mad-cap mix of patrons (it varies with the night, but a good estimate of preferences is about 60% gay, 20% straight, and 20% ambivalent), Akbar continues to be a fave with open-minded guzzlers and nuzzlers alike. Silver Lake may be tres-trendy, and was since long before this place opened, but you never feel like an interloper at Akbar, no matter where you're from or whom you like to kiss. Indeed, this bar's buoyant brew of artfully attired boys and gals, rocker chicks and dudes, bears, femmes, queens, pierced and plain bods, and everything in between, has made it the best "mixed" scene around, and recognized as such by every local rag in town. I'm not alone in choosing Akbar as a night "closer." The last pit stop before heading home and crashing can be pivotal in how one surveys an overall nightlife experience. This unassuming yet high-spirited spot leaves one with a generally good feeling. No matter how much damage their brain-numbing drinks may inflict, it always seems worth it the next morning.
6. Whisperz
3645 Foothill Blvd., La Crescenta / 818-957-9919
Two words kind of sum up this peculiar, punky li'l liquor pit: Korn karaoke. Yes, Whisperz is a karaoke bar, says so on its colorful neon sign, so you will find the usual cuckoo for coco-puffs crooners of all ages and walks of life popping in to torture the staff with off-key renditions of Phil Collins and Billy Joel, just like any other bar that offers patrons a microphone and the words to their favorite song. But Whisperz's prominent posse are mostly about the rawk, more Billy Idol than Joel. For these faux-hawked, backward baseball capped hell-raisers, it's metal and grunge – a total '90s rewind in which Korn's "Got the Life" sees fist-pumping behind the bar. Your porn-starish pourer, who wears a vinyl mini skirt, bra-baring fishnet tee and blonde hair with black roots will look bored if the music ain't blaring, and Hole's "Violet" inspires grrrl power in the form of bodyshots. They've got FUSE music channel on the giant TV screen behind the bar and games scattered about. I especially love the x-rated Jenga tower with hand written commands like "grab the guy's nuts next to you" and " flash your tits" on each piece. Live bands on weekends (safe bet they've all got dreads and facial piercings), free pool and beer pong ("don't forget to wash your balls") and all-the-time specials like $3 Jäger & Crown bombs and $1 Kamikaze shots, will make your memory of Whisperz the next day anything but a gentle murmur.
***
Text & Images: Lina Lecaro (c) 2010
Lina will be signing copies of Los Angeles's Best Dive Bars: Drinking and Diving in the City of Angels (Ig Publishing) this Saturday (7.30 til 10.30 PM) at Stories Books and Café in Echo Park. Additionally, LA Times' scribe Randall Roberts will be signing copies of De Capo's Best Music Writing 2010. The event will also feature a Wente Vineyards wine tasting, and live music from Death Kit and DJ Dan Collins. For further details visit StoriesLA.com/ and the event's Facebook page.
Follow Lina's nocturnal adventures on Twitter and on LA Weekly.com/.