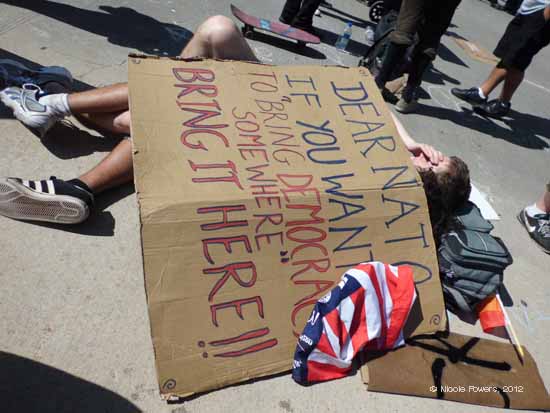 [Alarm set to sleep]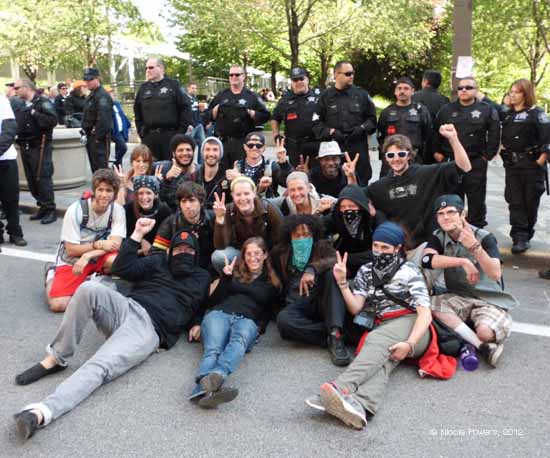 [Occupy Denver in da Chi-Town house]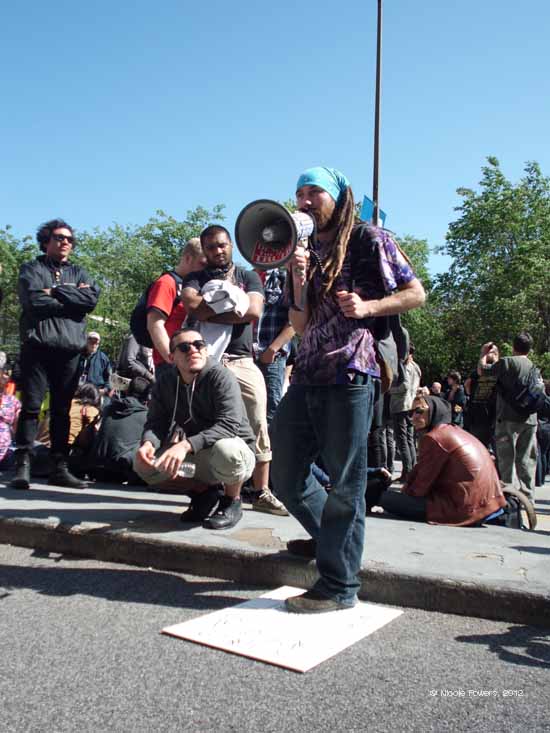 [Rallying the anti-ICE troops]
Monday was supposed to start with a march to Boeing's HQ, but after the craziness of the previous day, this activist, like many I suspect, slept through it.
One of the best things about this whole Chicago odyssey had been the opportunity to meet friends IRL I'd previously been conversing with exclusively online. This phenomenon seemed to be universal among the protesters that had gathered in the city. Consequently, over the past few days, at marches, rallies, and at the Occupy Chicago Convergence Center, Twitter handles seemed to be more ubiquitous than names.
Having attempted but failed miserably to meet up with a group of Twitter friends that were particularly dear to me during the chaos of yesterday's #NoNATO rally, we decided to rectify the situation first thing today. Therefore, at the crack of midday, I headed to one of the best pizza joints in town to break some authentic deep pan pizza crust with my Twitter besties.
There's always a little anxiety when meeting digital friends in the flesh for the first time. Would/could I live up to my online persona? Would/could they? Fortunately, in this case, expectations were exceeded, and our friendship affirmed. With relief (on all sides I suspect) that our camaraderie was justified, we finished our food and moved on to the next march.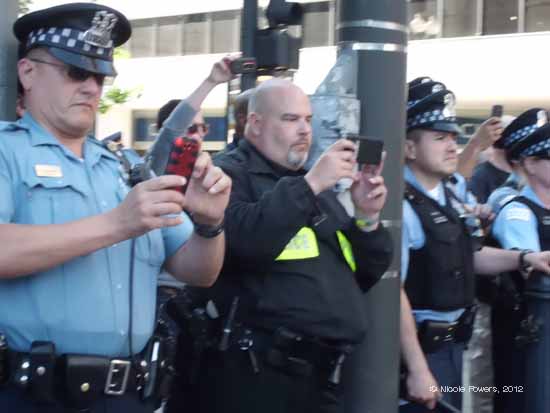 [Members of the CPD turn out to see our anti-ICE march off]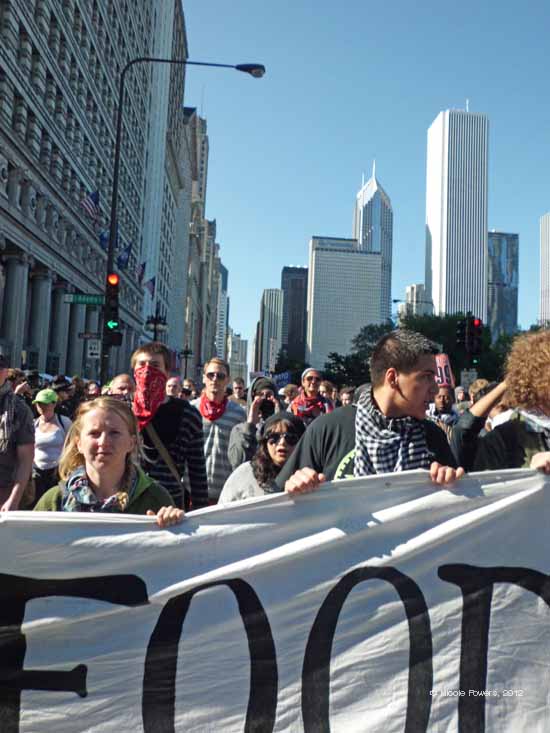 ["Food Not Bombs" = Food For Thought]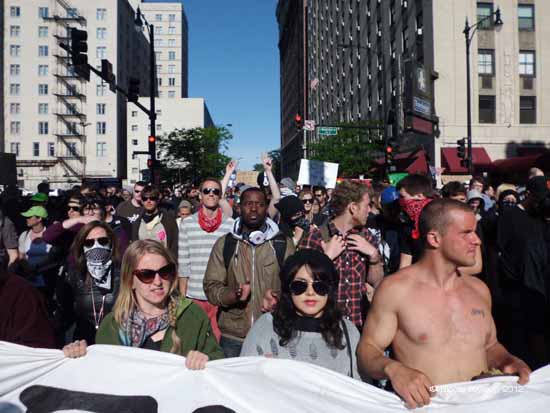 [Protesting can be a shady business – especially when the sun's out.]
The focus of this afternoon's action was immigration policy and ICE, however, as our procession passed the Congress Plaza Hotel on Michigan Avenue, the sight of tourists entering the site of the longest ongoing strike in the US prompted spontaneous chants of "union busting, that's disgusting" and multiple choruses of "Solidarity Forever." It was heartening to see occupiers embracing the finer qualities of organized labor so enthusiastically, since at times – despite a natural affinity and synergy based on shared goals – relations between Occupy and the union movement have been strained.
Heading towards the Metropolitan Correction Center, we converged with those that had been on the Boeing march earlier in the day. As our numbers increased, the policing got a little more intense. However, clearly not wanting a repeat of the violence that had marred the previous day, the white shirts were mostly making a concerted effort to facilitate our route.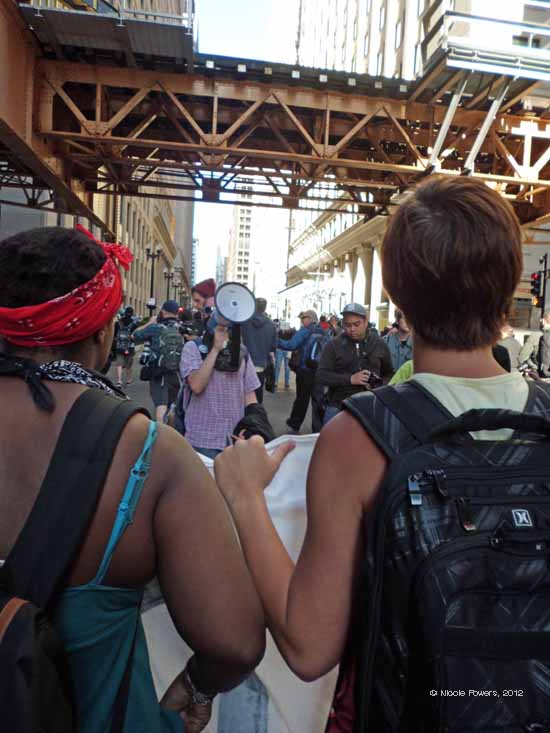 I ducked out around 5PM, since I had the next day's SG blog content to post, and also wanted to edit and upload my last batch of photos before jumping on the bus. All fourteen 99% Solidarity-organized and National Nurses United-funded buses, which had set out from eight different cities to ferry 700 activists to the Chicago protests, were scheduled to depart at 10 PM from the same spot they'd dropped us off at on Lake Shore Drive.

During my pizza breakfast/lunch, LA Occupier b0xcar had called me to express concern at the large police presence outside the Occupy Chicago Convergence Center, where our group was converging prior to departure. That same police presence was now in evidence by our buses.

As my cab approached, one officer attempted to divert us. It was only after I explained I was actually getting on one of the buses, that he allowed my driver to pull up in vague proximity. While gathering my luggage, plus several other bags I was transporting for friends, numerous cops took turns to yell at me to hurry up. Actually offering a hand might have been more helpful than screaming at one girl who was clearly having difficulty wrangling six heavy bags. But since assistance wasn't offered, I clenched my jaw shut and silently took the utterly superfluous verbal abuse.

Over the past 24 hours, one of the paramount concerns of the 99% Solidarity group had been to track those who'd been arrested and facilitate their release, since leaving any of our number behind would be problematic in more ways than one. Diane Moxley, a veteran activist legal adviser who was running jail support, noted that charges tended to match the severity of the baton-induced injuries so police could justify their use of force. However, as our departure time approached, the reality seemed to dawn on the Chicago Police Department that any occupier who missed our bus would likely just occupy Chicago after their eventual release. Not wanting to add to their problems – or Occupy Chicago's ranks – all but one of our group was released in time to make their ride.
That didn't mean everyone was going home though.
TO BE CONTINUED…

[Below: Images of the anti-ICE protest]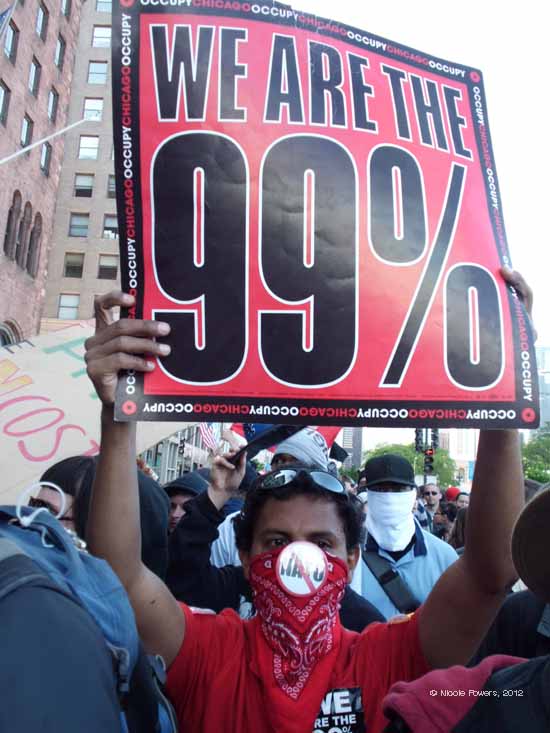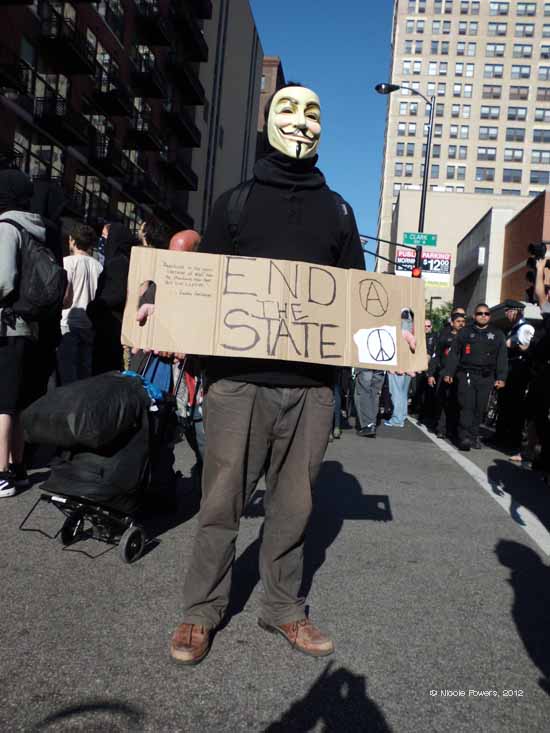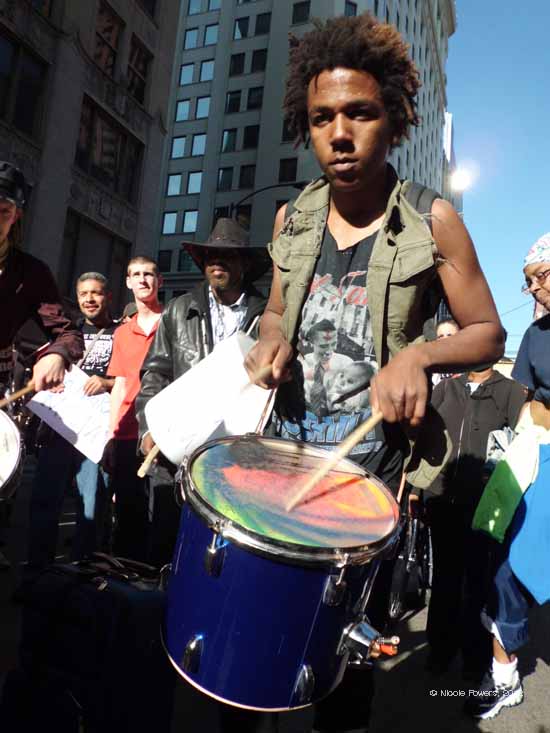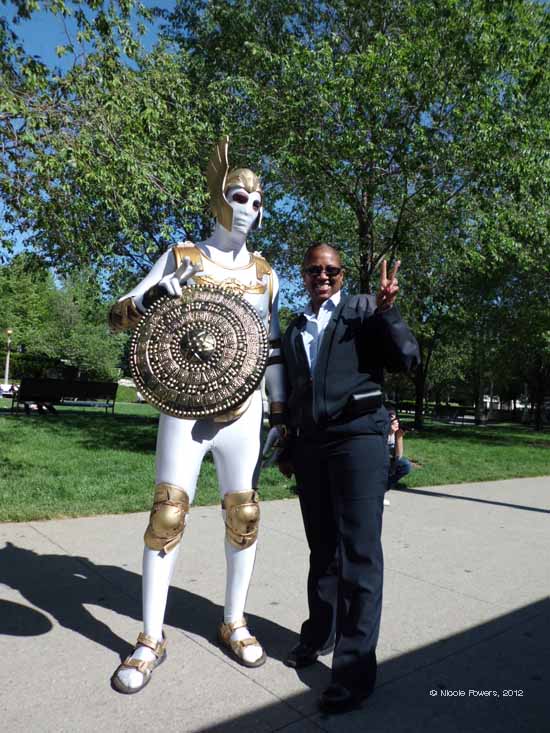 Full disclosure: Nicole Powers has been assisting with 99% Solidarity's efforts and is in no way an impartial observer. She is proud of this fact.
Related Posts:
99Solidarity Occu-Bus: Day 1 Of Our Epic Coast-To-Coast Road Trip From Los Angeles To New York By Way Of Chicago
99Solidarity Occu-Bus: Day 2 Of Our Epic Coast-To-Coast Road Trip From Los Angeles To New York By Way Of Chicago
99Solidarity Occu-Bus: Day 3 Of Our Epic Coast-To-Coast Road TripFrom Los Angeles To New York By Way Of Chicago
99Solidarity Occu-Bus: Day 4 (Pt. 1) Of Our Epic Coast-To-Coast Road Trip From Los Angeles To New York By Way Of Chicago
99Solidarity Occu-Bus: Day 4 (Pt. 2) Of Our Epic Coast-To-Coast Road Trip From Los Angeles To New York By Way Of Chicago
99Solidarity Occu-Bus: Day 5 Of Our Epic Coast-To-Coast Road Trip From Los Angeles To New York By Way Of Chicago