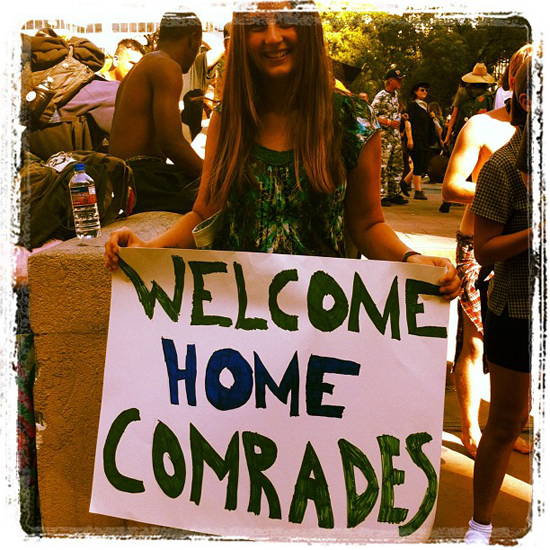 [OccupyLA Welcomes Its Occu-Bus Comrades]
For very personal reasons I don't respond well to verbal abuse, and people had been yelling at me from the moment my cab pulled up in proximity to the bus I needed to catch. The wheels of the vehicle I was in had barely ground to a halt before the screaming started.
"You can't pull up here."
"But I'm getting on one of the buses."
"Hurry up."
"I'm trying to."
"Move it."
"I can't, I have to pay the driver and get my bags."
"Move along."
I'm no futzer or dilly-dallier for fucks sake. And the cops wouldn't exactly be happy if I vacated the cab without paying my tab. Argh! What did they want me to do that I wasn't already doing?

Flustered, I threw myself and my bags onto the first New York bound bus I found. Only to be yelled at again. This time by an alternate driver, for some bizarre reason involving his need to sit in a specific seat so he could use a boombox to help him sleep?!?
"You don't want to be in this bus if I can't sleep. NO ONE DOES!!!!!"
I was getting sick of men taking their frustrations out on me. Fuck this shit.
I jumped off that bus and on to the next, only to be yelled at again, this time because it was "full." Only it wasn't. Fuck this shit, again.
Having run out of New York buses available to board, I collapsed with my bags on the pavement as chaos reigned around me. The presence of the police, barking unnecessary and nonsensical orders, which in turn harassed and panicked riders, was irrational. It was merely causing undue stress and hindering proceedings with absolutely zero tactical gain. After all, they were getting what they wanted, us "trouble makers" were leaving town. Like most abusive situations though, it seemed to be a power play, an action that gave the abuser the illusion of control. I hope someone felt better after yelling at me.

I sat on the cold hard concrete for a couple of minutes with my head in my hands, trying to tune out the un-checked aggression I'd been accosted with. I looked up and saw a friendly face walking towards me. It belonged to Stephen Webber, the deceptively unassuming and utterly awesome individual that had wrangled funds for the fleet of fourteen 99% Solidarity buses from the NNU. He told me not to worry, that two more NYC buses were waiting in the wings. Then, as he approached, so did the swing driver from the first bus I'd tried to board. I guess he felt guilty (he was), and offered to carry my bags to the second bus, which had now magically found room for me.
Ensconced in the relative calm of the bus, I got myself situated. Having captained one of the three buses out from LA, I'd bought a power converter with me to create a charging zone for the power hungry livestreamers aboard my designated media bus. As I negotiated with the diver as to how best to distribute his cigarette lighter-sourced juice, a female fellow Brit chirped, "Are you English?"
I turned around to see who'd inquired and immediately honed in on a girl with a crimson shock of hair. There was only one person it could be: UK journalist Laurie Penny a.k.a. my recent Twitter acquaintance @PennyRed.

I'd started following her after my friend, SG contributor @ZDRoberts had raved about her work, and had subsequently posted an excerpt from her Notes from the New Age of Dissent book – an essay entitled "In Defense of Cunt" – on this very blog. Consequently, when @PennyRed's message saying "@99Solidarity trying to get in touch with you" showed up in my timeline, I'd immediately reached out to help. Turned out she'd been commissioned to write a story on the Chicago #NoNATO trip by The Independent, and needed a spot on one of our buses – something, as a member of the 99% Solidarity team, I'd been able to facilitate.
At the time, she'd told me she was only taking the bus one way, out from New York to Chicago, so it was a pleasant surprise to see her on the return ride. It was this kind of serendipity, born of often adverse situations, that'd been a reoccurring theme in the past few days. After all, if the first bus driver hadn't been so offensive, I'd have never boarded this one, and we'd never have met.

The ride back otherwise was pretty uneventful, and, being a mere 15-hour journey, was far less grueling than my 50-hour epic ride out from LA. As the NY skyline appeared on the horizon, the mostly slumbering bus began to stir. "Welcome back to the rotten apple," shouted one passenger as I stared at the deceptively beautiful view ahead. Closing in on our Upper West Side drop off point, another hollered with barely a hint of irony, "Mic Check! Does anyone know if there's an action scheduled for today?"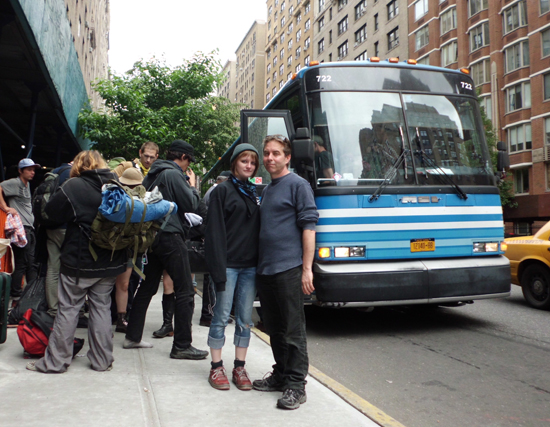 [The 99% Solidarity Buses Arrive Back In NYC]
As a bus captain and member of the 99% Solidarity crew, at times, organizing occupiers was akin to herding cats. But that's kind of the point. These free-thinking individuals doggedly refuse to follow the crowd like sheep, and are not easily led. It's this very quality that more Americans could do to be imbued with. They could also use a little of the tenacity of occupiers, something that those who claim the Occupy movement is over clearly underestimate.

My coast-to-coast adventure had been a trip in more ways than one. Thought I'd traveled across the country, I'd actually seen very little of it from the microcosm of the occu-bus. But I'd been rewarded in other ways. As I rolled across America, I'd forged new friendships, strengthened the bonds of existing ones, and substantially extended my network of like-minded activists. As a group, we'd learned a few things too; That a little organization goes a long way and that united by a common cause we could depend on and trust in the kindness of strangers, especially if those strangers self-identified as occupiers.

Though 99% Solidarity had always hoped that the Chicago trip would lead to greater cohesion and an exchange of ideas between occupiers from different cities, no one had anticipated it would lead to an actual exchange of occupiers to the extent that it did. As I write this, I'm on sabbatical from LA, occupying my friend, investigative journalist @Greg_Palast's couch in NYC. And, having been made to feel so at home by the Occupy Chicago crew, all of whom were strangers to me prior to the advent of this trip, I look forward to paying it forward to the new members of OccupyLA once I return to the arbitrary place on this rock hurtling through space that I currently refer to as home.
Talking of which, one of the other things I realized on this fantastic journey is that regardless of whether I'm in Los Angeles, New York, Chicago or my native United Kingdom, when I'm amongst occupiers I am home.
Full disclosure: Nicole Powers has been assisting with 99% Solidarity's efforts and is in no way an impartial observer. She is proud of this fact.
Related Posts:
99Solidarity Occu-Bus: Day 1 Of Our Epic Coast-To-Coast Road Trip From Los Angeles To New York By Way Of Chicago
99Solidarity Occu-Bus: Day 2 Of Our Epic Coast-To-Coast Road Trip From Los Angeles To New York By Way Of Chicago
99Solidarity Occu-Bus: Day 3 Of Our Epic Coast-To-Coast Road TripFrom Los Angeles To New York By Way Of Chicago
99Solidarity Occu-Bus: Day 4 (Pt. 1) Of Our Epic Coast-To-Coast Road Trip From Los Angeles To New York By Way Of Chicago
99Solidarity Occu-Bus: Day 4 (Pt. 2) Of Our Epic Coast-To-Coast Road Trip From Los Angeles To New York By Way Of Chicago
99Solidarity Occu-Bus: Day 5 Of Our Epic Coast-To-Coast Road Trip From Los Angeles To New York By Way Of Chicago
99Solidarity Occu-Bus: Day 6 Of Our Epic Coast-To-Coast Road Trip From Los Angeles To New York By Way Of Chicago