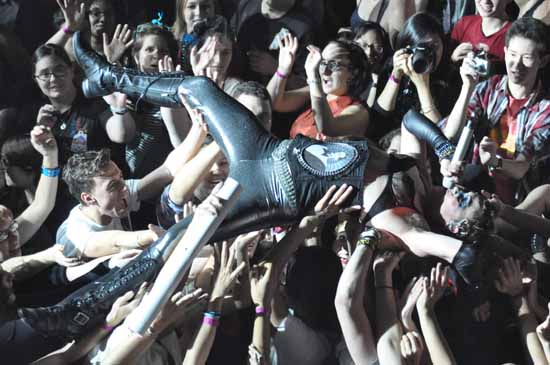 Amanda Palmer is truly an artist of and for the people – sharing her heart, soul, and music with an unparalleled generosity. Going it alone without the backing of a record company, she went cap in hand to her fans via Kickstarter asking them to support her first post-label "big, legit, studio album undertaking" to the tune of $100K. Thanks, in part, to the unique and very honest rapport the former Dresden Doll has with her fanbase, the response was massive; she covered the requested amount nearly 12 times over – raising $1,192,793 via 24,883 backers. The resulting album – Theatre is Evil – was unleashed via Palmer's own imprint, 8 Ft. Records, on September 11.
To appropriately mark the release of her much anticipated first full-on full-length in four years, Palmer and her newly assembled Grand Theft Orchestra have embarked on a two month-plus North American and European tour. SuicideGirls attended the official record release party on Tuesday September 11, at Webster Hall in NYC. The show, which was the second date of the tour (the first being in Philly the night before), was simultaneously webcast globally via YouTube.
The bulk of the show was quite rightly taken up with the new tracks, which ranged from raucous rock-infused ditties ("Olly Olly Oxen Free" and "Do It With A Rockstar") to post-apocalyptic alt cabaret ("Smile: Pictures or It Didn't Happen"), to new wave pastiches ("Want It Back" and "Bottomfeeder"), to songs so beautiful that they would have broken our heart had it not already been smashed to smithereens ("The Bed Song," "Berlin," "Trout Heart Replica" and "Grown Men Cry").
The band, her phattest to date – complete with revolving volunteer string and horn sections (which vary from date to date) – sounded epic, while Palmer was completely in her element. She conversed intimately with her audience, shared their secrets via a confessional note box, and, during songs, hopped from keys to drums to guitar – and then off stage. Indeed it seemed fitting as an artist of the people, that she surfed the audience with such art, ease, and elegance on more than one occasion.
Having made grown men and women laugh, cry, and rock out in the extreme, Palmer drew her triumphant set to a close with "Leeds United" – a personal fave of this humble scribe. Judging by the raw emotion exuded by the crowd en mass, we could tell we weren't the only one in the room that had loved and lost. The glee with which the packed house joined in with the unlikely anthemic chorus verged on indecent. But, indeed, "Who needs love when there's Law And Order? And who needs love when there's Southern Comfort? And who needs love when the sandwiches are wicked and they know you at the Mac Store?"
And who needs love when you can have a night out – or in – with Ms. Palmer?
…Talking of which, download your copy of Theatre is Evil – NOW for FREE – like immediately!
A pioneer in the *awkward* area of downloading, Palmer pragmatically balances her need to finance her creativity with the realities of intellectual property and commerce in the digital age – not to mention in these tough economic times. All she asks is that you observe the honor system – no questions, no judgment. Leave a little in the virtual tip jar if you can afford it (or when you can, if you love it). Then do what the lady says, and share it with a friend. They'll be grateful you did, as will Ms. Palmer, since you can't put a price on new fans!
Related Posts
SG Interview: Amanda Palmer – Evelyn Evelyn
SG Interview: Amanda Palmer – Rebel With A Cause