by Dell Cameron
The threat of an all out war between Israel and the Palestinian resistance has increased drastically over the past few days as the Israeli Defense Force began a bombing campaign in Gaza. The Israeli Defense Force has continuously blanketed Gaza City with air strikes from warplanes, drones and gunboats since announcing Operation Pillar of Cloud on Twitter. This marked the first military action ever announced by a government entity via a social networking site.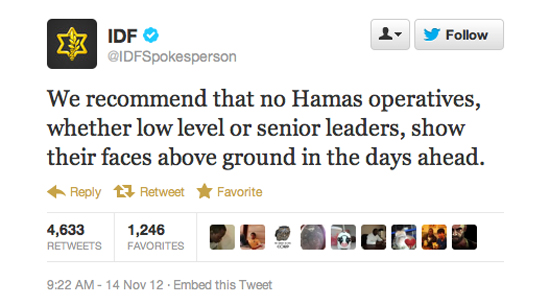 [@IDFSpokesperson – November 14, 2012]
The tweet was posted shortly after the confirmed kill by Israelis on Wednesday of Ahmed Jabari, Hamas' military commander. An endless volley of Fajr rockets from within Gaza have been targeting Israeli cities in retaliation. According to Haaretz, Israel's oldest daily newspaper, the Palestinian resistance rockets have a range of 75km, placing Tel Aviv well within range of their attacks.
A pysops campaign was also started by the Israeli Defense Force, who dropped leaflets early Thursday morning throughout Gaza, warning citizens to stay far away from Hamas forces. Some Gaza residents on Twitter claimed the leaflets warned of an impending ground force attack should Hamas continue to escalate their attacks.
While UN meetings were either canceled or adjourned with no course of action decided, this wasn't the case with another group. The hacktivist collective Anonymous jumped into action late Wednesday evening under the banner of #OpIsrael – downing Israeli government websites and amassing support on Twitter for those caught in the crossfire in Gaza.
In a press release, which was translated into several languages, Anonymous outlined their position in defense of a free and open internet stating:
"But when the government of Israel publicly threatened to sever all Internet and other telecommunications into and out of Gaza they crossed a line in the sand. As the former dictator of Egypt Mubarack learned the hard way – we are ANONYMOUS and NO ONE shuts down the Internet on our watch. To the IDF and government of Israel we issue you this warning only once. Do NOT shut down the Internet into the "Occupied Territories", and cease and desist from your terror upon the innocent people of Palestine or you will know the full and unbridled wrath of Anonymous. And like all the other evil governments that have faced our rage, you will NOT survive it unscathed."
Prior to the press release, Anonymous issued an online "care package" which contained a variety of useful materials intended for residents of Gaza. Resources included information on how to access the internet in the event that the Israeli government shuts off, instructions on how to hide data traffic from surveillance, a first aid guide, and meshnet apps to help Palestinian's access Egyptian cell networks if their service is cut.
Anonymous spent much of Wednesday night locating and utilizing Arabic-speaking volunteers to translate their communiqués, since Google Translate does not function adequately for Arabic. In addition to the Arabic translations, as of Thursday afternoon, Anonymous Twitter accounts were also seeking assistance from Hebrew speakers, claiming they intended to provide the same technical support to victims of Palestinian attacks in Tel Aviv. A short statement by Anonymous in a separate press release stated:
"Anonymous does not support violence by the IDF or by Palestinian Resistance/Hamas. Our concern is for the children of Israel and Palestinian Territories".
Additionally, hundreds of users reportedly congregated in IRC chat rooms Thursday to carry out denial of service attacks on a variety of targets. The Israeli Defense Force website was downed several times throughout the day, though not for very long. One Anonymous user claimed that up to 40 sites had been targeted. Other websites, such as securityacademy.com/ – an Israeli security training company – were hacked and defaced with the Fawkesian symbols and suited imagery commonly used by the collective.
It is unclear what overall impact Anonymous will have in the Israeli-Palestinian conflict, but a number of mainstream news outlets including Tribune.com, Salon.com and The Huffington Post have already begun reporting on the collective's action. Meanwhile, the IDF's public relations and social media charm offensive has been countered by Anonymous and supporters of the #GazaUnderAttack hashtag. If bombing continues in Gaza, internet and phone services are likely to go offline. If that happens, as with the Arab Spring, Anonymous may once again receive credit for restoring communications to a population whose global access is being intentionally suppressed by a military force.
**UPDATE – 4PM PST, NOVEMBER 17, 2012**


Related Posts
Election 2012: Who Paid For This $#*!?
A Question Of Courage: Journalist Faces Imprisonment For Exposing Corruption
Debate 2012: I May Be A Man…But I Got Women's Issues Too