An excerpt from Greg Palast's new book, Billionaires & Ballot Bandits: How to Steal an Election in 9 Easy Steps, including a comic book by Ted Rall and an introduction by Robert F. Kennedy Jr.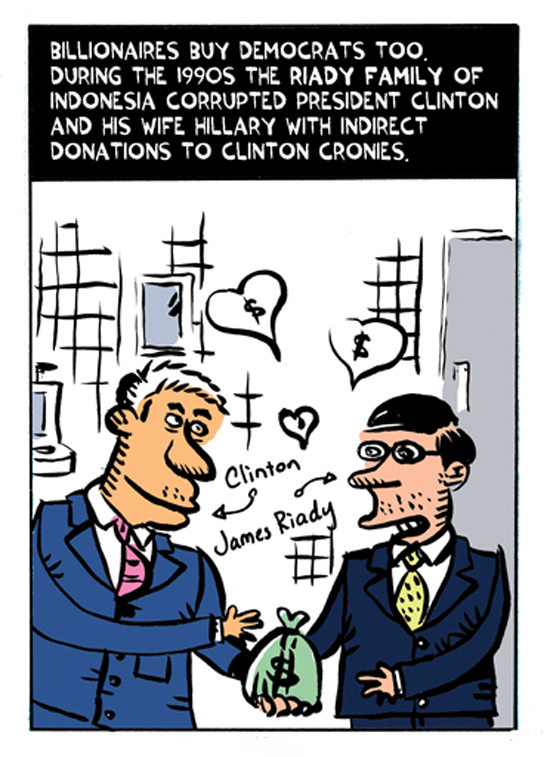 In 1996, Republicans were investigating President Clinton, that is, sniffing at his zipper and a wet cigar.
But I follow the money, not the semen. My target was an electric company, Entergy, one of Hillary Clinton's law clients whom I'd been tracking since 1985.* The Entergy money trail took me from Little Rock, Arkansas, to China, and right into the Oval Office. This was a hell of a lot more serious than an intern under the desk.
When Bill Clinton became president, Hillary's Little Rock client suddenly became a transglobal power-industry behemoth. Entergy bought the Indian Point nuclear plants in New York and the entire electricity system of London, England. Its big score was to team up with the Riady family of Indonesia, ethnic Chinese billionaires with big plans to run the power systems of China.
But the Riadys and Entergy needed Clinton and his Commerce Secretary Ron Brown to grease up the Chinese for them, beginning with Brown taking Entergy bosses on a deal-making trip to China.
Secretary Brown was not pleased. According to his long-time business partner and love interest, Nolanda Hill. Brown fumed, "I'm not Hillary's motherfucking tour guide!"
The problem for the secretary was not the deed but the price. Brown, previously chairman of the Democratic Party, had enthusiastically endorsed a Hillary cash-for-access scheme: $10,000 for coffee with the president, $100,000 for a night in the Lincoln bedroom. But he resented the discount rate Hillary put on US executives joining Brown's own lucrative trade missions. The commerce secretary pouted, "I'm worth more than $50,000 a pop!"
But Brown had nothing to fear regarding his price: the Clinton campaign chest got a lot more than fifty thousand for the "pop."
Now follow this:
On June 22, 1994, the billionaire James Riady met with Webster Hubbell, former associate attorney general and Hillary Clinton's former law partner.
On June 23, Riady met with Hubbell for breakfast, then went to the White House, then returned to meet again with Hubbell, then made two more treks to the White House.
On June 26, videotape shows the beginning of a meeting in the Oval Office between President Clinton and Riady before the tape goes blank.
On June 27, Riady retains Hubbell as a consultant to Entergy.
How much advising Hubbell could do from prison, it was not clear.
At the time of his meetings with Riady, when he got his check, Hubbell was under indictment for fraudulently inflating his legal bills, a felony. He pled guilty.
Now, I've conducted investigations of lawyer over-billing. How can one law partner fake detailed time logs without the complicity of another lawyer in the firm? Hillary's logs were worth close inspection by authorities.
Funny thing about Hillary's billing records: when requested for disclosure in an unrelated matter, they dis-appeared. First, her law firm's computers went kablooey. Then the paper printouts vanished. But during the 1992 presidential campaign, just before the logs disappeared, her partner Web Hubbell secretly combed them over, line by line.
Hubbell knew his own logs were phony, and he understood the consequences of exposure: prison. Ultimately, the bloated hours on those records caused him to lose his law license, his Justice Department post, and his freedom—twenty-one months in the slammer.
What did Hubbell see and know about Hillary's own billing logs? Hubbell won't say, except for a cryptic remark, after seeing her bills, that "every lawyer" fabricates records. Does "every" include Hillary? Hubbell wouldn't say.
If he ratted out Hillary, he might have bargained himself an easy plea bargain. But Hubbell was a champ: silent. Why would Hubbell choose to do time on the chain gang over testifying about Hillary? Could it be the $100,000 from the Riadys? (Altogether, Hubbell collected half a million dollars in the weeks up to his entering the slammer.)
Hillary's billing records finally reappeared, two years later, just outside her office, right after Hubbell's refusal to testify against her.
Maybe the Clintons knew nothing about the Riady money flowing to prison-bound Hubbell. Knowledge of the payments would suggest they were buying Hubbell's silence. That would be a criminal offense. An impeachable offense.
In notes I've obtained of the FBI's conversation with the president (who was under oath), Clinton first said he couldn't remember if Riady mentioned the $100,000 payment. Then, Clinton slyly opened the door to the truth, telling the agents, "I wouldn't be surprised if James told me."
Neither would I.
In all, James, his father, and Riady reps met with Clinton some ninety-eight times.
Four years after the Hubbell-Riady-Clinton meetings and payments, on December 31, 1998, Republican Senator Thompson's Governmental Affairs Committee shut down. They hadn't called the key witnesses against Clinton, and had issued no subpoenas for the key documents. Why? Why did the Republicans suddenly halt their inquiry into Clinton's fundraising just as they were closing in on the damning evidence?
It was the same day Chairman Thompson shut down the investigation of the Koch Brothers.
I could put two and two together. But just to make sure, I called the committee to confirm that two plus two made four. Sure enough, my insider, requesting anonymity, confirmed it was a secret straight-up deal between Republican and Democratic senators.
"A truce: You don't do Triad and we don't do Clinton [on Riady cash]."
PS: How did some unknown governor from the Podunk state rise like a rocket from Little Rock to the White House, zoom out of nowhere to become, in 1992, the nominee of the Democratic Party? But Bill Clinton didn't exactly come from nowhere: he came from the Democratic Leadership Council. DLC Chairman Bill Clinton presided over this new caucus of conservative Democrats, and his nomination as the Democrat's presidential candidate ended half a century of control of the party by the tough-regulation philosophy of Franklin Roosevelt. Rather than FDR, the DLC's antigovernment rhetoric, its complaining about bureaucrats, rules, and regulations, echoed the philosophy of the Koch-funded Cato Institute.
And that's not surprising: the DLC was funded by $100,000 from the Koch Brothers.
Did the DLC investment pay off for the Kochs?
Once in the White House, Bill Clinton issued an Executive Order to force agencies to halt or roll back regulations based on costs to industry. Public health, welfare, and safety would no longer rule. The chief of Clinton's National Partnership for Reinventing Government, Vice President Al Gore, directed the anti-regulatory attack with gusto, announcing he was "ending the era of big government." Gore created "regulatory partnerships," giving official review powers to executives of regulated industries. The Clinton-Gore administration radically slowed the movement to cap greenhouse gas emissions by heavily promoting a system of indulgences, "pollution credits," that allowed polluters to simply purchase the right to pollute. C. Boyden Gray, then head of Citizens for a Sound Economy, the lobby group founded by the Kochs, devised this "cap-and-trade" system.
In later years, the Kochs' Citizens for a Sound Economy became FreedomWorks, the precursor of the Tea Party. The Kochs' chairman of FreedomWorks, that same Boyden Gray, is today leading the Tea Party crusade against "cap and trade," the pollution credit system created by . . . Boyden Gray. If you think that's a contradiction, you're not paying attention. The strategy of well-timed, stepwise manipulation of national policy debate evidenced here is nothing if not brilliant. The Kochs play an elaborate game of chess and we can't even see the board.
And did I say that the Kochs funded the rise of both presidential nominees, Clinton and his opponent, Bob Dole? Sure did. Billionaire Rule Number two: Don't bet on a horse when you can buy the whole damn racetrack.
But there was still the little matter of criminality. Riady money from Indonesia, Koch money through "Children's Future," fake-o foundations and political hit squads posing as think tanks, all this funny juice running through political arteries was, of course, illegal.
Illegal, that is, until 2010, until Citizens United and SpeechNow. For $200 and a post office box provided by a sketchy lawyer, the Riadys, the Zetas Gang Inc., British Petroleum, Qaeda Corp, Charles Manson LLC, and Vladimir Putin Partners can all incorporate and dump cash into US campaigns till their dark hearts are content. And so too the Christian Coalition and the Chinese politburo, giving a whole new meaning to the term "Manchurian Candidate."
One other thing: Just who are these "Citizens" that were "United" for Citizens United? How could this teeny group hire a supreme lawyer like Ted Olson to argue before the Supreme Court? Olson, former US solicitor general, doesn't work for peanuts. How could Olson keep body and soul together during this time-consuming litigation? Apparently he was given leave from his duties as legal counsel at . . . Koch Industries.
Read the rest in Billionaires & Ballot Bandits. For more info visit: BallotBandits.org
* I was originally asked to investigate the company in 1981 by the attorney general of Arkansas, Bill Clinton. But I was a big-shot New York investigator with no interest in working for some small-time politician from Dawg Patch. Too bad: I could have put him on the straight path.

Related Posts
The Worst Teacher In Chicago
BP Deepwater Horizon Settlement Sells Out Gulf Victims: Deal Buries Evidence Of Oil Company's Willful Negligence
SG Interview: Greg Palast – Vultures' Picnic
Vultures' Picnic: We Figured Out Who Murdered Jake
Uber-Vultures: The Billionaires Who Would Pick Our President
Tokyo Electric To Build US Nuclear Plants: The No-BS Info On Japan's Disastrous Nuclear Operators
Stick Your Damn Hand In It: 20th Birthday of the Exxon Valdez Lie
Obama is a two-faced liar. Aw-RIGHT!
Why An Asshole Is Always In Charge
The Steal You Won't See
SG Interview: Greg Palast – Steal Back Your Vote
SuicideGirls Steal Back Your Vote