by Brad Warner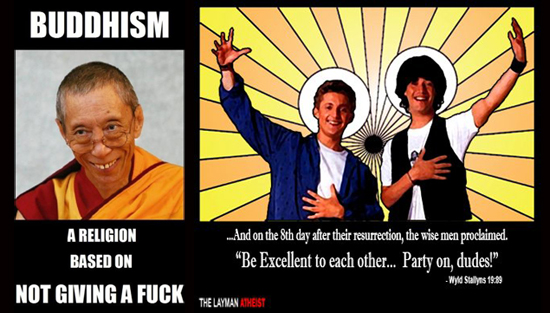 This picture (above left) got posted on my Facebook wall last week (why is it called a wall?). Apparently it's one of those things that's been making the rounds on the Internets lately judging by the number of comments it had attracted even before it reached me.
I don't even want to get into the implied racism of choosing to illustrate this idea with a photo of a bucktoothed, bespectacled Asian with his head bowed submissively. Instead I'd like to focus on the caption.
First off, Buddhism is definitely not a religion based on not giving a fuck.
Someone posted a comment on this photo correcting it to "doctrine based on not giving a fuck" and someone else said, "Not a religion idiot." But the problem isn't whether or not Buddhism is a religion. That really depends on how you define the word religion. No, the issue here is about whether or not Buddhism is about not giving a fuck.
I've been doing some soul (or lack of soul) searching to try to figure out how exactly it got to the point where so many people imagine that Buddhism is about not giving a fuck. Here's what I've come up with:
For one thing, Buddhism actually doesn't give a fuck about a lot of the things that are considered by most religions to be extremely important. For instance, in Buddhism it doesn't matter what you believe. I have to qualify this, though. Because there are Buddhists out there who do think it matters very much what you believe. Stephen Batchelor writes about his struggles with these kinds of Buddhists in his book Confessions of a Buddhist Atheist. Batchelor was once part of a Tibetan-based Buddhist organization who cared very much about what he believed. Indeed, I was called an anti-Buddhist by some who thought that my non-belief in what they called "literal rebirth" made me a heretic. But those Buddhists were confused and wrong.
Buddhism is not a belief system. It has a cosmology attached to it. But it's not crucial to the practice that you believe any of that stuff. Gautama Buddha was concerned with relieving human suffering. He didn't see any reason to think that belief played any great part in dealing with the pain he saw as inherent to existence.
Nishijima Roshi likes to say, "The only thing I believe in is reality." That kind of belief is important to Buddhism. But that's not what most religions mean when they talk about belief. Those other religions (or doctrines or whatever) want you to believe in things that you can't verify for yourself. Deepak Chopra articulated this recently in one of his Twitter postings. It said, "Only the invisible is truly real." That's the complete opposite of Buddhist belief. We believe in reality, not in invisible stuff whose existence is found only in ancient books.
Buddhism also does not give a fuck about worship. There are no gods up there in the sky who demand compliments and gifts. We do sometimes bow down in front of statues. But we don't do this because we believe the statue craves our praise. We bow to something higher within ourselves that the statue represents.
Buddhists also don't give a fuck about certain behavioral issues other religions think of as terribly important. For example, I don't know of any Buddhist organizations who oppose gay marriage. The Dalai Lama famously said that he thought homosexuality was a violation of the Buddhist principle of not misusing sex (I happen to disagree). But even Mr. Lama said it was not a very great violation and that if people were happy in their homosexual relationships he didn't see any terrific harm in them. Abortion is not a major issue to any Buddhists that I'm aware of. The teaching of evolution in public schools doesn't matter much to most Buddhists. In fact, unlike most other religions, Buddhism has no fear at all that science will one day come along and disprove its basic tenets. On the contrary, Buddhism embraces science.
But I'm not sure this is quite what the caption on the photo of that bucktoothed monk was referring to as not giving a fuck. I think whoever made that image may have perceived Buddhism as having a very casual attitude toward pretty much everything in life. He probably perceived Buddhism as a religion that had enshrined the attitudes of stoners like the guys from Bill & Ted's Excellent Adventure as its ideal.
But that's not really it. Or maybe it is. But it's not quite the same, I think. I actually like Bill and Ted and have quoted them as people (albeit fictional ones) whose philosophy is worthy of respect. "Be excellent to each other" is a great sentiment. But the real world people upon whom Bill and Ted are modeled are usually people whose system is too full of THC for them to be able to care about much of anything. They're so unfocused that nothing can possibly matter because they're too numb to their environment to care much about it.
Buddhism is about being extremely aware of everything that's going on. By becoming more aware of reality, you also become aware that your own thoughts are not so important. This means that you can have as many fears, worries, neuroses and so forth as you want. You just don't really care very much about them because, after all, they're just thoughts.
It seems to me that for most people "giving a fuck" means being intensely wrapped up in your own thoughts. Buddhists don't learn how not to worry. They learn how not to worry about being worried. It's not that we don't care. We care a lot. But we also see what our real role is in the things we care about.
Buddhism is not a philosophy of complacency.
There is a huge difference between accepting things as they are and being complacent or apathetic. I definitely want to change the world. I seek nothing less than to completely overthrow the current society, which is sick and depraved and headed for disaster. I give a huge fuck about that. But I'm not going to do it fast and I'm not going to do it alone. In fact, I will be dead and gone long before things change in the way I know they must.
But that's not enough to make me simply lie back down and say, "fuck it." I take action. But my action doesn't seem like much. I meditate every day and I teach others how to meditate. I write. I give lectures. I devote all of my life to making the world better. But I do it in ways that probably seem small and ineffective to those who have a different definition of what "giving a fuck" ought to look like.
***
Brad Warner is the author of Sex, Sin and Zen: A Buddhist Exploration of Sex from Celibacy to Polyamory and Everything in Between as well as Hardcore Zen, Sit Down and Shut Up! and Zen Wrapped in Karma Dipped in Chocolate. He maintains a blog about Buddhist stuff that you can click here to see. You can also buy T-shirts and hoodies based on his books, and the new CD by his band Zero Defex now!

Related Posts:
Brad Warner's Hardcore Zen: What Happens After You Die?
Brad Warner's Hardcore Zen: The Myth of Rebirth
Brad Warner's Hardcore Zen: Death by Buddhism?
Brad Warner's Hardcore Zen: Thich Nhat Hanh Is Wrong
Brad Warner's Hardcore Zen: Doesn't Buddhism Count Homosexuals As Sexual Deviants? Putting The Fallacy To Bed
Brad Warner's Hardcore Zen: Meditation, Depression and the Sense of Self
Brad Warner's Hardcore Zen: I Resent My High School
The Human Potential Movement Can Suck My Ass
Brad Warner's Hardcore Zen: How To Make A Zen Monster
Brad Warner's Hardcore Zen: The End of the World As We Know It
Brad Warner's Hardcore Zen: Win A Date With Brad Warner!!!
Brad Warner's Hardcore Zen: Uninvited To The Buddhist Party
Brad Warner's Hardcore Zen: Secure Your Mask Before Helping Others
Brad Warner's Hardcore Zen: Juggling
Brad Warner's Hardcore Zen: Crazy Wisdom – The Story Of A Drunken Sex Pervert Who Revolutionized Buddhism