by Bob Suicide
I have this love/hate relationship with all kinds of social networking — mostly because I'm anti-social. But, also because I often feel like new "features" are thrust upon me when I never felt like I was utilizing the existing features to their full, socially invasive potential.
So it goes without saying that I warily accepted an invite to Google+. And, even now, I'm not entirely sure that it's a platform I want to "boldly go" to. You know what they say: "MySpace me once, shame on Tom. Facebook me twice, shame on me."
Every time I check my RSS feed I find out Facebook has "secretly" rolled out some new "awesome" feature that I have to go through seven rings of hell and the fires of Mordor to de-activate. It drives me crazy — although it does give Lifehacker something to blog about. The geeky side of me wants to be involved in the ongoing evolution of online interaction, but the 70-year old man in me wants Zuckerberg to get off my virtual lawn.
So, with Facebook's recent implementation of face recognition functionality, and the announcement of a Facebook phone and rumored new Facebook integrated Skype-powered video chat feature, I fear that I for one do not welcome our new networking overloads, and a little bit of geek in me dies.
Speaking of the face recognition functionality, it might just be the code that triggers the robot apocalypse according to Sarah Jacobsson Purewal, of PC World magazine who said:
"Opting out won't keep Facebook from gathering data and recognizing your face — it'll just keep people from tagging you automatically."
She also warns:
"Facial recognition technology will ultimately culminate in the ability to search for people using just a picture. And that will be the end of privacy as we know it! Imagine a world in which someone can simply take a photo of you on the street, in a crowd, or with a telephoto lens, and discover everything about you on the internet."
While I don't quite share Sarah's doomsday view, I do sense a lack of control over my own data — which is unnerving. When I can't even control what groups I belong to (something new social media mogul Justin Timberlake needs to sort out to get my sexyback on MySpace), or when the content I post on my page ceases to be my own, or when people can pigeonhole you and tag you without your ability to filter their choices, you loose your own individuality (albeit an often manufactured internet persona –but it's one all your own!).
With the advent of these new features and the integration of Facebook into a cell phone with all the grace and class of a giant Facebook logo-shaped zit protruding out of your nose on prom night, there is a worry that we're giving too much power to a platform that doesn't have any regard for the ethics of privacy, or feel any responsibility towards the individuals their social networks purports to serve.
So, what is a geek to do? There's the rub. The complaints that go along with Facebook's onslaught on our personal privacy fall on Zuckerberg's selectively deaf ears, so the company's attitude towards the protection of rights and information with regards to the individual are not likely to change in the near future. The only surety that we have as users is that some new feature will roll out soon and we may or may not have the ability to mitigate its affect on our usage.
While I'll continue to use Facebook and Myspace, and will test the waters of Google+, I dream of a future where Zuckerberg isn't watching – and data mining — my every post.
Until then? GET OFF MY LAWN!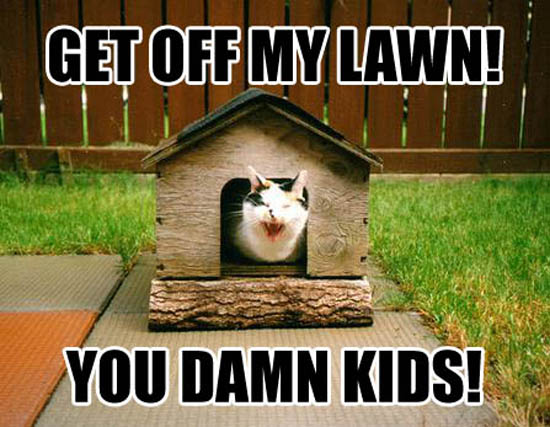 [Image: icanhascheezburger.com/]
***
Related Posts
You Might Be A Nerd If…
Confessions of a Shy Gamer
Red or Blue, Wonder Woman's Boots Were Made For Walking
The Geek's Guide to Getting Down Vol. 1 (A Brief Introduction)
The Geek's Guide to Getting Down Vol. 2: Fragging and Other Group Activities
The Geek's Guide to Getting Down Vol. 3: Co-Op Mode
The Geek's Guide to Getting Down Vol. 4: The Blue Pill Or The Red Pill
The Geek's Guide to Getting Down Vol. 5: Experiencing Pon Farr? Bring deodorant.