by Jensen
A couple of months back I was in town visiting my parents and my brother's girlfriend said she had recently tried these amazing fried pies. Fried pie?! What?! Growing up in California, I feel like I have missed out on so many opportunities to fry things that Southern kids don't bat an eyelash at. I was super jazzed about these fried pies and we all decided that we would get them for the Thanksgiving holiday. I've literally been pumped about these fried pies for two months. So I'm talking on the phone with my mom a few days ago and she informs me that plans have changed and the decision was made that fried pies were no longer on the menu over Thanksgiving weekend. I was crushed, but more importantly, I was pissed and out to seek revenge.
Long story short, today we are making fried pies. They're basically Homerun Pies, only not as shitty.

What You'll Need
Small box of instant chocolate pudding
2 1/2 cups of milk
1 cup semisweet chocolate chips
Approx. 2 cups of oil (canola, corn, veggie, etc)
Pie crust dough (you can find this premade, near cookie dough and pastry rolls in grocery stores)
Powdered sugar and vanilla (optional)
Stove, pot or pan at least two inches high, rolling pin
1. To make the filling, heat two and a half cups of milk and one cup of chocolate chips in the microwave, stirring every thirty seconds until melted. When the chocolate chips are melted, thoroughly mix in the instant pudding mix. You may notice on the side, in big bold letters, it says to mix into COLD milk. We are rule breakers. Put that in the fridge for about two hours.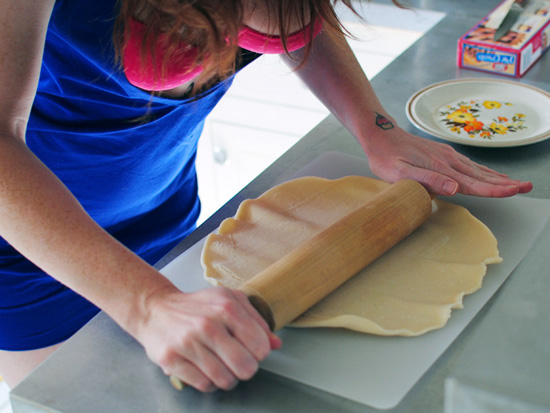 2. I try to keep these blogs fairly simple, which is why I recommended you just buy premade piecrust dough. If you have an awesome crust recipe and are feeling cool, make that up instead! (If you need one, Malloreigh posted an awesome vegan pie crust recipe on the blog a while ago.)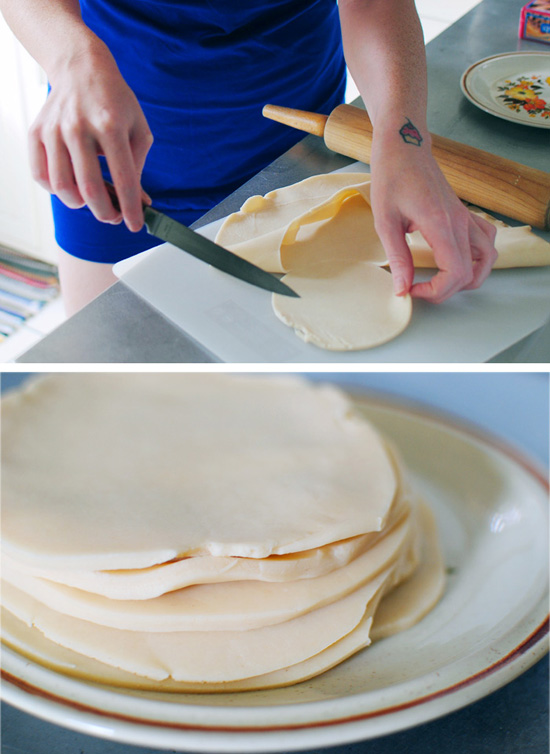 Anyways, roll out your pie crust dough. Try to roll it as thin as you can while still having it be easily stretchable without breaking. Cut six-inch circles. My premade pie crusts (they come two in a box) made eight 6-inch circles.
3. Pour about two inches of oil into your pot. I would recommend using a pot instead of a pan, you don't want grease popping everywhere and a pot prevents that a little bit more than a pan. Put heat at about medium-high.
4. Dip a finger in water and wet the edges of the piecrust circle (this will make the dough stickier when you seal it). Spoon a couple of spoonfuls of the chocolate filling into the center of the crust circle, then fold the crust like a taco. Smoosh the edges to get a nicely sealed pocket, then press the edges with a fork to make them look pretty. Make sure your edges are sealed well, this is very important!! If it opens up while it's frying, it ruins that pie and the oil gets SUPER PISSED because all of the filling will come running out and burn and it just isn't cute at all. Anyways, when they're sealed they should look like empanadas.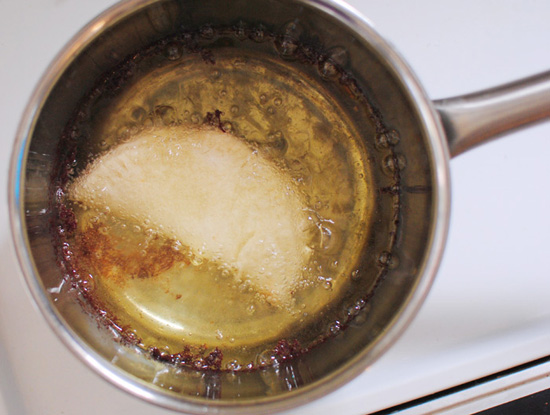 5. Gently place a pie into the oil. It will cook very fast, so keep an eye on it! When the pie starts floating, check to see if it's a golden brown color. When it's golden brown, flip it. When the other side is golden brown, place the pie on a few paper towels to soak up all of that sexy grease.
If you have a pie come open while frying (it will inevitably happen), don't stress when the grease starts hissing and bitching at you. Just lift the pie up with your spatula and set it aside (when it's cool throw it away) because it is wasted. Scoop out all of the burnt chocolate from the oil and you're as good as new.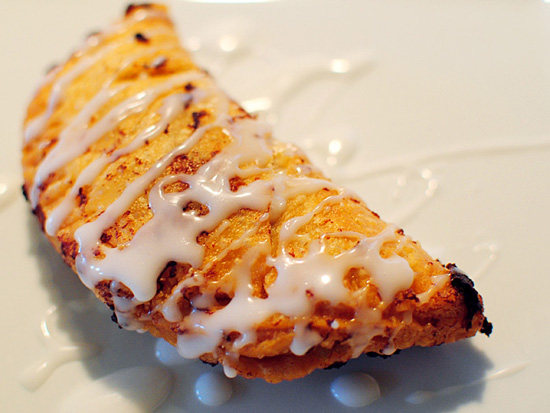 6. Optionally, but highly recommended, mix up four tablespoons of powdered sugar, a dash of vanilla, and a little over half a tablespoon of water, for icing. Pour the icing over to pies, to taste. I personally like a lot of icing on my pie.
7. Serve!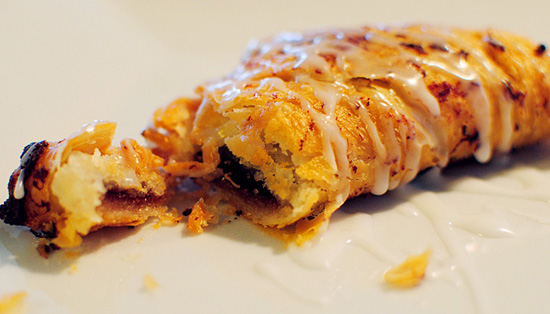 These pies are one of the greasiest fried things I've ever had, even cooked at a high temperature. But man, they are yummy! Take that, Mom! Hope you Americans are having a good Thanksgiving holiday :]. The rest of you… I hope you like Fridays – which should now be called Friedpiedays!