by Jensen
Hey guys! I'm really sad to tell you this, but I've been super busy with school and I feel like this is the right decision. I, Tara, will no longer be writing for the SG Blog. My identical twin sister Jensen will be taking over the "Doing it With" column from now on! It will work out fine. We live together. She is also really into crafty DIY stuff, and we even have matching tattoos. It will basically be like it's the same person! Take care. Tara*
Okay, so this week I'll show you how to take an old T-shirt and make it into a cool looking pillow. It's very simple, the only things involved are cutting, folding, and ironing.
What You'll Need
An iron
An old throw pillow. I purchased one at a thrift store and it had a tag on it that said it was sanitized and looked very official (new law?). Even if it has a tag like that, I'd throw it in the washer with some bleach.
No-sew "Stitch Witchery" fabric bonding web. This is what it looks like, though you may find it under a different name. (If you did my smutty sister's Titty Shot flask project you already have this!)
An old T-shirt. In a perfect world, the shirt would fit snuggly onto the pillow. If you can't find one that fits perfectly, just try to get it as close as possible. I'm going to go on the record and say that this shirt would make an amazing pillow.
Scissors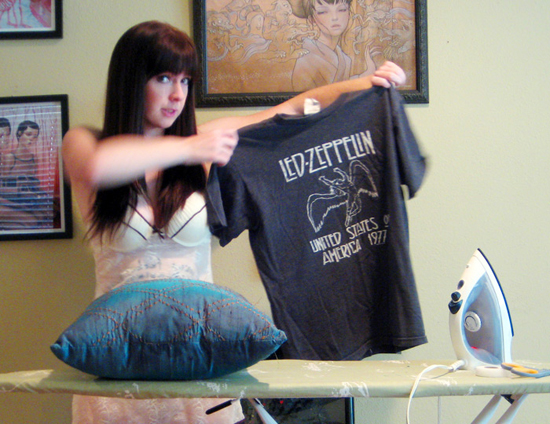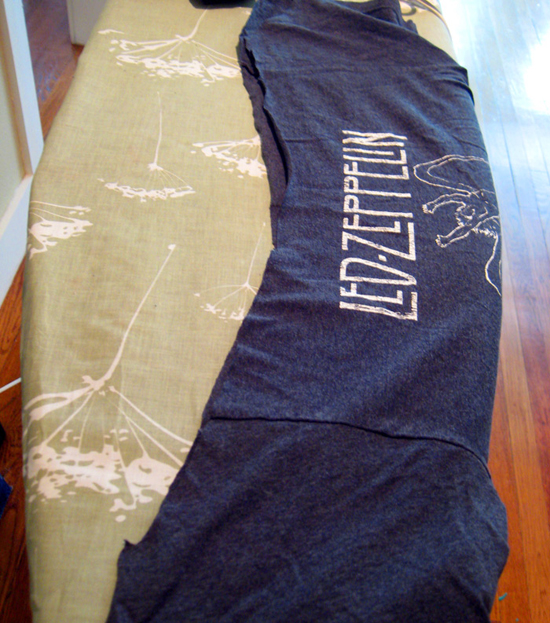 1. Lay your shirt out and cut the collar and tops of the sleeves off (see picture above). I opted to use an old shirt from an ex. It's a bit poseresque, since I can only name one Led Zeppelin song off the top of my head. Oops!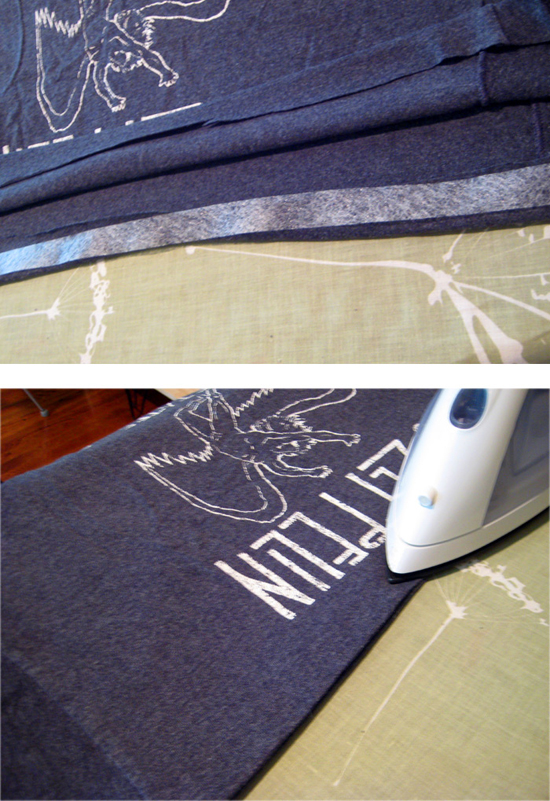 2. Fold the top edges of the shirt over about an inch, then iron them down. Cut a piece of stitch witch long enough to go across the shirt, then place it between the folded layers of fabric. Press with an iron and steam until the Stitch Witch is melted.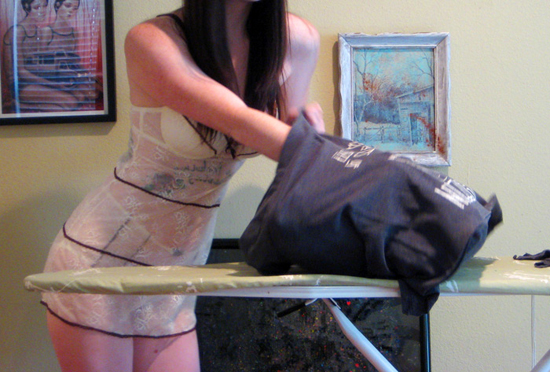 3. Put the pillow into the shirt and see how it fits. If your shirt fits perfectly around the pillow, you're a huge jerk and can skip the next step. If you're like me, the shirt is too big and you have to take in the sides.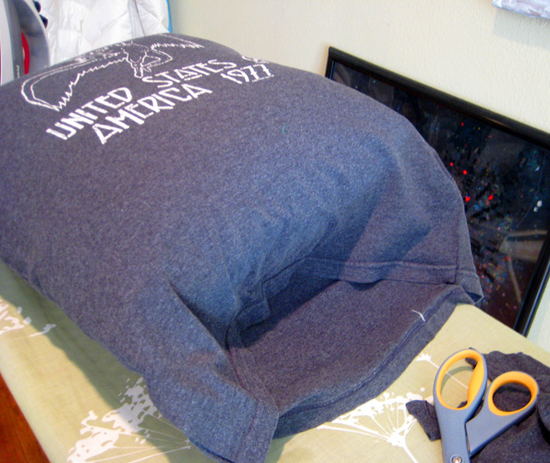 4. Take the pillow out of the shirt and follow step two (fold, Stitch Witch, iron) for each of the sides of the t-shirt. Try to get the shirt as fitted as possible (it can even be a little too small, since the jersey will stretch anyway). When you're done with this step, the pillow should snuggly fit into the shirt. Every side is done except the bottom.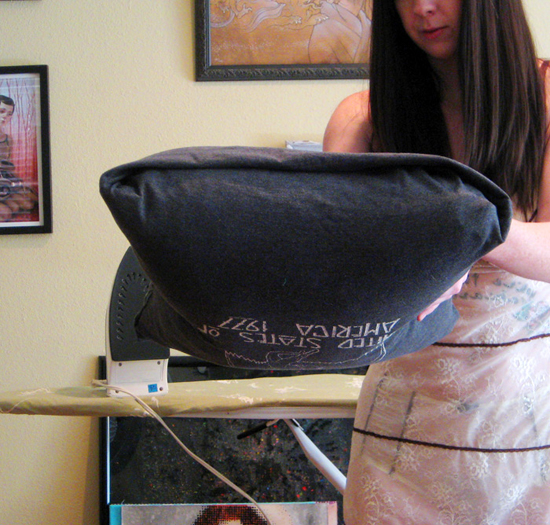 5. The bottom is the hardest part to seal, since you have to actually Stitch Witch it on the pillow. Fold the T-shirt up and inside of the pillow, like the picture above shows.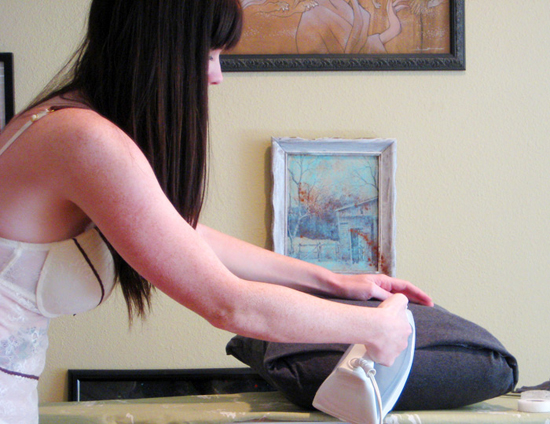 6. Place a strip of Stitch Witch between the layers and press with the iron. It's a little bit harder to do with the pillow all up in your mix, but it works.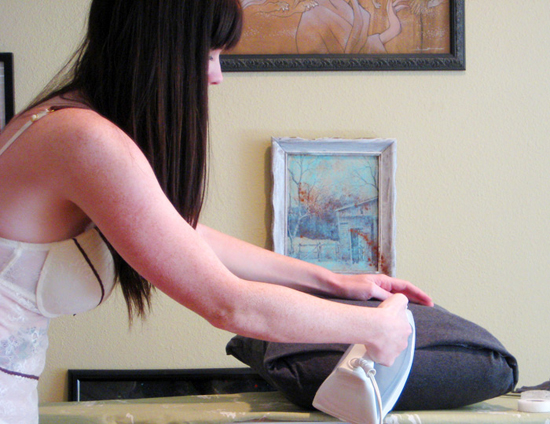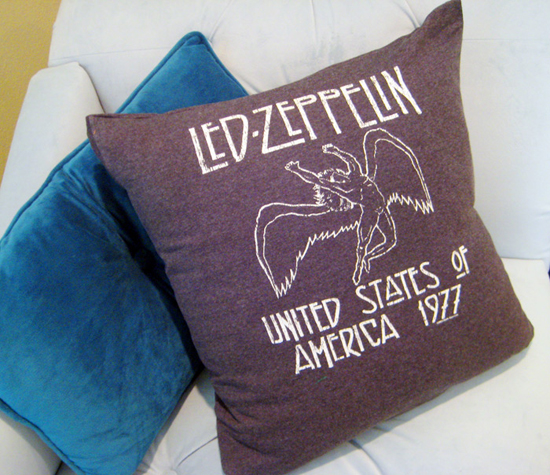 You're done! Really simple and fun way to make some custom throw pillows :].
* Tara may be suffering from a sudden and spontaneous case of dissociative identity disorder. An alternate, and far less interesting theory, is that she had to change her name to Jensen when she officially became an SG. Commiserations and/or congratulations are in order depending on which hypothesis you choose to believe. If it's the former, send your freshly Sticth Witched T-shirt pillows via the SG office to make Tara/Jensen's padded cell more homely. If it's the latter, leave your congratulatory comments here.