by Tara Diane
So I bought one of these ice cube shot glass molds. They're pretty cool and all, but I mostly bought them so that I could perform super scientific experiments with them. My favorite experiment was using a super awesome fruit snack recipe in them to create, well, literal jello shots. They're incredibly easy, edible, and bound to impress your friends. I recommend these for a small gathering, not for that kegger you're planning down at the frathouse.
What You'll Need (for 8 shots):
• Shot glass ice molds (I like the Fred ones, but there are other brands)
• 4 small boxes of jello (2 of each flavor)
• 1 box of Knox unflavored gelatin (comes with 4 packets)
• Lemons and limes for garnish, if you so choose
This is a very slightly different recipe than my inspiration, but basically the same. You really can't go wrong with this, add a little extra, put in a little less, whatever.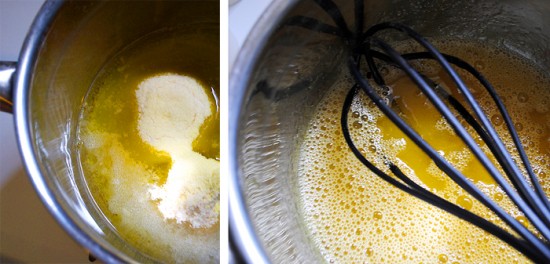 Heat 2/3 cup of water over the stove until slightly simmering, then turn off.  Pour in two small boxes of jello and two packets of unflavored gelatin.  Whisk whisk whisk until there is no chunky shit.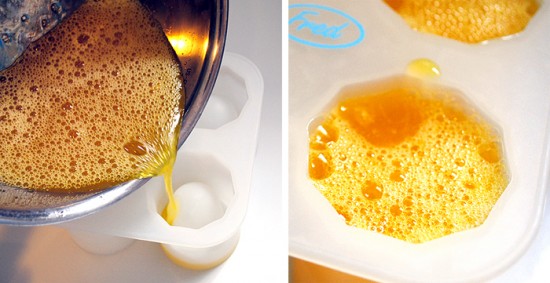 Slowly pour the jello into your mold. Let the mold sit in refrigerator for about half an hour. After that, pop them out of the mold. Be somewhat gentle; they're tough, but not made of metal or anything. Stick them back in the fridge and start your second batch, repeating the same steps.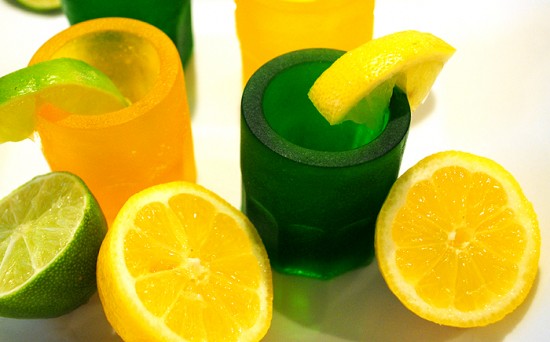 Now that you have your eight shots, they're ready to be filled and garnished! I'd recommend cutting the garnishes ahead of time, but waiting on filling the glasses until your guests arrive. I'd also recommend making a big batch of kamikazes and filling as needed :].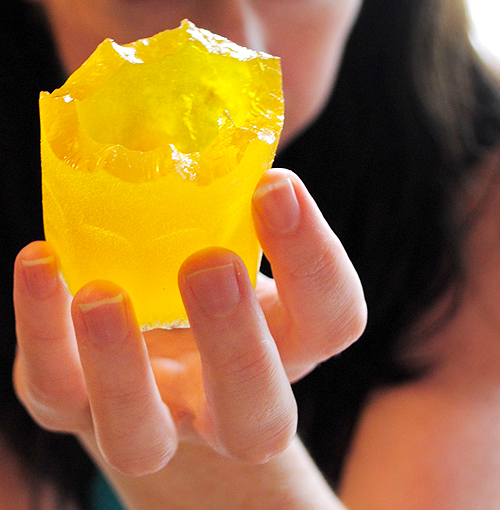 Yum!