by Tara Diane
So I'm sure most of you have heard of the Rasterbator, but I'm sincerely sad for those of you that have not!  Rasterbator is the most insanely easy and cheap decorating tool in the fricking world.  You take any small image and Rasterbator makes that shit gianormous!  Hells yeah, right?!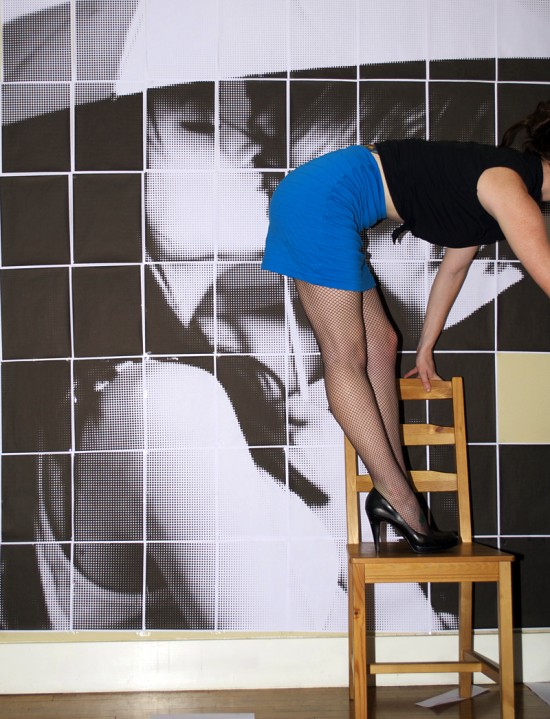 Anyways, here are some tips:
•    If you go to college, use the school lab.  If you work in an office, use your secret agent skills to stealthily use their printer (but you didn't hear that from me).
•    Don't do this shit on your own printer!  Not that I know from experience (cough) but you can easily burn through thee black cartridges in one project.
•    Measure ahead of time!  Mother Nature cries when you rasterbate, but she cries a whole lot more if you do it, fuck it up, then have to do it again.  Size DOES matter; take two seconds to see how you measure up.
•    If you throw temper tantrums, drink a beer first.  Chillax.  You will mess up, there will be a couple of crooked pieces, and you will need to check your ponytail and not throw a bitch fit.
•    Don't use an inkjet printer.  The solid black pages may get soggy from the ink, causing the edges to curl.
Okay, here I am in action!  I used a stock image from Deviant Art (thanks Grant-Thomas!) but you can use any image your heart desires.
And yes, this IS my first time trying to use imovie, so shut it.
(Thanks for the music, Neon Cobra!)
Have a good day, ladies and gents.