by Blogbot
SuicideGirls snagged a pair of tickets for the much tweeted about one-off collaboration between Duran Duran and filmmaker David Lynch at The Mayan in DLTA on Wednesday night. The event, which was also being broadcast live via YouTube and Vevo, was part of the ongoing Unstaged concert series from American Express, which has previously featured Arcade Fire, Sugarland, and John Legend & The Roots.
[John Taylor and Simon Le Bon]
The set list, which spanned the band's three decade-plus career, included their very first single, "Planet Earth," and their most recent, "All You Need Is Now." The latter is off the band's 13th studio album, which was released digitally in December 2010 and physically earlier this month.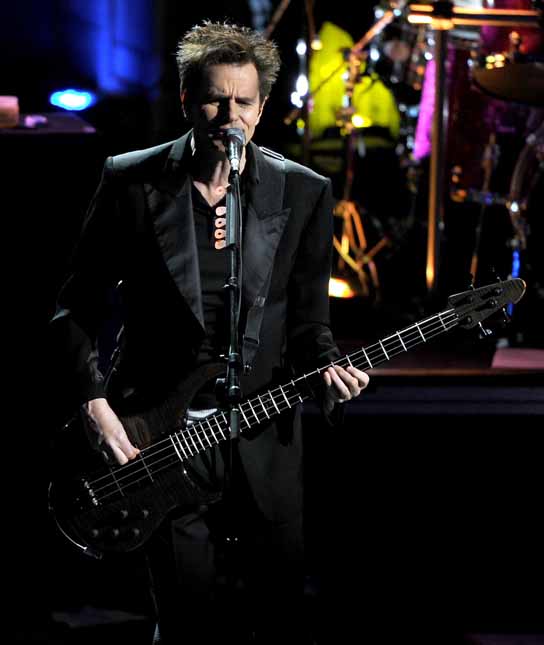 [John Taylor]
Produced by Mark Ronson, All You Need Is Now is without doubt Duran Duran's strongest offering since 1993's Wedding Album – and is arguably a career best. After the band veered off course with 2007's Timberland-produced Red Carpet Massacre (which saw the departure of guitarist Andy Taylor), Ronson (who has worked with the likes of Amy Winehouse, Lily Allen and Adele) seems to have instilled in the remaining four original members (Simon Le Bon, Nick Rhodes, John Taylor and Roger Taylor) the confidence to be themselves and reclaim their quintessential sound. (Between songs, Simon paid an effusive tribute to Ronson, saying he was "at least 1/5 of the reason our record sounds the way it does.")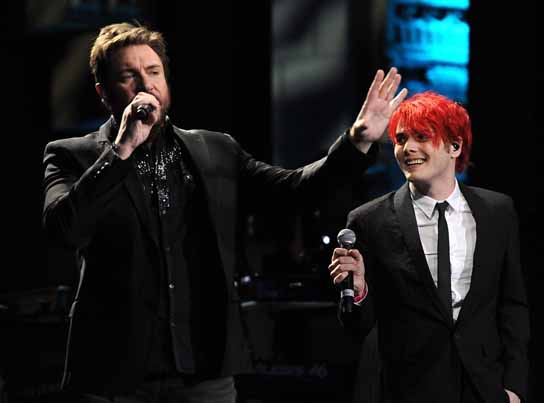 [Simon Le Bon and Gerard Way of My Chemical Romance]
This new-found self-assurance was evident in the band's live show. Looking and sounding great, the once-wild boys ripped through fan faves like "Friends of Mine" and "Careless Memories" as well as obligatory hits like "Hungry Like the Wolf
," "Rio," and "Ordinary World." The soundtrack for Unstaged also featured some special guests: Gerard Way of My Chemical Romance on "Planet Earth," Beth Ditto of Gossip on "Notorious," Mark Ronson playing guitar on "Safe" and "Girl Panic," and Kelis on "The Man Who Stole a Leopard" – a track off the new album which has strong echoes of the sexually charged "Chauffeur."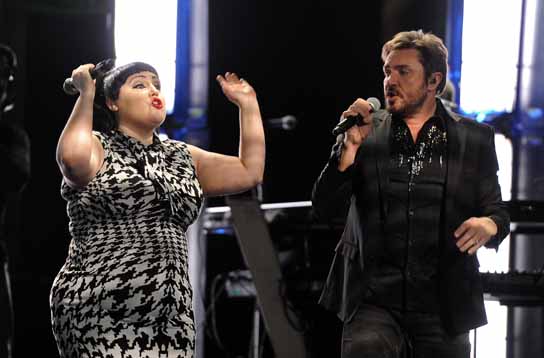 [Beth Ditth of Gossip and Simon Le Bon]
Visually, Lynch's contributions were mostly evident on the simalcast, which featured videos and stills spliced into and over the live footage. Those who watched the YouTube/Vevo feed were a twitter about the naked dancing Barbie's during "Sunrise" (whose improbably large and very plastic boobs were obscured with digital pasties). And while Lynch's ticking clocks, as seen during "All You Need Is Now," clearly adhered to the lyrical theme of the song, there was much speculation as to the significance of the footage of a guy barbecuing wieners during the sultry first encore song, "Come Undone" (for which Kelis returned to the stage).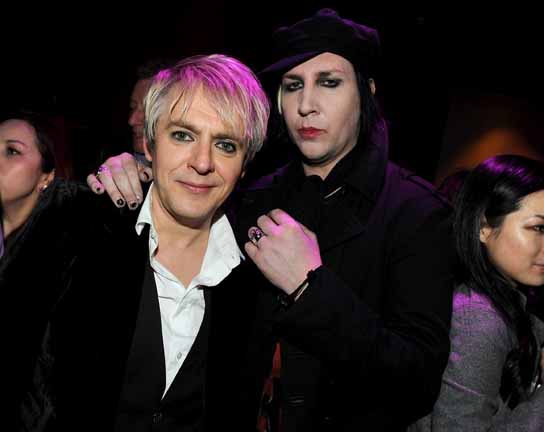 [Nick Rhodes and Marilyn Manson]
"A View To A Kill," which was augmented by a string quartet (and a Ronson-arranged intro which incorporated an atmospheric instrumental medley of Bond classics), and a rapturously received "Girls On Film" completed the set. Afterwards, those in the know headed downstairs for a VIP afterparty. The Duran boys spent quality time in the basement mingling with famous and not-so famous fans alike, and had the patience of true pros when it came to the endless requests for photos (guilty), which they more than willingly obliged (thank you!).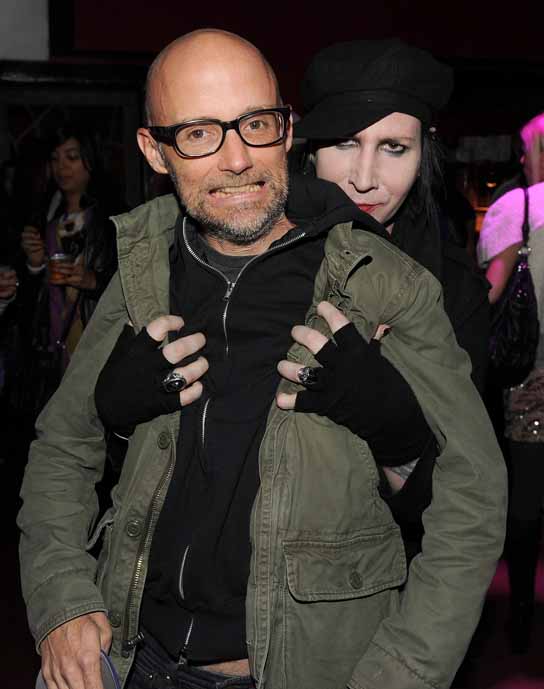 [Moby and Marilyn Manson]
Moby, whose Destroyed album release is imminent, confessed to us that he'd actually bought a 7-inch copy of "Planet Earth" when it first came out, and Marilyn Manson told those in the smoking section that a new full-length was in the works. We chatted with JT about Twitter, talked DJing with Roger, brought up the possibilities of Polaroid's with Nick, and congratulated Simon on his band's much deserved renaissance before heading out into the bitterly cold night singing blue silver.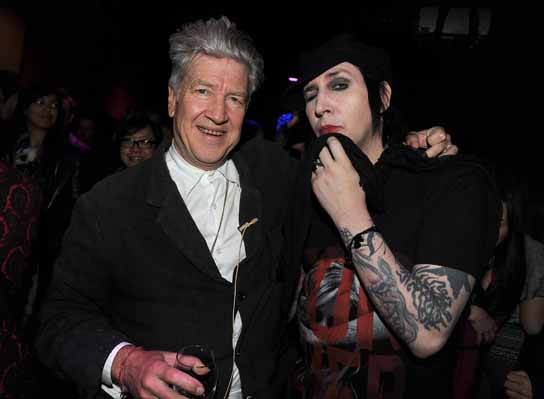 [David Lynch and Marilyn Manson]
The full concert is streaming intermittently at Youtube.com/DuranDuranVEVO, where you have a choice of three visual feeds: David Lynch's Stream (recommended), or the headache inducing Swimming Fish Cam and Funhouse Crowd Cam.
View more images from the night (courtesy of Kevin Winter/Getty Images) in the gallery below.