by Dell Cameron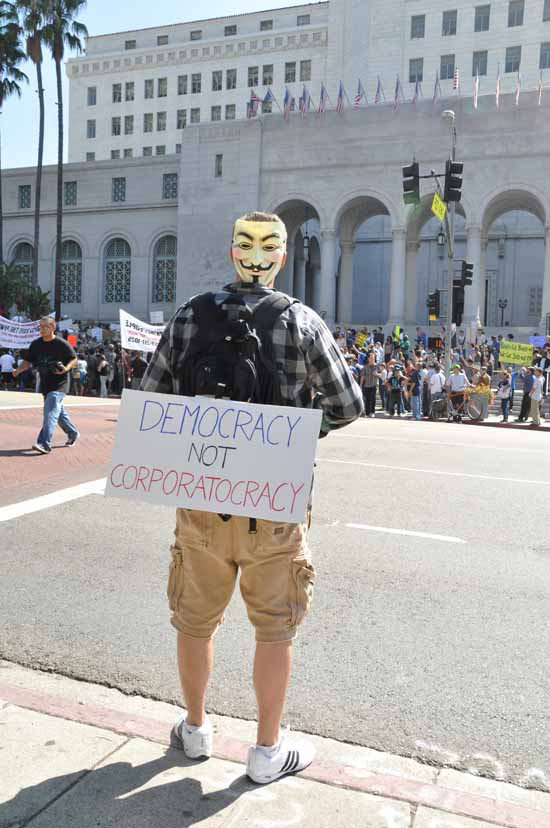 Yesterday, American citizens from all walks of life gathered at polling locations throughout the United States with the hope of changing the course of their collective destiny. For over two hundred years, communities have been assembling in this fashion as participants in a great democratic experiment. For some, the polls are a responsibility, due to the lives they perceive have been sacrificed in order to protect their ability to cast their votes. Others vote out of conscious because it's a privilege others throughout the world are denied. Yet, there are others who feel – with some justice – that no candidate is capable of accurately representing them and that abstaining from the vote is just as much their right.
Some Americans may still be unaware of the extreme transformations our democratic process has undergone in only a few recent years. The important changes to note revolve around the donation processes and the invention of external campaign committees that, in some cases, directly influence the outcome of political elections. In 2010, the Supreme Court arrived at the conclusion that the First Amendment clause, which provides all U.S. citizens with freedom of speech, also guaranteed that corporations had the right to make independent election expenditures. In a split 5-4 decision, laws such as the Taft-Hartley Act, which had previously prohibited corporate and union political donations, were deemed unconstitutional.
On the Supreme Court decision, Noam Chomsky, MIT Professor of Linguistics and author of dozens of books on U.S. foreign policy wrote, "On that day the U.S. Supreme Court ruled that the government may not ban corporations from political spending on elections –– a decision that profoundly affects government policy, both domestic and international." In Chomsky's opinion, "Jan. 21, 2010, will go down as a dark day in the history of U.S. democracy, and its decline. "
What followed was an all out spending spree by corporations, unions and affluent individuals that dangerously altered the landscape of the American election system. During the 2012 cycle, spending by non-party affiliated organizations exploded. These organizations were often funded by only a handful of individuals and the number of individuals and organizations that were responsible for disclosing their donors dropped considerably in comparison to the previous election cycle. According to OpenSecrets.org, a cycle-to-date spending analysis revealed that by the end of the first week of October, spending by these organizations was more than the previous 11 election cycles combined totaling $517 million.
So as we examine President Obama's victory over Mitt Romney, the first question we should ask ourselves is who flipped the bill for his exorbitant $401 million campaign and what are their motives.
The top donor to Obama's campaign was a man named Jeffrey Katzenberg, a Hollywood producer and chief executive of DreamWorks Animation. Katzenberg's contributions to Obama's campaign included a $2 million donation to the Priorities USA action super PAC, a committee formed by former White House advisors. Katzenberg is also a bundler for the Democratic party – someone who elicits major financial support for political purposes once reaching their own personal donation limitations. Katzenberg, like many Hollywood elites, was a proponent of the Stop Online Piracy Act, a widely unpopular bill introduced by Congressman Lamar Smith (D-TX) that was shelved in Congress in January 2012 after worldwide online protests erupted. Opponents of the bill claimed it threatened the integrity of the internet and was in essence an attack on online freedom of expression. Despite a number of threats from Hollywood elites, such as former Senator, now MPAA head Chris Dodd, after Obama withdrew support for the bill, Katzenberg remained a steadfast support of Obama's campaign. The undeniably instrumental role Katzenberg played in the Obama 2012 campaign may foreshadow future support for a new SOPA-like bill on behalf of the White House.
Another billionaire who reached deep into his pockets for the Obama campaign was Jon Stryker, stockholder and heir to the Stryker Corporation, a medical equipment company based out of Michigan. Stryker's contribution exceeded $2 million during the 2012 election cycle and has previously generously donated to the Democratic Party. The Stryker Corporation has been involved in a number of controversies with the Department of Health and Human Services and the Federal Drug Administration, which included failure to meet FDA regulations, the falsification of documents and unlawful kickbacks to physicians in exchange for the use of their products.
It's important to note that while the Obama campaign has taken advantage of the support provided to them by big-spending, individual backers, these types of contributions were much more prominent throughout the Romney campaign. Romney's largest backer, a Las Vegas Casino owner, dwarfed Obama's supporters by providing him with financial support exceeding $34 million dollars. Romney, however, did not win the election.
In light of the enormous financial support campaigns receive from individual backers and political committees, it's not difficult to understand why some voters felt so disenfranchised this election cycle – and that the act of voting seemed to be an exercise in futility. How could anyone expect to find a candidate to represent their voice in government when the issues affecting them most aren't being presented to the candidates in the form of multimillion dollar campaign donations?
In 1776, Thomas Jefferson authored the Declaration of Independence, which stated, "Governments are instituted among Men, deriving their just powers from the consent of the governed." Forty-nine years later, in a letter to William Branch Giles, he expressed his concern over individuals that, in his words, had "nothing in them of the feelings or principles of '76." He criticized the men of his time for leaving the intentions of American democracy behind in exchange for a aristocracy founded on banking institutions and monied incorporations that cloaked themselves under the guise of industry.
The dream of a perfect Democracy seems to have been abandoned in an age where hostile advertisements and televised debates intentionally exclude poorly funded third party candidates. With the acceleration of new laws that chip away at the foundation of a truly representative government, it's important we remember as a country what we once had and fight ferociously to reclaim it.
Related Posts
A Question Of Courage: Journalist Faces Imprisonment For Exposing Corruption
Debate 2012: I May Be A Man…But I Got Women's Issues Too