by Mur Lafferty
SuicdeGirls presents the second installment of our Fiction Friday sci-fi series, Marco and the Red Granny, which is brought to you by SG columnist Mighty Mur a.k.a. cyber commentator Mur Lafferty.
Marco and the Red Granny is set in a not-so-distant future where an alien species, the Li-Jun, has transformed the moon into the new artistic center of the universe, where the Sally Ride Lunar Base soon gains the nickname "Mollywood." These aliens can do amazing things with art and the senses, allowing a painting, for example, to stimulate senses other than sight. When someone asks a starlet, "Who are you wearing?" she could as easily say "J.K. Rowling" as she could "Gucci."
In the first installment, Marco, a writer whose career has long been in the doldrums, gets a surprise call from an agent he thought he no longer had, informing him that he had received an offer from Mollywood for a much coveted Li-Jun patronage. Having expected little from his day when it started out, Marco now finds himself nursing a hangover on the next shuttle to the moon…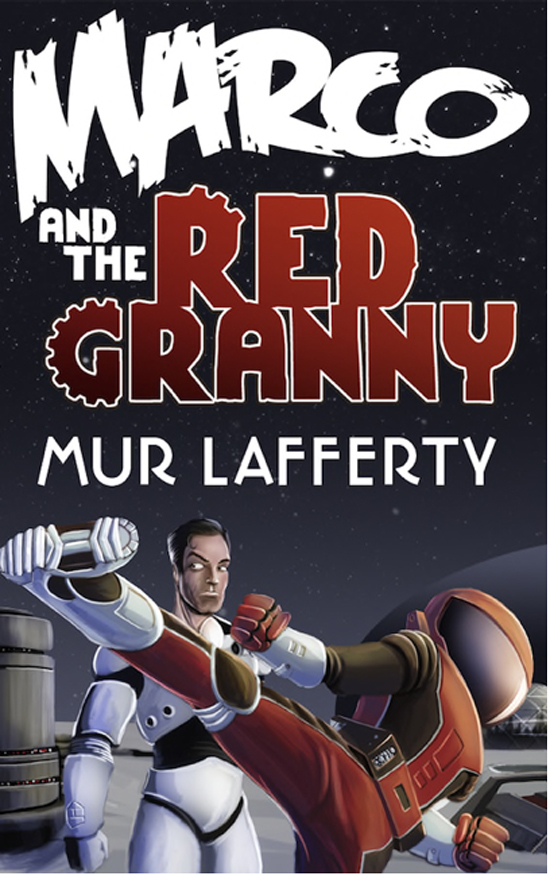 Marco and the Red Granny – Part 2
Most of the Patron Li-Jun Houses had their information uploaded to the human Web, and while Marco could find out a lot about House Magenta, House Orange, and House Yellow, he found almost nothing about Blue. He was admittedly unschooled on the more detailed information involving Li-Jun patronage and House structures, but he did know that for all their love of the creative arts, their own personal information was closely guarded. No human ever heard a Li-Jun's name; they only knew them by their numeric title within their houses, which were named for colors.
The aliens took on numeric titles as they reached maturity. The prime numbers were the ones with the power. Odds were dominant, evens were submissive. The genders made no difference to the ruling parts of a house.
The primes Three, Five, Seven, Eleven, and Thirteen were supposed to be the highest ranks in the house. One and Two were usually a main breeding couple. Three was usually the leader, and Thirteen had creative control over the House's output. Eleven was in charge of security, and Five and Seven had roles that Marco didn't quite understand.
Thirteens had creative control, but they seemed to be like executive producers in movie studios, very important, but rarely got their hands dirty. Thirteens would not vet patronage applications. They likely wouldn't even meet the artists unless they managed to create a hit. Maybe not even then.
Marco closed the book, Li-Jun Hacks, the bestseller that illustrated Li-Jun's quick dominance of human creative culture, and laid his head back. The shuttle's engines roared and he closed his eyes and willed his stomach to stay still.
"Have you been to Ride Base before? I love going there," the woman beside him chattered, picking homemade snack mix out of a baggie. She ate all the pretzels first, and Marco decided to hate her for that fact alone, because if she made it herself then why not make it exactly as she wanted it? It was also easier to hate her than think about his trip and how a hung-over failure of a writer and illustrator was going to present himself to an alien race he'd long ago written off as an unattainable goal.
"I just love Mollywood. Ever since Christopher died I got what you might call an addiction to the Most Dangerous Game."
Reality shows. Great. Marco had avoided a lot of Li-Jun creations, but the reality shows were the worst. How could a race that created such fine art also get into reality blood sports? He ignored the woman.
"But you don't want to hear about an old woman's adventures in reality TV, do you?"
In reality TV? Marco's eyes flew open. He looked at the woman closer. Her blonde-gray hair was braided and wrapped around her head, her frame heavyset, and her eye sparkling with just a hint of malice behind the merriment.
"You're- " Marco managed to squeak over the roar of the engines.
The woman grinned at him. "Oh did I not introduce myself, dear? I'm Heather, but my fans call me The Red Granny."
Fear and wonder washed over him as the shuttle took off, the G forces pressing him into his seat. A pretzel snaked out of her baggie and hit him in the ear.
This day was too weird.
The Red Granny was a legend in the reality show world. One of the stipulations of the Li-Juns' rule of Mollywood meant their laws ran the moon, not any Earth country's. They viewed "suffering for the art" in a very different way. If an artist's pain or death added to a piece of art then it was actively encouraged. And the Li-Juns didn't make just fine art either, they valued passion in all forms, going beyond art and getting into sports, reality shows, and the study of humans' willingness to destroy themselves.
The runaway hit was The Most Dangerous Game. You could sign away the rights to your life and get flown to Luna, fitted with a space suit and some weapons, and turned out into the Lunar environment to battle for your life.
Most people who applied for The Most Dangerous Game were ex-cons who couldn't get a job, or people who had reached the end of their ropes. Everyone was shocked when a little old lady, recently widowed, volunteered for a position. The Li-Jun were delighted; the audience laid billions of dollars on her early death. And when she calmly, almost pleasantly, killed all of her competitors, she became the darling of Mollywood and Earth. A three-time champion, she had been assigned a Li-Jun bodyguard for her time on Mollywood, but traveled incognito on Earth.
Marco guessed that was why she was flying coach.
Once they'd escaped the atmosphere, he turned to Heather, who still munched on pretzels as if the G-forces bothered her not at all, and asked, "So are you going up for another game?"
She nodded. "Yes, I'll be meeting my patron and preparing for the new season."
"You- you have a patron?" Marco asked, forgetting entirely to marvel at the view of vast space out his window.
She laughed. "Of course I do, silly. Once you win The Most Dangerous Game, you get a patron for protection and funding." Her hand lingered at the pendant that rested on her sweater. As her fingers toyed with it, Marco got a distinct taste of strawberries, and he blinked. He hadn't seen many Li-Jun-created items in his life, and had always wondered how they worked.
The pendant was gold, and looked quite heavy. It was an egg about the size of a gold ball, with cracks in the upper half coming out from a tiny golden beak just about to break out.
He peered at it, careful not to touch it. "What… is it? I mean, what is it combined with?"
She looked down at the pendant and smiled slightly at it, as if she hadn't realized she was playing with it. "It was a gift from my patron. It is a pendant imbued with the skills of master pastry chef Penelope Abrams. If you touch it, you can taste her chocolate strawberry fool's tart."
Marco's face flushed and the headache throbbed even harder. He hadn't expected to hear Penelope's name, although she had been on his mind since he'd gotten the call this morning. He hadn't spoken to her in a couple of years, not since she got her patronage and left for Ride Base.
"I haven't seen an Li-Jun work before, not this close up," he managed to say. "It's beautiful."
The crackling voice of the captain came on and warned everyone to prepare for the jump, and the seat belt over Marco's shoulder tightened automatically at this warning.
"Thank you, dear. Now I'm going to advise you to get ready for the jump. If this is your first trip it can be… disorienting." She slipped another pretzel into her mouth.
Marco closed his eyes, trying to calm his whirring mind, not wanting to ask about Penelope, if Heather knew her, but still wanting to know more about the woman. "So who's your patron? What House?"
Before she could answer, everything stopped. Marco's eyes flew open to see Heather's face elongate slowly. Pain filled his body, as it seemed, for an instant, that half of his molecules decided to jump one inch forward and leave the rest of him behind. A screech filled Marco's ears, then Heather's face snapped back into place.
"Ah, we're nearly there," she said.
"What the fuck just happened?" Marco said, holding his own head to see if it had returned to its proper shape. He was breathing hard, and he heard the sounds of vomiting around him.
"It's just the jump, dear," she said.
"But it felt like I was being torn apart," he said, surprised for a moment that he wasn't vomiting like the others.
"You were, for a moment, but then the rest of you came along. It's disorienting, but perfectly safe. You look remarkably fit, actually. Were you drunk when you got on board?"
He blinked. "How did you know?"
"Alcohol cushions your system. They don't tell you that, of course, don't want to excite the Alcoholics Guild; Zeus knows they don't need encouraging. I had a couple of glasses of wine before getting on board."
"But I feel fine now, no hangover at all!" he said.
"Sure. The jump takes it out of your system. Purifies you. If only it could scour you clean of illness, it would be a perfect system of travel."
Marco took a deep breath, reveling in the sudden removal of the full body hangover pain, and looked outside.
Ride Lunar Base lay before him, Mollywood's dome reflecting the Earth behind him. It was a pearl among the dusty gray of the moon, about three miles in diameter, three ports lay at different parts of the city. Marco had done some reading; he knew that Mollywood proper had its own port on the northern edge of the dome, which was where his ship was headed. The other two ports had to do with Earth shuttles, imports, and equipment for the continued health of the colony.
As they neared the dome, Heather pulled a small mirror and a makeup glove from her purse. She slipped the glove onto her right hand and removed the plastic tips from each finger. Gazing into the mirror, she applied lipstick from the finger and blue eye shadow from the middle. Her pinky dabbed rouge onto her cheeks. Marco winced at the garish color on her lips, but tried to remain neutral. The Red Granny didn't miss a thing, apparently. She smirked at him. "Honey, I know it's loud, but I have a reputation to maintain. No one pays attention to me on Earth but, well, let's just say that here I'm recognized."
"I guess you would be," Marco said as she stowed her items in her purse.
"By the way, honey, I never caught your name." She extended her hand. He shook it. "I'm Marco. It's really an honor to meet you. Thank you for answering all my questions."
She waved her hand. "It's no trouble. Your first visit to Ride Base can be overwhelming, especially when you're meeting a patron. Good luck with that. If we meet again, I'll buy you a coffee."
Marco nodded and thanked her as the shuttle pulled into port. They waited another ten minutes for other shuttles to land, and then the massive port doors shut and jets came on to push breathable air into the garage. Once equilibrium was maintained, the passengers were free to exit the shuttle. Marco slung his backpack on and waved good-bye to Heather.
When he set foot on Ride Base, it took a moment to get used to the gravity. He swayed a bit, his backpack feeling uncomfortably light. He'd brought very little; the patron had indicated all of his needs would be taken care of. So he'd packed a couple of books, his notebooks, his favorite fountain pen, and an emergency change of clothes. He looked around and caught sight of Heather again and suddenly realized he'd never told her he was going to Mollywood for a patron.
He was about to approach her and ask her how she knew when he saw his first alien. Heather stood talking to a tall, wispy Li-Jun. This one was male with twelve tentacles wrapped neatly around his trunk-like body, two eye stalks dipping low to pay attention to Heather while the third fixated on him.
Marco swallowed nervously.
Heather saw him watching them and started toward him, motioning the Li-Jun to follow her. He glided through means Marco couldn't tell, and wondered if he had a foot like a snail. The alien looked at Marco curiously.
"Marco, this is my bodyguard, Seven Blue," she said.
The Li-Jun bowed his head. "Marco Guerrero. Our newest artist. It is an honor."
"Pleased to meet you," Marco stammered. He'd been expecting the sensory overload; for it was said even the Li-Jun who held back could communicate using several senses at once. He was still surprised by the taste of a thick cream sauce and the feeling of being wrapped in a large fur blanket.
He looked at Heather, "You didn't tell me that House Blue was your patron!"
"Oh honey, you don't want to hear about me, it's so uninteresting," she said. "Seven here has offered you escort as well, since we're all going the same direction."
"Oh! Well, that's very kind of him. You, I mean," Marco said, not sure if he should address Heather or Seven.
"Humans usually want to spend time exploring Luna when they arrive here, but I know Thirteen is eager to meet you," The Li-Jun said in a sleek voice, companied by the taste of hot chocolate tinged with chili pepper and an image of a sleeping panther.
"G-great," Marco said. "Lead on, then."
***
Excerpt from the Marco and the Red Granny, published by Restless Brain Media at Smashwords. Copyright 2010 Mur Lafferty.
Mur Lafferty is an author and podcast producer. She has released several works via audio podcast, including her novel Playing For Keeps, the novellas in the Heaven series, the audio drama The Takeover, and many others. She's won the Parsec Award and the Podcast Peer award. Her published works include Playing For Keeps (Swarm), Nanovor: Hacked (Running Press Kids), and Tricks of the Podcasting Masters (Que), not to mention several short stories. She is the host of I Should Be Writing and the Angry Robot podcasts, as well as the editor of Escape Pod, the sci-fi audio magazine. Marco and the Red Granny was originally published as the premier podcast serial at Hub Magazine, and is available for Kindle via Amazon.
Mur lives in Durham, NC with her husband, Jim Van Verth, their daughter, and two dogs. You can find her in the Murverse, at Smashwords and on Twitter.