by Mur Lafferty
SuicdeGirls presents the fourth installment of our Fiction Friday sci-fi series, Marco and the Red Granny, which is brought to you by SG columnist Mighty Mur a.k.a. cyber commentator Mur Lafferty.
Marco and the Red Granny is set in a not-so-distant future where an alien species, the Li-Jun, has transformed the moon into the new artistic center of the universe, where the Sally Ride Lunar Base soon gains the nickname "Mollywood." These aliens can do amazing things with art and the senses, allowing a painting, for example, to stimulate senses other than sight.
In the previous installments, Marco, a writer whose career has long been in the doldrums, gets a surprise call from an agent he thought he no longer had, informing him that he had received an offer from Mollywood for a much coveted Li-Jun patronage. Keen to catch up career-wise with his ex-GF Penelope, who'd unceremoniously dumped him after being recruited by the Li-Jun two years earlier, Marco jumps on the next shuttle to the moon. Once aboard, he finds himself sitting next to a seemingly unassuming old lady called Heather, who turns out to be The Red Granny, a legend in Li-Jun's reality show world for being a three-time champion of The Most Dangerous Game (which requires contestants to sign away the rights to their life).
We join Marco shortly after he lands on the Moon. Accompanied by Heather The Red Granny and her Li-Jun bodyguard Seven Blue, Marco sets off to House Blue to meet up with his new patron. On the way, the trio are "greeted" by The Red Granny's "fans" bearing signs with messages like "RED GRANNY IS OUR SAVIOUR" and "HOW MUCH MORE BLOOD WILL SHE SPILL?" – and a sense of unease rears its ugly head in Marco's mind.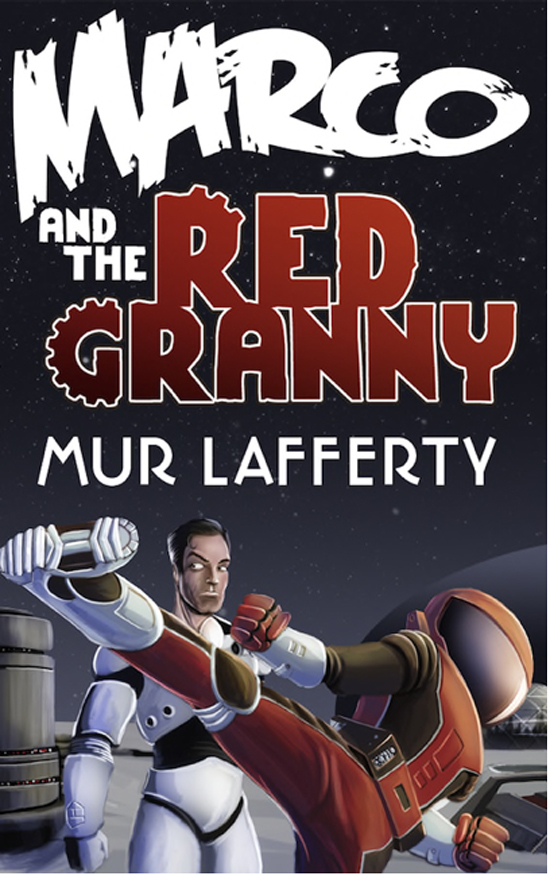 Marco and the Red Granny – Part 4
Marco wished he'd paid more attention over the years as the Li-Jun gradually took control of human artistic output. After Penelope had left him, he had sunk into a depression and turned off the television whenever they were mentioned. He stopped seeing movies and stopped buying books with the special Li-Jun stamp on the cover. Even when he'd applied for patronage, at last, he hadn't paid much attention to them. It had been a long shot, after all.
Outside the port, Marco assumed to see a great open part of the dome again, Mollywood proper, but was disappointed to see a wide white hallway with electric scooters whizzing to and fro. The Red Granny saw the look on his face and said, "We're entering the private Li-Jun living areas. Humans aren't allowed back here if they're not living with their patron."
Marco nodded and looked once over his shoulder at the humans clustered around the closing door to get one more look at the little deadly woman.
A walkway rose above the street, and Seven led them to it. "House Blue is very close to the Monorail station," Heather said. "Otherwise they'd have sent a buggy to pick us up. See, we're here already." she gestured to a tall metal door painted gold and blue, with carvings of circles, spirals, and swooping, graceful shapes. Seven opened the door for them.
Ceilings in Li-Jun dwellings were much higher than humans', dwarfing Marco and Heather. That, coupled with the two Li-Jun who glided up to them to take their bags, made Marco feel very small.
"Four and Eight," Seven said, introducing them. The even-numbered Li-Jun nodded to them, eyestalks pointed to the ground. "Heather, you know where your quarters are, feel free to go rest and acclimate to the gravity shift. Marco, Thirteen is waiting to meet you. She's most eager, in fact, so if you don't mind going to see her directly?"
It was a question, but Marco had a clear impression that there was no choice in the matter. He couldn't imagine saying no to these creatures; they were either too charming or too scary. He nodded.
The hallway was white, like the hallway outside, but dark stairwells painted different shades of blue rose from several open doorways seeming to stretch into many different parts of an apartment.
The hallway ended at a large open archway that led to what Marco could only assume was a receiving room. Long couches lined the room with various Li-Jun lounging on them. In the center of the room was a pool set into the floor, out of which flowed a white gaseous substance that snuck along the floor like tentacles.
"Marco. Welcome to my home." The voice cut through the fog, silken and strong, purposeful. It reminded him of his great aunt Juliet, the CEO of a Spanish winery.
He ran through all of the protocol he had crammed before the trip. Much of it had been erased by the shock of meeting The Red Granny, but he grabbed some random facts he was able to remember. "Number Thirteen," he said, his eyes on the floor instead of on the dominant alien. "The honor is immeasurable, the pleasure intense, and the flavor delightful. Your voice is the sound of, uh, exotic spices, your face the tune of great composers, and your aroma is a finely crafted poem. Thank you for inviting me."
He hadn't looked at the alien until he said "face," and found a much larger Li-Jun than Number Seven. This one was a female, as far as he could tell by the small gill-like slits along her torso under her much shorter tentacles. She watched him.
He swallowed, feeling a cold sweat break out under his arms. Had he forgotten something? Had his greeting lacked a strange pairing of a sense or something? The Li-Jun had made no effort to explain to the humans their two extra senses, as they said the humans wouldn't understand it, so he couldn't greet them as they no doubt greeted each other. He did have an insane urge to say, "…and your bleem is as red as the swarf," but thankfully he resisted.
"The pleasure is mine. I'm glad you could make it," she finally said, and he relaxed a moment, remembering, finally, that the Li-Jun always waited a moment to appreciate a greeting before they responded to it.
"I understand you met Heather on the trip up," she continued. He nodded. "That must have been a surprise to find we were her patrons as well."
"Yes, I hadn't realized the Most Dangerous Game participants had patrons. I thought it was only for the arts."
Thirteen stretched her tentacles out, reminding Marco of a cross between an octopus and a cat. "We become patrons to those who win; the losers are nothing to us. Tell me, what do you know of House Blue?"
Marco dropped his eyes again, hoping to avoid insult. "I must be honest, Thirteen, I am not familiar with your house. I am not as schooled in my Li-Jun culture as I should be, and I didn't have time to learn more about your house before I made the journey here."
Alien body language meant nothing to him, and the pauses were beginning to make the hairs on the back of his neck stand up. He stayed subservient, remembering his agent's admonishments to be respectful above all else and not lose his temper.
"No matter," Thirteen said, rising from her couch. "You will learn much while you're here anyway. Tonight you are my guest at The Most Dangerous Game where we will watch The Red Granny fight. That can tell you more about us than any book can."
She placed two tentacles on his shoulder, towering over him. "You have much passion, Marco. You will do very well for House Blue."
He looked up at her, a sense of calm washing over him. "Thank you Thirteen. I certainly hope so."
Her face changed, her eyes focusing on another Li-Jun entering the room. This one was male and much shorter. "Marco, this is Six. He will show you to your quarters. Rest up, change clothes, contact home if you like. We have full solarnet integration if you brought your tablet, but you'll want to call soon, as communication with Earth is a little more difficult at night. I will send someone to get you at sundown."
Marco nodded and thanked Thirteen and then followed Six out of the room. It was only after the alien had left him in his quarters, a much more human-sized room, that Marco realized he'd had never formally accepted the patronage, for that matter, had never been shown the terms of the offer in the first place.
***
Excerpt from the Marco and the Red Granny, published by Restless Brain Media at Smashwords. Copyright 2010 Mur Lafferty.
Mur Lafferty is an author and podcast producer. She has released several works via audio podcast, including her novel Playing For Keeps, the novellas in the Heaven series, the audio drama The Takeover, and many others. She's won the Parsec Award and the Podcast Peer award. Her published works include Playing For Keeps (Swarm), Nanovor: Hacked (Running Press Kids), and Tricks of the Podcasting Masters (Que), not to mention several short stories. She is the host of I Should Be Writing and the Angry Robot podcasts, as well as the editor of Escape Pod, the sci-fi audio magazine. Marco and the Red Granny was originally published as the premier podcast serial at Hub Magazine, and is available for Kindle via Amazon.
Mur lives in Durham, NC with her husband, Jim Van Verth, their daughter, and two dogs. You can find her in the Murverse, at Smashwords and on Twitter.