by Steven-Elliot Altman (SG Member: Steven_Altman)
Our Fiction Friday serialized novel, The Killswitch Review, is a futuristic murder mystery with killer sociopolitical commentary (and some of the best sex scenes we've ever read!). Written by bestselling sci-fi author Steven-Elliot Altman (with Diane DeKelb-Rittenhouse), it offers a terrifying postmodern vision in the tradition of Blade Runner and Brave New World…
By the year 2156, stem cell therapy has triumphed over aging and disease, extending the human lifespan indefinitely. But only for those who have achieved Conscientious Citizen Status. To combat overpopulation, the U.S. has sealed its borders, instituted compulsory contraception and a strict one child per couple policy for those who are permitted to breed, and made technology-assisted suicide readily available. But in a world where the old can remain vital forever, America's youth have little hope of prosperity.
Jason Haggerty is an investigator for Black Buttons Inc, the government agency responsible for dispensing personal handheld Kevorkian devices, which afford the only legal form of suicide. An armed "Killswitch" monitors and records a citizen's final moments — up to the point where they press a button and peacefully die. Post-press review agents — "button collectors" — are dispatched to review and judge these final recordings to rule out foul play.
When three teens stage an illegal public suicide, Haggerty suspects their deaths may have been murders. Now his race is on to uncover proof and prevent a nationwide epidemic of copycat suicides. Trouble is, for the first time in history, an entire generation might just decide they're better off dead.
(Catch up with the previous installments of Killswitch – see links below – then continue reading after the jump…)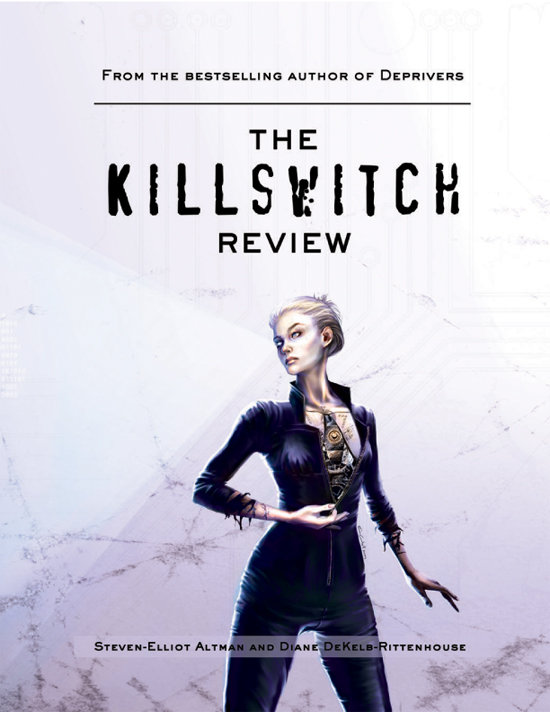 [THE KILLSWITCH REVIEW – CHAPTER SEVEN, PART TWO]
[THE SOCIETY OF THE LAST SUPPER]
[Previous Chapter]
Once Haggerty was cleaned up, Brian showed him how to clip the white unit to his waistband to keep it within reach and led him to the dining hall. Haggerty's table, one of a half dozen forming a semicircle around a barren platform stage, was set with sterling cutlery, assorted crystal for drinks, and opulent porcelain dishes upon crisp white linen. His plush chair was made of real, elegantly carved wood, atop a floor of veined Italian marble that matched the walls of the large room, upon which were hung large mirrors in gilded baroque frames. A huge crystal chandelier floating at the center of the ceiling cast soft illumination to supplement the dim light from ornate silver candlesticks on each table.
The hostess had been right about the return of his euphoria. And the Happy Sticks had an interesting effect: Haggerty felt both languid and oddly clear-headed, mesmerized by his surroundings but aware of every absorbing detail. It was as though he were making love, his body everywhere caressed, but in no hurry to climax; the journey itself was the object. At a nearby table the lone occupant, a bearded male with a white rose in his lapel, sipped from a wineglass. The man nodded at Haggerty and raised his glass. Haggerty grinned back, the outside world forgotten.
"Your waitress will be with you soon," the ape said politely, and left.
Haggerty sat transfixed by how the candle on his table reflected rainbow colors off a crystal goblet. He felt parched. Lifting the goblet, he took a sip of the purest water imaginable.
"Good evening, Mr. DeAngelo."
The soft tektronic voice belonged to another exquisite android. She was dressed in the tightly laced corset and wasp-waisted gown of the Belle Epoque. Haggerty studied her splendidly sculptured face, the high cheekbones accentuated by long jet hair piled into what once had been called a Gibson Girl style.
"I'm Polly and I'll be your waitress. You have an amazing meal ahead of you." She presented a bottle for his inspection. "It's over one hundred years old," she said, her smile promising delight to come.
Haggerty frowned reflexively.
"This is the wine you ordered, isn't it?" she asked anxiously.
Haggerty eyed the label; the French inscription was meaningless to him. He had sworn off alcohol long ago, but seeing how far he already had come tonight, he decided it was not worth refusing. He nodded that it was acceptable.
"Pity you're an android," he said as the beaming waitress uncorked the bottle with white-gloved hands and poured him a glass of ruby liquid. "I'd invite you to share a drink." He lifted the glass to his lips. The wine was smooth on the tongue and utterly delicious, the best thing he'd ever tasted. He giggled like a child.
"There's more coming," she promised. "Do you prefer black or red caviar?"
"Is it real?" he asked.
"Of course," she said. "Everything here is real."
"Then I'll have both red and black," Haggerty said, and laughed, not only at the absurdity that caviar was accessible in this day and age but that the android found no irony in her statement that everything in the club was real.
"I'll be right back," she said, and swished her hips in the tight gown back toward what Haggerty supposed was the kitchen.
The wine certainly was real, he had to admit as he sipped it guiltily. At the far side of the stage, another lone man wearing a white rose was eating what looked to be a turkey leg. A large, heavy signet ring glinted with candlelight as he lifted the leg in his hand. Turkeys had been extinct since Vertibrate Spongiform Encephalopathy—what did they call it then? Mad Animal Disease — laid waste to America's food supply and decimated its pet population long ago.
"That's cloniform turkey he's eating, right?" he asked Polly when she returned to the table.
"No, Mr. DeAngelo, it's not. As I told you, everything here is real. We have access to genetic materials and the technology required to clone entire animals. We actually breed the most requested varieties. Turkey is a popular item. That particular guest is having an authentic, historically accurate Thanksgiving dinner. Cows are very much in demand but we can also accommodate more exotic requests like yours."
She placed his appetizer tray before him, a small dish of black and red caviar, bread and Petit-Gris snails. He looked at them quizzically, torn by conflicting claims on his consciousness: a voracious appetite to devour every morsel set before him and the knowledge of the vast expense to clone an extinct breed for the sole purpose of his doing so — or DeAngelo's as it were, and the club's other patrons. The audacity of it, the cost of their illegal access to the genetic material alone, were obscene — and irresistible.
"Is this not what you ordered?" the waitress hazarded.
"It's just that I've never actually eaten them before," Haggerty offered lamely, his mouth salivating.
"I'll show you how," she said, bending across to gather the appropriate utensil and extracting a snail from its shell with a deft twist of the wrist.
Haggerty opened his mouth and let her place it on his tongue. He chewed it hesitantly, groaning in delight. The snails had been cooked in a buttery sauce ever so lightly infused with garlic. He marveled at the taste of real meat from a real animal with its own distinctive flavor and texture, not the bland flesh produced in nutrient tanks everyone else in the country had to settle for. Delicious could not begin to describe it. Haggerty sighed with pleasure.
Polly beamed at him. "I'll give your compliments to the chef." She fed him another snail, her delicate movements as entrancing to Haggerty as the sublime ambrosia she delivered to his lips.
He closed his eyes, ecstatic. When he opened them again he glimpsed a cloche hat rising from beneath the tablecloth of the man across the way, followed by the head of a woman then revealed to be dressed as a flapper from the Roaring Twenties, dabbing her lips in apparent enjoyment. The man seemed equally pleased as he lowered the tablecloth back over his lap and smiled at Haggerty.
Appalled and aroused, Haggerty gagged just as Polly offered him another snail. Noticing his state, Polly followed his gaze.
She put down her utensil. "If you like, I'd be happy to perform that service."
It took Haggerty a moment to recall that he avoided sex with androids on principle, even if the principle seemed questionable under the circumstances. He was here on serious business. Lives were at stake. It was hard enough to concentrate without an android's sexual ministrations further clouding his mind.
"Maybe later," he said. "I'm a little overstimulated at the moment."
"As you wish," she replied, refilling his wineglass. "The entertainment is about to begin. I'll be back with your next course after the opening act."
Haggerty reclined in his chair and turned his attention to the stage.
A large portion of the platform had descended and was gradually replaced by a rising twelve-man orchestra outfitted in white tuxedos. The dimly lit room went black, save for the candlelight on the tables, as the conductor lifted his wand. The band softly played a rhythmic, repetitive motif. A spotlight targeted the ceiling above the stage.
A skinsuit-clad girl floated downward on a swing, executing graceful gymnastic movements with supple flexibility and athletic strength. When the swing reached the stage, a young man emerged from the wings to help the girl alight and led her into a sinuous, sensual dance. Other dancers —eight of the most beautifully sculpted men and women Haggerty had ever seen — joined them from the wings, the floor, the ceiling, balancing on swings and hidden pulleys as the tempo escalated from the sensual to the erotic. Haggerty recognized a holostar whose image had appeared on magazine covers displayed at the newsstand in the BBI lobby. All the while the music increased by infinitesimal degrees in speed and volume. The performers' beautiful bodies swirled and mingled, their movements progressing seamlessly from ballet to jazz to burlesque and culminating with the full strip of clothes and every imaginable sexual activity as the orchestra reached its crescendo.
Haggerty looked over at the man at the Thanksgiving table, who absently stroked the silk-stockinged leg of the waitress seated on his lap. Beyond him at the farthest table, a dark-haired woman sporting a white rose laughed giddily as her handsome male waiter poured wine for her. She might be thirty or a hundred thirty and was clearly enjoying the show. Haggerty was fully aroused when the music climaxed and the stage went dark.
"You can have any of the performers you like," Polly murmured into his ear.
Her words, combined with her sudden materialization at his side, had a visceral impact, intensifying his arousal to the point of pain. Haggerty closed his eyes.
"Watching was enough," he said through gritted teeth.
Polly smiled knowingly. "Saving yourself for your guest?"
He noticed with alarm the second setting at the table. Who the hell had DeAngelo invited? Would this guest blow Haggerty's cover? His Happy Sticks glow faded. Haggerty found himself extremely annoyed.
"In that case, please come with me," Polly said. "The club's owner would like you to make a decision regarding your meal."
Haggerty followed her. The floor was like air beneath his feet.
"She's famous, isn't she?" he asked Polly, indicating the holostar entangled with the bearded man and two of the other performers.
"Yes, she is," Polly told him. "We provide nothing but the best for our guests." She led him down a dim, marble-lined corridor.
"Is Traci working tonight?" he asked recklessly.
"She's in the next number," Polly said evenly. "Do you know her?"
"We have mutual friends."
"I see. Will you require her services?"
"I'd like to meet with her as soon as possible," Haggerty said eagerly.
"I'll inform scheduling."
The marble surface terminated at a smooth, transparent aquarium in which large, dim shapes moved through the confined water. The waitress halted, indicating that Haggerty should observe the contents. She ordered lights on; it took a moment for Haggerty's eyes to adjust to the sudden illumination that filled the tank.
"Dolphins," he said in awe.
"Your main course was difficult," Polly said. "It took months, so they made more than one."
Whoever was behind this place had performed a miracle. Dolphins had been one of the first species to exhibit VSE and become extinct. He had never hoped to see one alive, and here there were two of them. A dorsal bumped hard against the glass.
"That's the male," the android said. "I'd never heard of them before I came here. I watch them sometimes. They seem really smart."
Haggerty recalled from textbooks that they were indeed highly intelligent, some claimed more so than humans. He watched them circle the tank just large enough to hold them, bobbing helplessly. His waning euphoria evaporated completely as he realized with horror that he was looking at his dinner. What a sick individual DeAngelo must be to have made such a request. Why on earth would he do it? Tears streamed down Haggerty's face.
"Which one will it be?" Polly requested brightly, mistaking his emotion for joy.
Haggerty knew he must sacrifice one of these splendid creatures in order to save countless humans. But he could not bring himself to choose.
"I trust you are enjoying your experience thus far, Mr. DeAngelo," came the hostess's soft mezzo-soprano like a dream. She stood beside him, beautiful and dispassionate, his white unit extended in her hand. "It's time for your second dose."
He hadn't even noticed that she'd unclipped it from his waistband. The counter turned over to "2" as he pressed. And then the hostess was gone, along with her unsettling gaze, and somehow the unit was back at his waist.
"Your choice, Mr. DeAngelo?" Polly asked again, her soft voice soothing, caressing.
Haggerty turned to the tank. How beautiful they were. A moment ago he'd been horrified. But the horror was muted now by pleasure. The female was near the bottom, barely moving. The male bobbed above her. It seemed to Haggerty the dolphin took note of him, making the decision for him.
"The male," he said, the regret in his voice so dim that Polly did not hear it. "I'll have the male."
* * *
Excerpt from The Killswitch Review, published by Yard Dog Press. Copyright 2011 Steven-Elliot Altman.
Steven-Elliot Altman is a bestselling author, screenwriter, and videogame developer. He won multiple awards for his online role playing game, 9Dragons. His novels include Captain America is Dead, Zen in the Art of Slaying Vampires, Batman: Fear Itself, Batman: Infinite Mirror, The Killswitch Review, The Irregulars, and Deprivers. His writing has been compared to that of Stephen King, Dean Koontz, Michael Crichton and Philip K. Dick, and he has collaborated with world class writers such as Neil Gaiman, Michael Reaves, Harry Turtledove and Dr. Janet Asimov. He's also the editor of the critically acclaimed anthology The Touch, and a contributor to Shadows Over Baker Street, a Hugo Award winning anthology of Sherlock Holmes meets H.P. Lovecraft stories.
Steven also bares ink on his body, and is bi, as in bi-coastal, between NYC and LA. He's currently hard at work writing and directing his latest videogame Cursed Love, an online free to play gothic horror RPG from Dark Hermit Studios, set in Victorian London. Think Sherlock Holmes, Jack The Ripper and Dorian Gray mercilessly exploit the cast of Twilight. Friend Cursed Love (Official Closed Beta) on facebook and you can have fun playing out this tawdry, tragic romance with Steven while the game is being beta tested!
Diane DeKelb-Rittehouse spent several years in Manhattan as an actress before marrying her college sweetheart and returning to the Philadelphia area where she had been born. Diane first worked with Steven-Elliot Altman when they created the acclaimed, Publisher's Weekly Starred-Review anthology The Touch: Epidemic of the Millennium, in which her story "Gifted" appeared. Diane has published a number of critically acclaimed short stories, most notably in the science fiction, murder, and horror genres. Her young adult fantasy novel, Fareie Rings: The Book of Forests, is now available in stores or online.
Interested in buying a printed copy of The Killswitch Review? Well, Steve's publisher Yard Dog Press was kind enough to put up a special page where SuicideGirls can get a special discount and watch a sexy trailer. Just follow this link to KillswitchReview.com and click on the SG logo.
* * *
Related Posts:
Fiction Friday: The Killswitch Review – Chapter One
Fiction Friday: The Killswitch Review – Chapter One, Part Two
Fiction Friday: The Killswitch Review – Chapter One, Part Three
Fiction Friday: The Killswitch Review – Chapter One, Part Four
Fiction Friday: The Killswitch Review – Chapter Two, Part One
Fiction Friday: The Killswitch Review – Chapter Two, Part Two
Fiction Friday: The Killswitch Review – Chapter Two, Part Three
Fiction Friday: The Killswitch Review – Chapter Three, Part One
Fiction Friday: The Killswitch Review – Chapter Three, Part Two
Fiction Friday: The Killswitch Review – Chapter Three, Part Three
Fiction Friday: The Killswitch Review – Chapter Four, Part One
Fiction Friday: The Killswitch Review – Chapter Four, Part Two
Fiction Friday: The Killswitch Review – Chapter Four, Part Three
Fiction Friday: The Killswitch Review – Chapter Five, Part One
Fiction Friday: The Killswitch Review – Chapter Five, Part Two
Fiction Friday: The Killswitch Review – Chapter Five, Part Three
Fiction Friday: The Killswitch Review – Chapter Six, Part One
Fiction Friday: The Killswitch Review – Chapter Six, Part Two
Fiction Friday: The Killswitch Review – Chapter Six, Part Three
Fiction Friday: The Killswitch Review – Chapter Seven, Part One