by Blogbot
Sanrio, which is most famous for its super cute Hello Kitty character, is celebrating its 50th Anniversary this year. To mark the occasion, the Japanese novelty company has been touring a special exhibition entitled Small Gift, which stopped off in Los Angeles this past week.
The event is of particular interest to SucideGirls' community of Hello Kitty aficionados, since it features an original piece of art – especially commissioned for the event – from one of our own, Mrs Misha (see picture).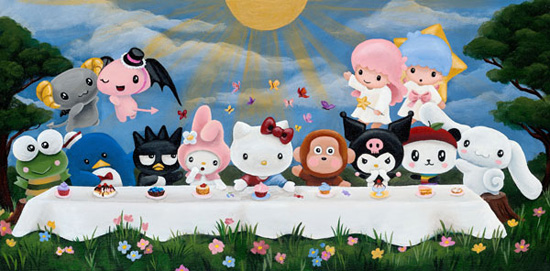 While the LA exhibition runs thru Sunday Nov 21st, the highlight of the festivities, which began last weekend, is the Retro '80s Prom Party this Saturday night. The event, to be held at the Barker Hanger in Santa Monica, will feature music from '80s cover band the Reagonomics and DJ Dave Tada, and a performance by the Yuki Shundo Dance Crew. Additional attractions include a Ferris wheel, miniature golf, photo opportunities with Sanrio characters, and a mobile food truck court. Partygoers are asked to dress in their Pretty In Pink best, since a prom king and queen will be crowned before the night's end.
SuicideGirls will be supporting Mrs Misha by getting their Desperately Seeking Susan on to get Footloose with Hello Kitty. Expect a full report – with photos – when the Breakfast Club convenes on Monday morning.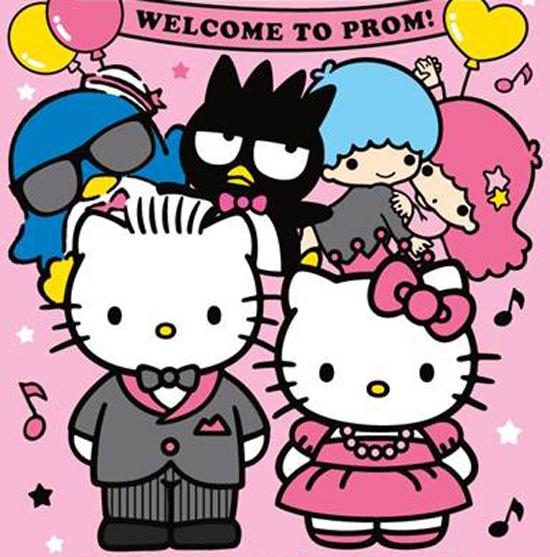 WHEN: Saturday November 20 (8:30 til 11:30 PM)
WHERE: Barker Hangar, 3021 Airport Avenue, Santa Monica, CA 90405
TIX: $15.00 from BrownPaperTickets.com/