by Jen Friel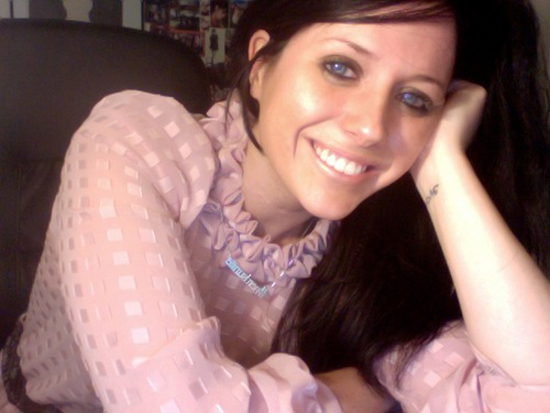 I'm a domme. My specialities are objectification and humiliation, and I'm slightly sadistic. Have I mentioned, that I look like Mary Suzy Sunshine, and I got into all of this accidentally via a half joking tweet.
Yep, that happened.
Earlier this year I tweeted that I was seriously considering dating a guy with a foot fetish just so I could get a foot rub after my morning jog. Having always been a natural leader, domination didn't seem like that far of a stretch –– but not having any idea what I was getting myself into, I first decided to check out the scene with the help from a buddy of mine who is a "switch."
I need to know what I am going to be doing to these people so I need a first hand experience, I said on the phone to him one day. Not a problem, he said. Come over and we can try it out. He then dominated me, and I dominated him (read more about that here) and I immediately discovered this was something I was meant to do.
Domination was so much like running a business, and after running my own website for the last 2.5 years at that point –– the rest seemed gravy. Next, I started accepting my own slaves (I currently have 6), and after each session I would then return to working and back to writing.
I remember one day in particular getting an email from a friend of mine that I was doing business with at the time. "Everything ok?" she asked in reply to a message I sent. "Your email was extremely curt and you sounded pissed off."
I started laughing out loud hysterically.
"Yes," I admitted. "I emailed you after a session, and I was 'in the zone.'"
"Oh, okay," she replied back. "Just checking, it wasn't like you.'
I then thought about what she said: It wasn't like me?
Being a domme gave me an enormous amount of freedom to be completely in control and to be the person I had always wanted to be. If being a domme came so naturally to me, certainly there had to be something outside of the scene that maybe I just wasn't willing to accept.
Having grown up the perpetual black sheep, and the one that always got picked on, I ended up as an adult becoming a people pleaser. But I wasn't pleasing anyone in that email, I was just being me. Domination is helping me in business, I thought. People are noticing that I am more direct and more demanding. (However, there is a fine line between being direct and being a douche.) For the first time in my life I was genuinely starting to come into my own skin.
Wow, I thought, who knew having slaves would help me as an entrepreneur?
Here are some of my observations:
1. Sponsors are like subs.
My business is solely run off of advertisements and sponsorships. I am a corporate sponsored minimalist and lifecaster, so my job is to create the content that acts as a vehicle to sell shit. (Obviously, I only take on products or services that I believe in and know I can sell.) While I am in control over who I accept, and the actual creation and execution of the campaign, at the end of the day it's always about the sponsor or about the advertiser. If something isn't working, I have to quickly pivot and change directions. Dudes, subs are the same way. A sub and I will email back and forth asking what he would like out of the scene, but it is my job to create it and to execute, watching him as closely as possible and pivoting if he's psychologically not in the same place I want him to be.
2. It's the little things.
What makes me successful as an entrepreneur is the fact that I don't miss a trick. I am extremely observant. When it comes to strategy or general execution of a campaign, I have genuinely thought about ALL of the ways I could socially engineer something and I don't miss out on an opportunity to place a link, or enhance a potential conversion for a client. It's the same when I'm domming. When it comes to my slaves, I don't just place the mask or collar on them –– I allow them to sniff the leather first reminding them of the place they are in and the fact that I am in control. When I put on my shoes, I don't just walk about the house in them, I will blindfold the sub and place the weight on my feet to adjust the volume of my heels as they clink on the floor. For the sub to truly "get off" (psychologically not sexually), I have to notice ALL of the details and remain extremely observant at ALL times.
3. Be real.
In my business, I have to, have to, have to, keep it real. I am 9 times out of 10 probably too real, but it resonates with my audience which then allows my brand to grow while at the same time catching the attention of even more sponsors. If I'm not real, and constantly keeping the integrity of the brand in check – I'd die. I'd lose my readers, which will result in a loss of advertisers, and then I am back to working a 9-5 that I will no doubt hate and want to blow my brains out from. And to be successful as a domme, I also have to be real. I know very much my bottom lines of what I am into and what I am good at in domination. If you want to be called a sissy, if you want to be hit with a riding crop and called worthless –– I am your jam! If you're not into those things, however, the dynamic could never work. Before I even consider taking on a slave, I have them outline exactly what they are looking for. I will then send them a response back with what I am into so we can see if there is some common ground. If, like in business, I didn't understand my bottom lines or didn't clearly articulate exactly what I am into I would fail as a domme which will then leave my slaves unhappy which would result in me not being able to dominate.
Funny how many common denominators there are to such seemingly random experiences. Now if you'll excuse me, I better get back to the slave massaging me right now. This feels yummy…
Related Posts
Talk Nerdy To Me Lover…5 Ways To Not Suck At Social Media
Talk Nerdy To Me Lover…And Worship My Feet While You're At It: How Exploring The Fetish World Is Helping Me Find My Voice
TalkNerdyToMeLover: Tips For Guys From A Nerdy Girl On How To Optimize Your OKCupid Profile
Talk Nerdy To Me Lover: Mirror Mirror On The Web…