by Nahp Suicide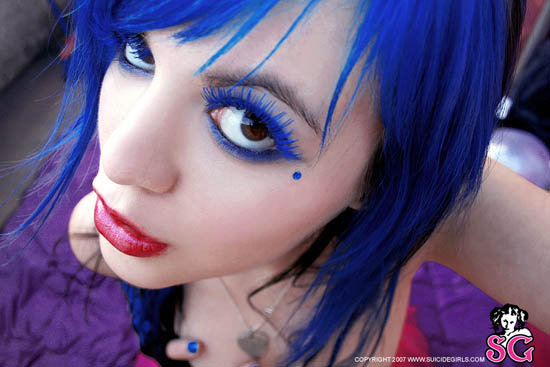 [Anemona in Blue Girl Blue (self portrait)]
Anemona is from Chile. She has been photographer and a Suicide Girl since 2007. She started being her own model/photographer and has now shot more than 70 sets for SG.
How did you first get involved with SuicideGirls?
I remember that the first pictures of Suicide Girls that I saw were on a website called Fotolog. I loved the concept of the webpage and the whole role of alternative modeling. Immediately I felt identified with them! I talked with a friend from college (Neftis) and proposed her to make a set, and she said yes. That's how everything started.
What's your background photography-wise?
I studied sound engineering at college, and there I got on a short course of basic photography. That was my first introduction to it. Then I quit my career to officially study photography at university. I left university for personal reasons, but I've continued my self education every day. I'm a firm believer that knowledge and perfection comes not only by theory but also through practice.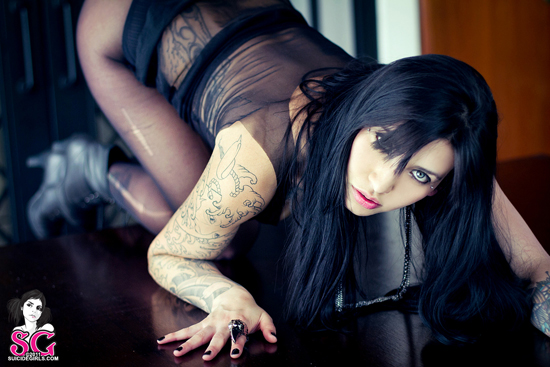 [Discoquette in Transparent]
What was the first photo you had published?
Some of Mattilda's pictures in La Nacion, a local newspaper talking about the new phenomenon called SuicideGirls.
How would you describe your style?
I think that my personal photography style is very connected with who I am, my personal style and how I interpret the world; I would say bright colors, fresh, and playful.
What gear do you use?
A Canon 7D + 50mm + 10-22mm + 28-200mm and my very personal NATURAL LIGHT. I don't like to use much studio lightning, I always prefer natural sets.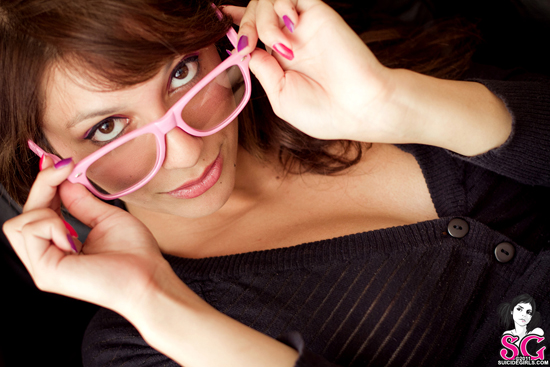 [Lith in Hottie Geek]
How important is Photoshop in your final images?
I use Photoshop basically to increase the colors – that is kind of my personal style. I also add some contrast and do a little skin retouching.
What gives you ideas and inspires you to create such amazing sets?
I really love music, so music videos are a huge inspiration to me. I love the style of Jonas Åkerlund and how he uses colors, I really do! Also Cherry has an amazing use of colors and Sean make sets with such a simplicity that's impossible not to feel inspired by them too.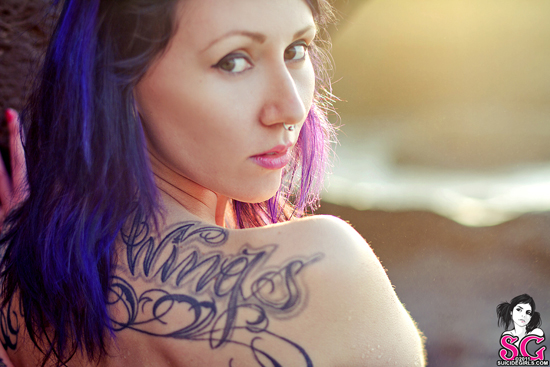 [Atomic in Under The Waves]
What is your favorite image?
It's hard to choose but I would say these are some of them: Atomic in Under The Waves (NSFW), Discoquette in Transparent, Smash in Into The Light (NSFW), Belena in Lomography, Lith in Hottie Geek (NSFW).
Tell us why it's your fave and how you achieved it?
Well, in Atomic's "Under The Waves" set it was very difficult to do, cause the day was so cold and we had to try to shoot in waves and cold water. But we actually made it awesome. I've always wanted to make a set like that so I guess that's why I really liked that one.
In Belena's "Lomography" set we wanted to show just how she is, a very fun, colorful and playful girl, and her love of Lomo cams. I think that's also one of the best executed sets that I've made.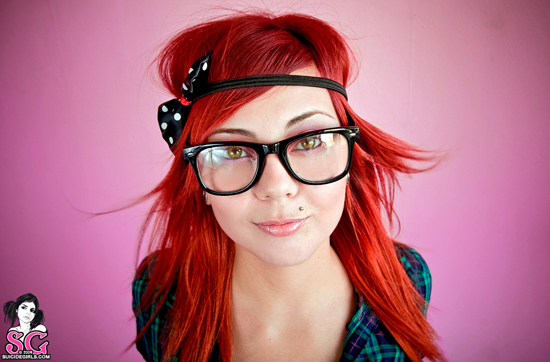 [Belena in Lomography]
Is there anybody or anything you would love to photograph that you haven't? (And tell us why)
I really love to make people's portraits and capture their style and represent that. I would love to shoot some day with girls like Carrina, Annalee, Plum, Gogo, Rambo, Pilot, JaneDoe, Discordia, Lass, BelleBane, and many more. Actually, I'm so lucky to have had the opportunity to make sets with girls I've always wanted to, and I hope I can continue doing it in the future!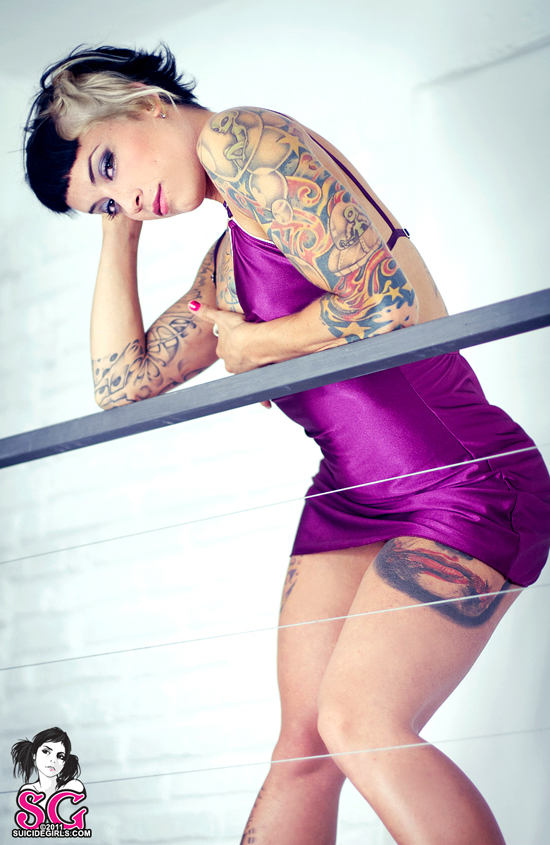 [Smash in Into The Light]
Related Posts:
In Focus: The Photographers of SuicideGirls feat. P_Mod
In Focus: The Photographers of SuicideGirls feat. Talena
In Focus: The Photographers of SuicideGirls feat. Lavonne
In Focus: The Photographers of SuicideGirls feat. DarrylDarko
In Focus: The Photographers of SuicideGirls feat. Albertine
In Focus: The Photographers of SuicideGirls feat. Holley
In Focus: The Photographers of SuicideGirls feat. Dwam
In Focus: The Photographers of SuicideGirls feat. Writeboy
In Focus: The Photographers of SuicideGirls feat. IvyLlamas
In Focus: The Photographers of SuicideGirls feat. Lavezzarro