by Nahp Suicide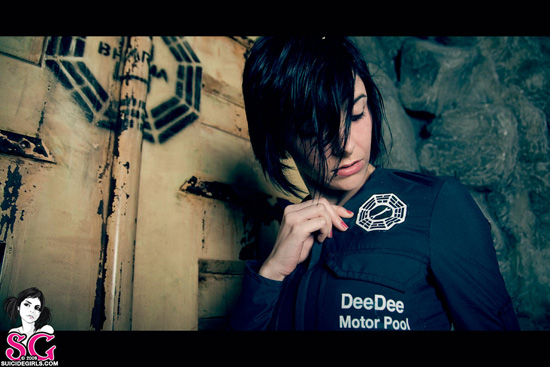 [DeeDee in LOST]
IvyLlamas is from Barcelona, Spain, and has been shooting for Suicide Girls since 2007.
How did you first get involved with SuicideGirls?
It was in 2007. I was studying photography. One day, I had the pleasure to meet Albertine and Diaz-Arri (two staff photographers). I was seeing how they work and I thought it was really interesting and funny. Then I met some Spanish SG models and they trusted me to shoot a set for the community. Since them, I've shot more and more sets. At first I shot many creative sets, but you can see the line where I now try to work with SG in a soft style. Really, I love both styles.
What's your background photography-wise?
I've studied art all my life, but I never finished my formal education. Yes, I was a "bad boy" in the school. You know, drinking… smoking… I was born in a suburb. This was not easy. I started to study the arts 'cause the only thing I was interested in was music and art. I had many problems in the school with teachers. I think we had different points of view. Finally, I tried to find my own way. And here I am. I can't live without creating things – music and art.
What was the first photo you had published?
I think around 2006 or 2007 in some Barcelona fanzine.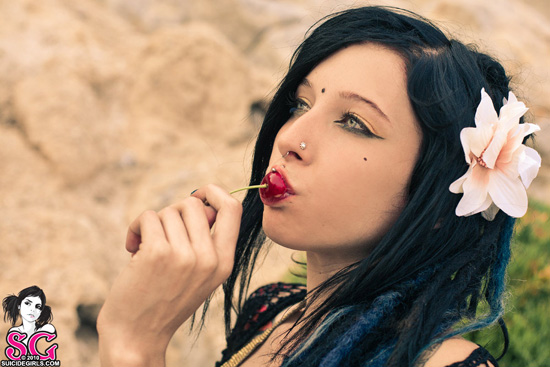 [Devushka in Fuego Del Alba]
How would you describe your style?
It's really hard for me to describe my own style. I was always a fan of surrealism and metaphorical images. I want to feel seeing a picture. Sometimes you see a picture, and probably you don't understand what it means, but I ask, what do you feel? That's the most important for me. On SG, my style is really soft (lately) but I try to express the atmosphere. Cold, hot, loneliness, melancholy, sensuality… Like I said before, I want you feel.
What gear do you use?
At the moment I use a Canon 5D and a 50mm 1.4. Then for my personal or clients work I use 400w flashes and a million self made inventions.
How important is Photoshop in your final images?
Good question. It really is important, of course, but it's SO important to have a perfect capture first. I think when you obtain a good capture it's amazing to work with it in Photoshop. But if you have a bad concept to work with, bad light, bad model, Photoshop can't do miracles. Photoshop is a good tool if you think before.
What gives you ideas and inspires you to create such amazing sets?
Daily life. I love to take the reality of daily life and transform it into a metaphor. I want to talk in your same language, with the difference that sometimes you haven't the words to explain it. I love to crash these words and make you feel what I'm talking about. Sometimes a simple smile in the underground can inspire me.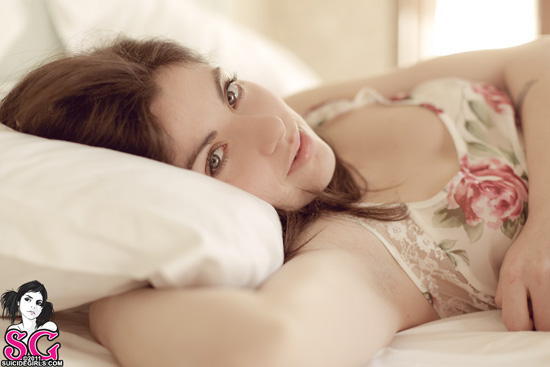 [Crysta in Atrapada en el Blanco]
What is your favorite image?
Wow! Hard question. I have to say I'm really critical with my own work. I shoot a set and two days after I think it should be better. But I have to say I've done some interesting sets for SG. For example, I've worked many times with DeeDee and I think we did and amazing work. She's really creative and always invites me to play to her games. Then I have to say my favorite work is the last one. Devushka, Lullabee, Lyona, Tupou, Ukka, and for me, one of my favorites, the last one I shot with Crysta. Yes, she's my partner, but "Atrapada en el Blanco" is one of my best works. Really special and real
Tell us why it's your fave and how you achieved it?
With Dee Dee we did the most creative sets I made for SG. Devushka has this kind of mystery, which is so easy to make into poetical and beautiful atmospheres. And finally, with Crystal, she's hot and fragile, and a perfect model to feel these feelings.
Is there anybody or anything you would love to photograph that you haven't? (And tell us why)
I always think to shoot more fashion stuff, but it's hard to work it…I have to say that photographers need to live. At the moment my work doesn't allow me to dedicate time to personal projects, but this next year I'll start to do new personal works. There are so many things I want to shoot. Every day I want to shoot new things.
For more on IvyLlamas visit his SG Profile and website.
Related Posts:
In Focus: The Photographers of SuicideGirls feat. Lavezzarro