by Nahp Suicide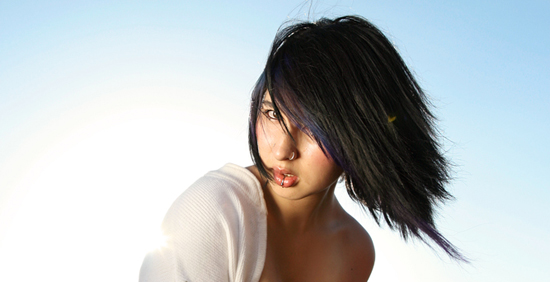 [Talena in Middle of Nowhere]
Talena is a Latin American photographer. She lives in Chile but travels constantly to other Latin American countries to shoot sets with different SGs. She has been with SuicideGirls since 2007, and is both a model and a photographer.
How did you first get involved with SuicideGirls?
I remember finding a few pictures of Quinne, Apnea, and other models thanks to Fotolog. Then I found a link to the SG site, and took the free tour. I used to think that SG was only for North American models.
What's your background photography-wise?
My start was thanks to Fotolog. That was how I got involved in photography too, with standard cameras, trying to get the best out of every machine that I had during that time. I was also my own model. I am a self-taught photographer from the beginning, so I know that photography will be my only path in life. In the present I'm studying Visual Art and Photography. I enjoy it very much, but college only gives me the status of professional. I feel like the experience with SuicideGirls gives me all the knowledge of a professional photographer, the studies only give me some foundation in technique. But as an artist or a professional related to art and expression we're always gonna learn some more.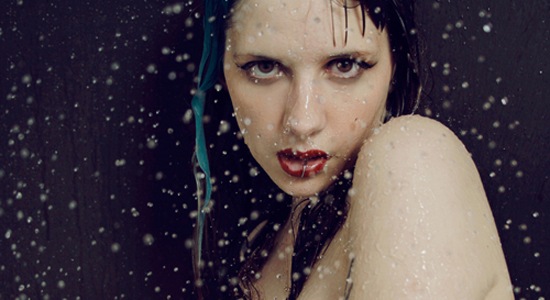 [Emanuelle in Playground Love]
What was the first photo you had published?
That was in a publication called Pink Attitude. They bought my self-portrait for the cover around 2007 or 2008.
How would you describe your style?
Tough question; In the beginning I was trying to follow the style of the site. It took some time for me to discover my own voice, my own emotional vibration. Outside of SG my style is more dark but equally feminine, playing with the atmosphere, with textures, and the temperature. I guess, little by little, I ended up transferring a mix between my personal style and the style of the site.
What gear do you use?
A Canon 7D with two lenses: a 28-155mm and a 50mm. I aso use a Canon Speedlite 580 II flash and some reflectors. I'm planning to increase my gear this year.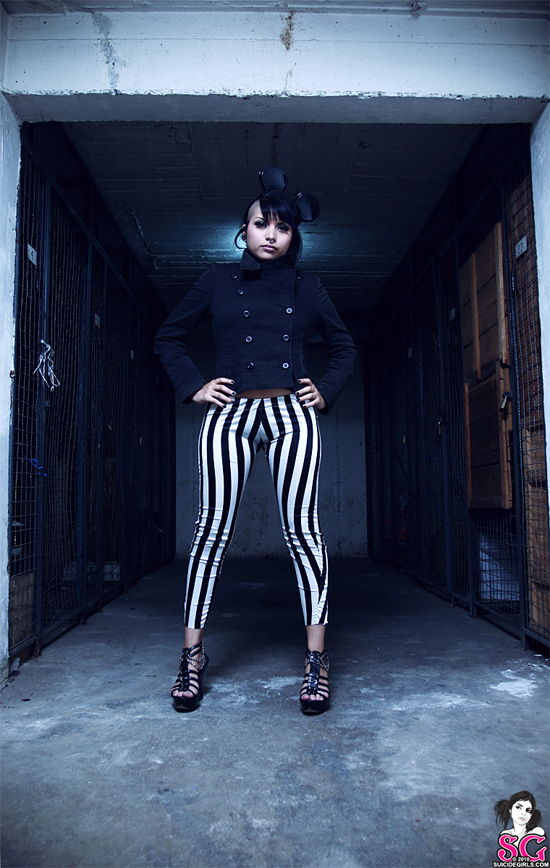 [Noidd in The Bright Young Things]
How important is Photoshop in your final images?
It's a tool in that it complements my work, BUT you have to understand that the capture is everything. When I take a good capture, I can always visualize how it's gonna end up, what kind of mood, the aesthetics, the feeling, the personality of the picture. So for me it is a great tool to increase, interpret, and transform the conditions and details since as a photographer sometimes you have to fight with nature.
What gives you ideas and inspires you to create such amazing sets?
I am inspired by several sources: fashion, film, music, and the feeling that remains in my subconscious, that makes me dream. I also get inspired by the style and the personality of the models. It's really fun adapt a vision based on the style of the model because that only makes the results better.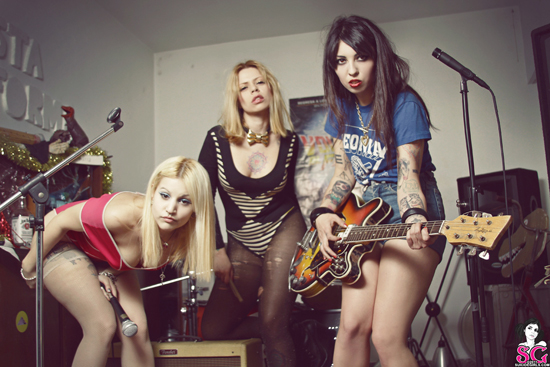 [Liu, Prussia and Cassiopea in Cherry Bomb]
What is your favorite image?
Oh god, that's difficult, because lately I have shot so many sets and I think most of them are my favorites. But I think one of them is from the multi of Liu, Prussia and Cassiopea called Cherry Bomb.
Tell us why it's your fave and how you achieved it?
I specially love this picture because the girls had so much fun. I mean, as a matter of fact, most of the pictures were spontaneous. It was so much fun. The four of us took a long trip to take the shots. It happened in a room full of instruments. Everywhere was smelling of beer and cigarettes, and everyone was sweating and laughing till they burst. I think that's why it's one of my faves. It was a nice moment. I love that set to death.
Is there anybody or anything you would love to photograph that you haven't? (And tell us why)
My dream is go to Europe and be able to shot every place that crosses my sight. Getting to know Germany especially, would also be a dream. Being able to shooting Manko, Quinne, Radeo, Plum, Annalee, Kraven, Jamity, and the list goes and goes. The truth is that I hope to meet and shoot so many girls of the site. I've had the opportunity to visit different countries and meet very gorgeous girls in each one. I hope to continue traveling the world and not stopping. There's so much beauty in every place.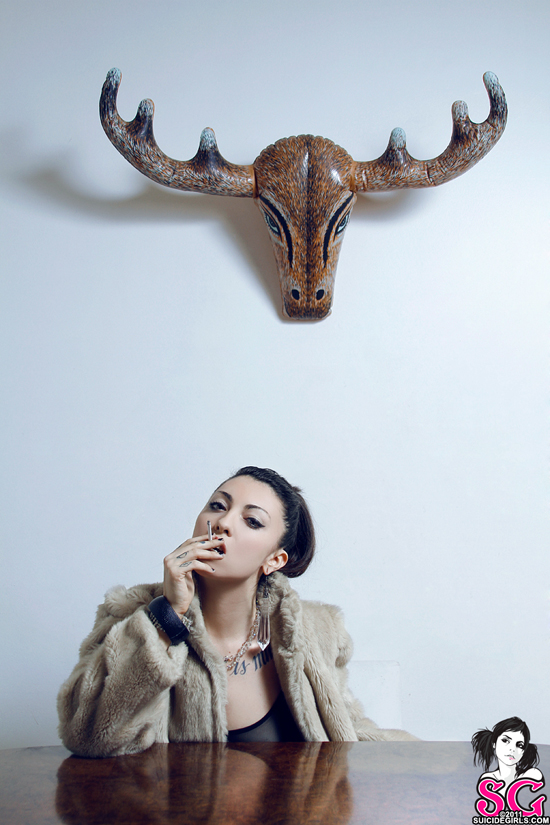 [Liu in Fake Diamonds, Fur Coat]
Related Posts:
In Focus: The Photographers of SuicideGirls feat. Lavonne
In Focus: The Photographers of SuicideGirls feat. DarrylDarko
In Focus: The Photographers of SuicideGirls feat. Albertine
In Focus: The Photographers of SuicideGirls feat. Holley
In Focus: The Photographers of SuicideGirls feat. Dwam
In Focus: The Photographers of SuicideGirls feat. Writeboy
In Focus: The Photographers of SuicideGirls feat. IvyLlamas
In Focus: The Photographers of SuicideGirls feat. Lavezzarro