by Laurelin
Four Loko is pouring college kids into bed all over the nation. An alcoholic beverage boasting caffeine, guarana, and taurine as well as carrying 12% alcohol is more appealing then a vat of fraternity jungle juice. Who doesn't love booze and energy in a 23.5 ounce colorful can? It just screams "drink me" – and it has the FDA screaming right back. Considered a public health concern, the Four Loko ban started in October 2010 on select college campuses all over the United States, and now the substance is well on its way to being illegal nationwide. As a result, the creators and brewers of Four Loko have agreed to pull three out of the four ingredients out of their beverage, waving goodbye to the caffeine, guarana and taurine as of November 17, 2010.
Being from Boston, Massachusetts and pretty much living under a rock when it comes to national news and issues, I had no idea that Four Loko even existed until it was already illegal. It would have been in my fridge a hell of a lot more if I had. The day before it became illegal had the city bustling with excitement and everyone making that mad dash to liquor stores before it was all gone. On my way to work at 11:30 AM I was already noticing liquor stores with signs in the window stating "Four Loko: Sold Out."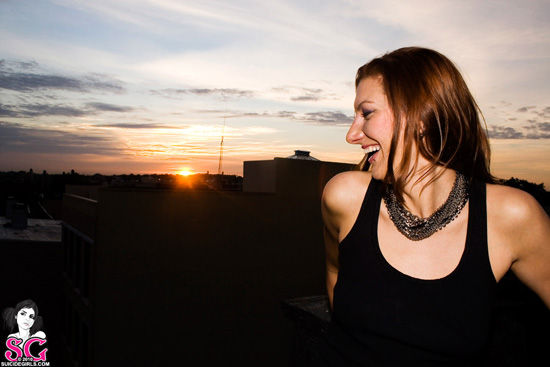 [Laurelin in Sunrise]
Imagine my disappointment the next day when I found out exactly what was going on and that I couldn't get some. It made me want it even more. But not badly enough to go out of my way for it. Luckily, I found myself home in Rhode Island for Thanksgiving a few days later, and conveniently visiting a friend at a liquor store. A variety case of Four Loko with an employee discount? Sure, why not. I'm a former college kid, former binge drinker, bartender, and all around mess. Maybe I'll be different. Maybe I can successfully ride shotgun with Four Loko.
Last night. Scene: My friend Steve's apartment, waiting for him to return from the gym so we could go out for some drinks on a Monday night. I am staring at my 23.5 ounce cranberry lemonade Four Loko like it might bite me. I conquer the beast, and pour half of it over ice in a red solo cup, drinking it over the next half an hour while sitting on the couch watching Bones. It doesn't taste good, but it doesn't taste bad either. Certainly better than a shot of cheap tequila. It might have been the awkward sexual tension between David Boreanaz and Emily Deschanel, but my face was as red as a tomato and I had the strange urge to chug the rest right out of the can. I didn't.
The rest of the night was kind of lame. Out to the bar we go, and half a Four Loko (11.75 ounces), one 12 ounce blue moon, one 24 ounce blue moon, one red headed slut shot and a 12 ounce keystone light brings laughter over stupid shit Steve and I did in college, but brings on no new stupid shit. Home and in bed by 2 AM, I was perfectly lucid. All in all, Four Loko, you have let me down. We probably could have been friends when I was in college and down for shotgunning even a bottle of Everclear, but for now, I remain level headed and victorious. Tomorrow night I'm taking the whole can down and trying again.