An alarming crusade that threatens not only the democratic ideal but our very democracy itself is currently sweeping the country. Falsely posing as stern protectors of electoral integrity, the GOP has started yet another costly and totally unnecessary war – The War on Voter Fraud.
It might be a just war…if it were true. But like so many GOP grand proclamations, it's a sham, merely another false charge Republicans are criminally deploying to their advantage.
A new study released this past August 12th and financed by the non-partisan Carnegie and Knight Foundations examined thousands of court documents, official reports, and media reports involving voter fraud since 2000 and found conclusively that voter fraud is "virtually non-existent." Of roughly 600 million votes cast since 2000, there were only 10 cases of alleged in-person voter fraud. 10…and those were just alleged. There were no convictions of in-person voter fraud during that time frame. Not anywhere in the US. Not one. In fact, you are sixty times more likely to get hit by lightning in any given year than the US is going to suffer from voter fraud.
But what the hell, there weren't any WMDs in Iraq either…and they got away with that one (at a cost of more than a trillion dollars and thousands of American lives). And this is clearly in the same realm, a Machiavellian twist of a tactic Naomi Klein labeled "The Shock Doctrine," manipulating real or made-up disasters (or threats to your "freedoms") to urgently push an extreme political or economic agenda that no one in their right mind would otherwise consider – in this case, limiting the number of votes cast in elections.
For the GOP controlling votes is, indeed, an urgent matter. As US demographics tilt rapidly toward fuller minority share – a long-standing goal of true democracies – the party of "old white guys" is losing its dominance. They could, of course, try to appeal to minorities, but Republicans really don't want to include in their party millions of people who were probably born in Kenya. So the only other option is to prevent them from voting.
How do they do it? The two most effective methods are to pass laws in GOP-held state legislatures requiring obstructive Voter ID standards or to restrict voting hours and days to an absolute minimum. Usually it's one or the other and sometimes both. In addition to the financial implications associated with existing IDs laws, the potential cost estimate for ID requirements advanced by the GOP in 2011 in 35 states runs as high as $838 million for the first four years alone – certainly an unreasonable burden to taxpayers at a time when state treasuries are suffering severe budget crises.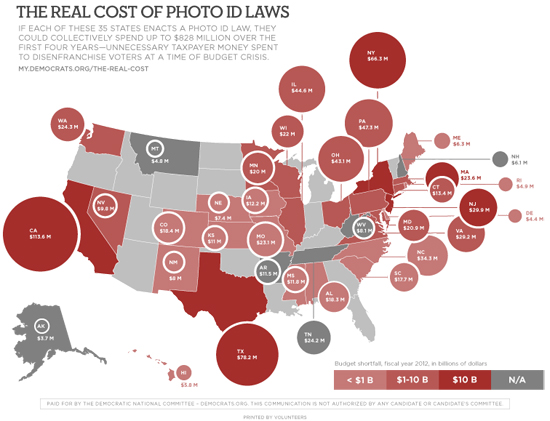 But even more destructive is how these requirements negatively affect individual voters. Almost all of the proposed or enacted photo ID laws involve some monetary cost – passport books cost $140 and a driver's license additionally requires both a written and a road test. Not only does that place an "unreasonable burden" on potential voters, it flies in the face of the Voting Rights Act of 1965.
What voting blocs are most affected by these restrictions? Roughly 25% of African-Americans, 20% Asian-Americans, 19% Hispanics, 18% of those between the ages of 18-24, and 15% of Americans making less than $35,000 per year. And, of course, seniors of all stripes who no longer drive or travel out of the country but who still want to vote to keep Medicare.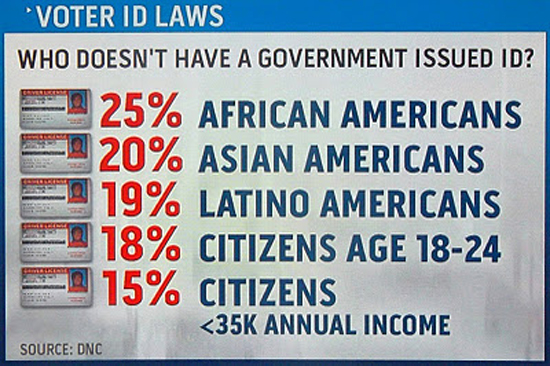 Not coincidentally, those are the very groups who generally vote overwhelmingly for Democrats. It should also be noted that every single state undergoing a "voter purge" has Republican election officials. It's also no fluke that that the GOP claims that voting fraud in these demographics is most flagrant in precisely the same states that polls indicate are still undecided, the so-called "swing states" that will end up deciding the election.
In Wisconsin (10 electoral votes), Republican Attorney General J.B. Van Hollen petitioned the state Supreme Court just a few weeks ago to reinstate before the November elections a Voter ID law passed by the Republican-controlled legislature, hopefully at a date so late as to make any legal appeal impossible.
In Florida (29 electoral votes), GOP Governor Rick Scott fired one Secretary of State who refused to implement his plan to suppress votes and appointed one who will.
Jon Husted, GOP Secretary of State of Ohio (18 electoral votes), singled out two large Democratic districts for fewer voting days and no evening or weekend voting hours, privileges all Republican precincts retained. A Federal Court intervened, ordering Husted to cease and desist all efforts to limit voting access. Instead, Husted defied the order, continuing his path of suppression. Husted is due in court this week to ask for a stay of the order until the appeal process has been exhausted, which would occur only after the election. Husted is also running a 3-card monte ruse with polling places, switching them to one suburb after another. At this late date, voters in Toledo don't even know where to vote!
And that's just the tip of the figurative iceberg – confusion and suppression reign in nearly every state controlled at some level by GOP leaders masquerading as crusaders for honesty and transparency in the election process when just the opposite is true. Ohio Republicans on the Board of Elections even admitted that the ID requirements specifically targeted black voters. Despite the hue and cry, Republicans will not be moved – they know suppressing up to 5 million votes nationwide is the only way they can win the election. Of course, all of this is criminal…but if the GOP has its way, it'll be too late to stop them and if they win the election, their Republican brethren will hardly seek prosecution.
But there are some prescriptive actions that could minimize the negative effect of these illegal purges, both now and in the future.
First, no fair-minded citizen in a participatory democracy wants anyone's vote to be stolen or unduly suppressed. Whatever one's party affiliation, everyone in a democracy must strive for transparency in, and the legitimacy of, the election process. More than anything else, free elections are what keep us free. Otherwise we're just another, albeit bigger, banana republic, where those on top steal whatever they can – money, votes, and your country. So whether you're liberal or conservative, if someone – Republican or Democrat – tries to deny citizens their right to vote, you must vote against them. The reason goes to the heart of American values – stealing votes is the grossest betrayal of the democratic ideals our nation was founded upon and for which millions of Americans have died over the last 240 years.
Secondly, federal judges and prosecutors need to adopt a zero-tolerance policy toward those who would suppress the most fundamental of American rights. If election officials ignore court directives to restore order, our courts are honor bound to issue bench warrants and throw them into the hardest and most unforgiving lock-ups imaginable – Alcatraz factored by ten – until they fully comply with the law. Just because they have a government title in front of their name does not mean they are above the law, especially as they have sworn to uphold it.
Lastly, it would be sweet irony – and a GOP nightmare – to use Citizens United to help get out the vote. With the influx of undisclosed money flowing into the coffers of SuperPACs on both sides of the aisle, the price tag of this November's election is in the vicinity of $5.8 billion (including approximately $2.5 billion for the Presidential election alone).
Now, one or more SuperPACs needs to put aside one-half of 1% of that total – $29 million – and spend it on getting minorities and seniors state IDs acceptable for voter verification. And, like the GOP, it needs to focus on large swing states. For instance, the basic cost of an Ohio-issued photo ID is $8.50, or $5.1 million to purchase IDs for 600,000 voters. Florida's photo ID can be had for $25.00, or $15 million to secure voting rights for another 600,000 citizens. Allow $8.9 million for administration costs and voter outreach and 1,200,000 otherwise disenfranchised voters can pass any challenge at their polling places. Those two states alone are enough to make a real difference.
Alternatively, federally-issued passport cards cost only $30. And they're good for ten years, or five elections – 2012, 2014, 2016, 2018, and 2020 – six bucks per cycle. So 700,000 passport cards would cost $21 Million, plus $8 million for admin and outreach, equals $29 million. Implemented every two years, this expense would sign up three and a half million minority and senior voters over ten years. In emergencies, the Passport Office promises to have your document ready in 3 working days – and if an important business meeting in London meets that criteria, your right to vote should be given equal weight.
When you figure that over $4 billion will be spent on media advertising alone this year, spending $29 million to actually insure the voting rights of 1.2 million minority and senior voters is comparably little money well spent – and money certainly spent in the cause of true democratic principles.
Besides, the SuperPAC(s) should get all of their money back. If states demand payment for an ID that is required to vote, that is a "poll tax," and against the law. So if the SuperPAC(s) putting up the money sues both the state and the individuals involved for full reimbursement, and then recycles that money every two years until Republicans no longer think stealing your vote is a good investment, it's a net gain for everyone involved (except those rigging the vote). If Jon Husted was personally on the hook for, say, $10 million, he might change his mind about letting you cast your ballot.
These are options to correct just the false In-Person Voter Fraud touted by Republicans. In an upcoming column, I'll be talking with Greg Palast – arguably our country's leading expert on this issue – about everything you need to know about real voter fraud.
It may well be the most important issue facing America's survival. If the illegal GOP purges succeed in suppressing large demographics from voting, our nation relinquishes both the moral high ground and democratic principle to every other country capable of running clean elections.
And, too, we don't want to awaken on November 7th only to discover that yet another election has been stolen.
Related Posts:
Character. . . And The RNC
The Do-Damage Congress: Who's Responsible?
Worse Than A Do Nothing Congress
Forget The Barbeque On Labor Day – It's Time To Take Care Of Business
Chicken Shits: The Slippery Slopes of Chick-fil-A
The Vagina Solution
Fighting Back Part 4: The Big Liar, Intimidation And Revenge
Fighting Back Part 3: Fighting Fire With Fire
When The Past Is Prologue
Fighting Back Part 2: Defining Rovian Politics
Fighting Back
The Electoral Scam
Being Fair
Occupy Reality
Giving. . . And Taking Back
A Tale Of Two Grovers
A Last Pitch For Truth
America: Forget it, Jake. It's Chinatown.
Gotcha!