by Morgan
I've spent long stretches of time the last couple of months without a computer, which means that when I had a working one in my apartment again I devoured new games with more enthusiasm then usual. And I usually have a lot of enthusiasm for games! I also spent a lot of time playing games on my brand new iPad. So for this casual game review column, I'm going to offer a grab-bag of different games for both PC and iPad. Also, to make up for the absence of a column last month, I'll include a few quick recommendations at the end of this one!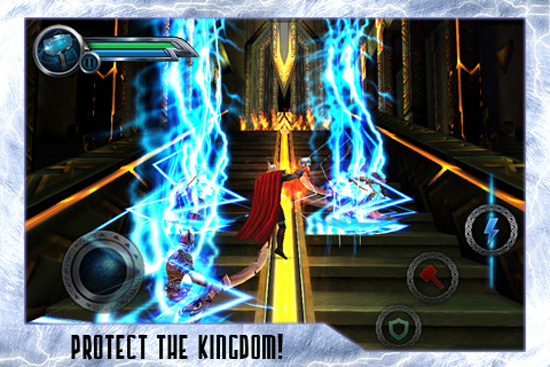 First, there's THOR: Son of Asgard. I know, I know, games based on movies are most often somewhere from mediocre to gorram terrible, but I really enjoyed this one. The tutorial level will get you comfortable with the easy to use, intuitive controls that allow you to use basic attacks and awesome foe-smashing special powers. The graphics are excellent and the game play engrossing. One of my favorite aspects is the storytelling cinematics, which play out in comic-book art form and are very nicely rendered. There are some downsides here though. I got the game for $.99 on sale, but it usually costs $4.99. The game does feel short and I generally do not like dropping five bucks on a shorter game, but for this one I probably would have as I could see myself replaying it several times. Also, from my understanding the game currently does not work well with iPods, so buyer beware if you don't have an iPad!
***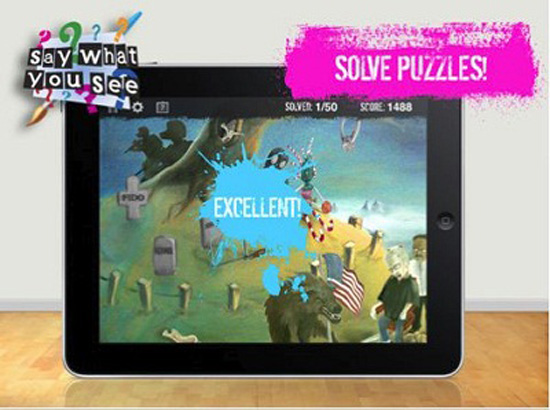 A neat little puzzle/hidden object game with a twist. When you download it, you get one free "canvas" of your choice. The image above is a small corner of the "Horror Movies" canvas. Your goal is to look at the various images spread across the canvas and find 50 word-play references. In the Horror Movie canvass, you'd be searching for horror movie titles. For example, the image here has 9 different movie titles in it. It's a bit like Where's Waldo with words. The game is that perfect mix of addictive and completely frustrating. You'll find yourself baffled at times but determined to find and name every object, and that "ah-ha!" moment makes all the can't-see-it trauma worthwhile. Other canvasses include Arcade Games, US TV Dramas, RomComs, '80s Movies, Books 2 Film and Music Fest, and the developers seem to add new canvasses frequently. At only $.99 cents for each new canvass you download, this game is fun and a good deal! With great graphics and a good zoom option, it can be played on both an iPod or iPad, though it is designed ideally for the iPad, so the resolution will not be as good when you enlarge it on that device.
Now on to a PC game!
***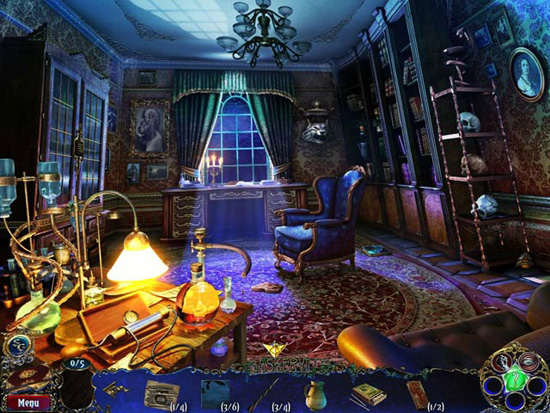 3. Sherlock Holmes and the Hound of the Baskervilles
At $6.99 for the Standard Edition and $13.99 for the Collector's Edition, this is the most expensive game of those selected here. However Big Fish Games often has good deals for first time users, and in my experience the Collector's Editions are almost always worth the extra money as they often contain several extra hours of game play. This is one of the best hidden object adventure games I've played. I like Sherlock Holmes-themed things in general, and while a purist might have objections to the plot of this game, it does a good job of maintaining a Holmes-esque feeling. I also appreciate that this game contains a good mix of the adventure and hidden object scenes, along with the occasional puzzle, and does not bombard you with non-stop hidden object scenes like some games of this ilk do. The basic plot: you are helping the family solve the mystery of the Hound of the Baskervilles by exploring the stories of each individual family member and "freeing" them from their immortal torture. The game also allows you to travel back and forth through time to gather more clues and unravel the mystery.
The best thing about this game is the many ways that it differentiates itself from others in the genre. The player is given awards and medals they can unlock as they play. For ease of use, the game will let you know with a map and sometimes with text that a room is clear of tasks, and when you find a solution to a major puzzle, it will give you the option to jump to the needed room to solve the puzzle immediately. Also, you gain "powers" as you progress, such as a crystal that allows you to break or lift difficult objects. On a more price-oriented note, the game provides plenty of game play for your money, so, despite the price tag, I highly recommend this game.
***
Finally, I promised all of you some quick hit recommendations! I did play several other games worth noting over the past months….
First, not everyone will remember this game, but I remember it fondly, despite it's immature humor and occasionally frustrating control structure: Dink Smallwood can now be played on your iOS 3.1 or later device for a mere $2.99! I imagine that this game is better if the nostalgia factor is there for you, but it's pretty darn fun.
I've also been enjoying Shortyz Crosswords on my Android phone. While not a game proper, anyone who enjoys crosswords will enjoy this free app, which updates daily with a wide ranging list of crosswords from newspapers and internet sources.
Last but not least, there's Frozen Kingdom, a match-3 game with some fun twists. In this game you are helping to unfreeze a fantasy world. The game adds some extra interest to the traditional match-3 game by allowing you to switch back and forth between different matching modes. For example, you can go from the usual swap tiles, to match method to clicking areas with a collection of similar tiles to eliminate them from the board, to "chaining" to make matches, and back again. You may not want to buy the game, but the hour-long demo is certainly worth the download!
***
Related Posts:
Morgan's Casual Game Recommendations: Pt 4
Morgan's Casual Game Recommendations: Pt 3
Morgan's Casual Game Recommendations: Pt 2
Morgan's Casual Game Recommendations: Pt 1