by M. J. Johnson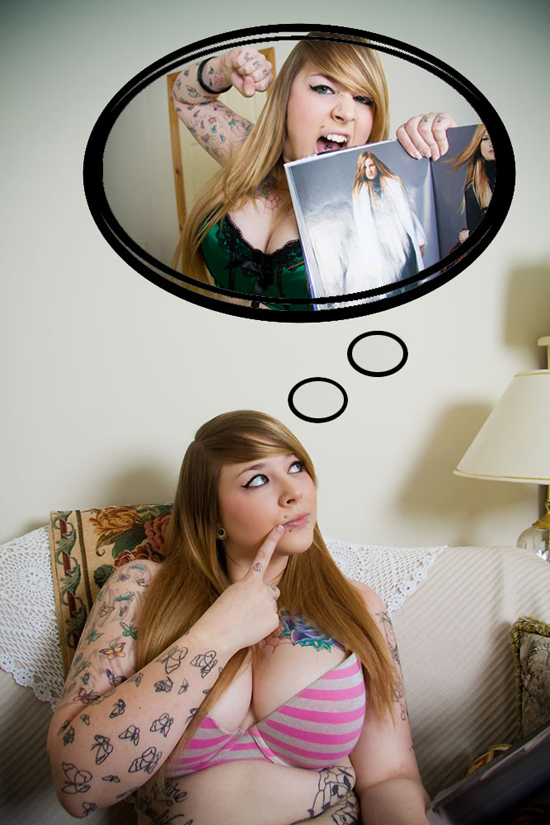 [Zoey in Envy]
"Look at that fat, lazy bitch!"
"Eat a sandwich!"
"Why don't you go to the gym?"
"You're too skinny to be a good role model."
"Lard-ass!"
"Skinny Skank!"
"Lose some weight!"
"Put some meat on your bones!"
"No fatties!"
"Look out, wide load coming through!"
"Bean-pole!"
"Why don't you do something about your weight?"
When someone is trying to prove how open minded they are about people, they will often say something along the lines of "I don't care if they're black, white, yellow, red, gay, straight, Muslim, Jewish, Christian, or Buddhist." This is supposed to prove that all people are equal in their mind.
But what about a person's body size?
We live in a sizeist society. Long past the time when it was acceptable to judge someone's worth based on sex, gender, race, culture, religion, body mods, or ethnicity (though such judgments DO still occur), it is common and largely acceptable to judge someone based on their body type. Comedians commonly joke about Chris Christie's weight, as if that has something to do with his terrible politics. Articles are written about Keira Knightley's body type in which self-proclaimed beauty experts call her "dangerously thin" and encourage parents to keep their daughters from seeing her movies, lest the young girls think they need to look like her.
I am a fat man. I'm 6'2" tall and weigh somewhere around 335 lbs. I have a ring of fat around my middle, and climbing 6 flights of stairs makes me breath heavy. Based on that physical description, many people would write me off as an individual, not worth their time and effort. Any opinion of mine could be dismissed because it came from my body.
And I can hear the criticisms: "You're smart, why don't you exercise? Why don't you eat right?" Well, it just so happens that I do. Until I moved to a different state, I was going to the gym 4-5 times per week, 1-2 hours at a time, where I did a cross between aerobic and weight training. My blood pressure is well within the normal range for my age, and my resting pulse is below 80.
But I am still fat. I don't overeat any more often than a normal sized person; I average about 2500 calories per day, which is just enough to keep someone my size going. I rarely use salt, eat lots of fruit and little red meat, drink water almost exclusively (with an exception for a daily coffee, no sugar, no flavors). I avoid sodas like the plague, and cook almost all my own meals.
Maybe I'm atypical. Maybe I'm genetically predisposed to obesity. Maybe nothing I can do will ever result in me being thin. Or, maybe I just haven't hit that perfect relation of exercise to food that will turn me into an Adonis.
The point is, nobody can tell that by looking at me. Nobody can tell whether I exercise or sit around playing video games all day. (I don't. Can't stand the things.) All anyone can see is that I'm a fat man, and far too many people will dismiss me as such.
This is far from a new idea. For over a century, obesity has been used as a symbol of greed, corruption, and downright evil. There is a reason Dashiell Hammett made the principle villain in his book The Maltese Falcon obese, known for the first half only as "The Fat Man." This was the Great Depression; anyone with more than enough to eat must have been crooked. The film version came out in the 1940s, at a time when the only roles black actors could get were as servants. Funny how one type of prejudice is not acceptable today, but the other is.
"But people have no control over their race like they do their weight."
That would be a valid argument, if it were anywhere close to reality. But the truth is, the reasons behind obesity, and why one person gets fat while another does not, are myriad. And, while an inactive lifestyle is, if not the main factor, often a large reason, it is not the only one. Medications, medical conditions, genetics, depression, sleeping habits, limited access to healthy foods or safe free exercise areas (parks, walking trails), even the weather can be factors to obesity.
Of course, us fat folks aren't the only ones being attacked by sizeism; thin people are often stereotyped as bulimic or anorexic. Yes, those are terrible diseases, but they are not the only reason people are thin. Where an obese person can have an underactive thyroid, a thin person's can be overactive. This can result in a metabolism that burns away huge amounts of food, faster than the person can eat. And before anyone gets their "Oh, I wish I had that problem" hat on, think about it: always being hungry, needing to eat huge amounts to keep from feeling ill or passing out, spending larger and larger amounts of money just on food.
Why does this happen? Why is sizeism an acceptable prejudice? Maybe it has some connection to the "Cult of the Perfect," the subconscious worship of beauty. Angelina Jolie wrote a book a few years ago, about her work among the poor children of Third World countries. The message of this book is good, but the writing is pretty pedestrian, and it is far from the only book on the topic. But, because of her celebrity, built largely on her looks, the book was a best seller. It is great, or would be if people actually read the book. I fear many people just bought the book because it was by her than for actual social/cause awareness. Sally Struthers has been doing much the same work for decades, but the most common reaction to her is to make a fat joke.
The point of all this is, you simply cannot tell what is going on by looking at the outside. The basis for all prejudice is ignorance, and that applies to sizeism as well. Unless you are that person's doctor, with a complete medical history in front of you, it is impossible for you to make any judgment about a person based on their body. And even if you do have that information, passing judgments about someone as a person based on their body-type is no different than passing judgment based on race, ethnicity, gender, sex, or any other physical attribute.
This isn't about attractiveness; everyone has, and is allowed to have, their type. If someone is not your cup of tea, so be it. This is about making assumptions about a person, stereotyping them, based on their physical form.
And that is always wrong.