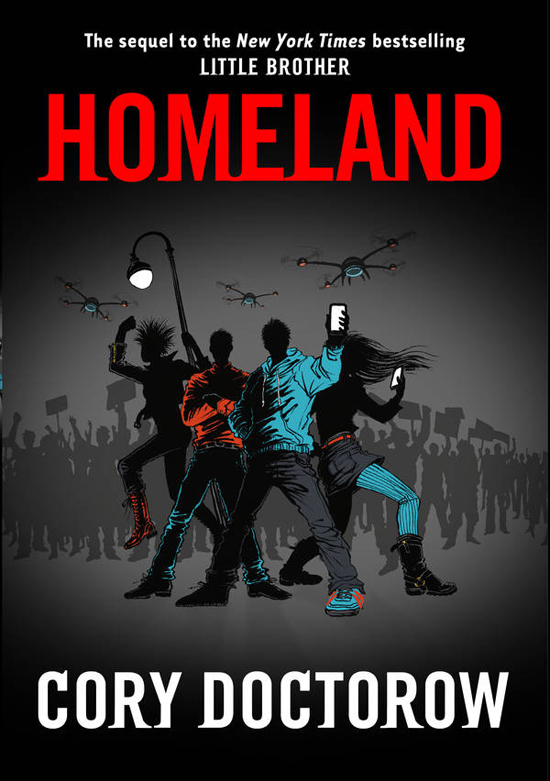 "I'm not cynical about clicktivism."
– Cory Doctorow
I was recently fortunate enough to spend some quality time with Cory Doctorow discussing topics related to the plot of Homeland, the thrilling follow up to his contemporary classic novel Little Brother (which serves as a primer on civil rights in the digital age). Our conversation spanned 90 minutes and ran into excess of 17,000 words, so the need for brevity dictated that I had to edit our interview heavily. However, Doctorow has an avid following, and rightly so. Hence I figured those of you that enjoyed the first installment of our interview might appreciate this second bite at the apple.
In the first part, we discussed Burning Man, which is where the action in Homeland kicks off, and the student debt bubble, which serves as a backdrop to the book. In part two, our conversation delves further into the post-Occupy politics of Homeland. In Doctorow's book, our hacktivist hero Marcus Yallow, having been forced out of the education system due to financial pressures, gains a position as a tech guru for an independent political candidate. Our discussion therefore naturally turns to the limitations of two party systems, the potential social media has to transform the political landscape, the pros and cons of clicktivism, and the perils of online activism, which is especially poignant given that Aaron Swartz contributed an afterward to the book.
Read part two of my interview with Cory Doctorow on SuicideGirls.com/.
Cory will be embarking on a multi-city US book tour starting on Tuesday, February 5th, which also happens to be the release date for Homeland. See below for a full list of dates:
Cory Doctorow – 2013 Homeland Book Tour
Tuesday, February 05 – Seattle Public Library Central Branch, Seattle, WA
Wednesday, February 06 – Powell's Books, Beaverton, OR
Thursday, February 07 – Booksmith, San Francisco, CA
Friday, February 08 – Borderlands Books, San Francisco, CA
Saturday, February 09 – The Leonardo, Salt Lake City, UT
Sunday, February 10 – Changing Hands Bookstore, Tempe, AZ
Tuesday, February 12 – Times Square Marriott Marquis, New York, NY
Thursday, February 14 – Joseph-Beth Booksellers, Cincinnati, OH
Friday, February 15 – Books & Books, Coral Gables, FL
Saturday, February 16 – Flyleaf Books, Chapel Hill, NC
Sunday, February 17 – Dekalb County Public Library, Decatur, GA
Monday, February 18 – Square Books, Oxford, MS
Tuesday, February 19 – Booksellers at Laurelwood, Memphis, TN
Wednesday, February 20 – Octavia Books, New Orleans, LA
Thursday, February 21 – Brazos Bookstore, Houston, TX
Friday, February 22 – Book People, Austin, TX
Saturday, February 23 – Crowne Plaza Hotel, Nashua, NH
Saturday, February 23 – RiverRun Bookstore, Portsmouth, NH
Sunday, February 24 – Gibson's Bookstore, Concord, NH
Monday, February 25 – Busboys and Poets, Washington DC
Tuesday, February 26 – Harvard Book Store, Cambridge, MA
Wednesday, February 27 – South Broadway Cultural Center, Albuquerque, NM
Full details can be found here.